After the release of the latest iPhone jailbreak, the industry will continue to debate whether jailbreaking an iPhone is worth the security risk.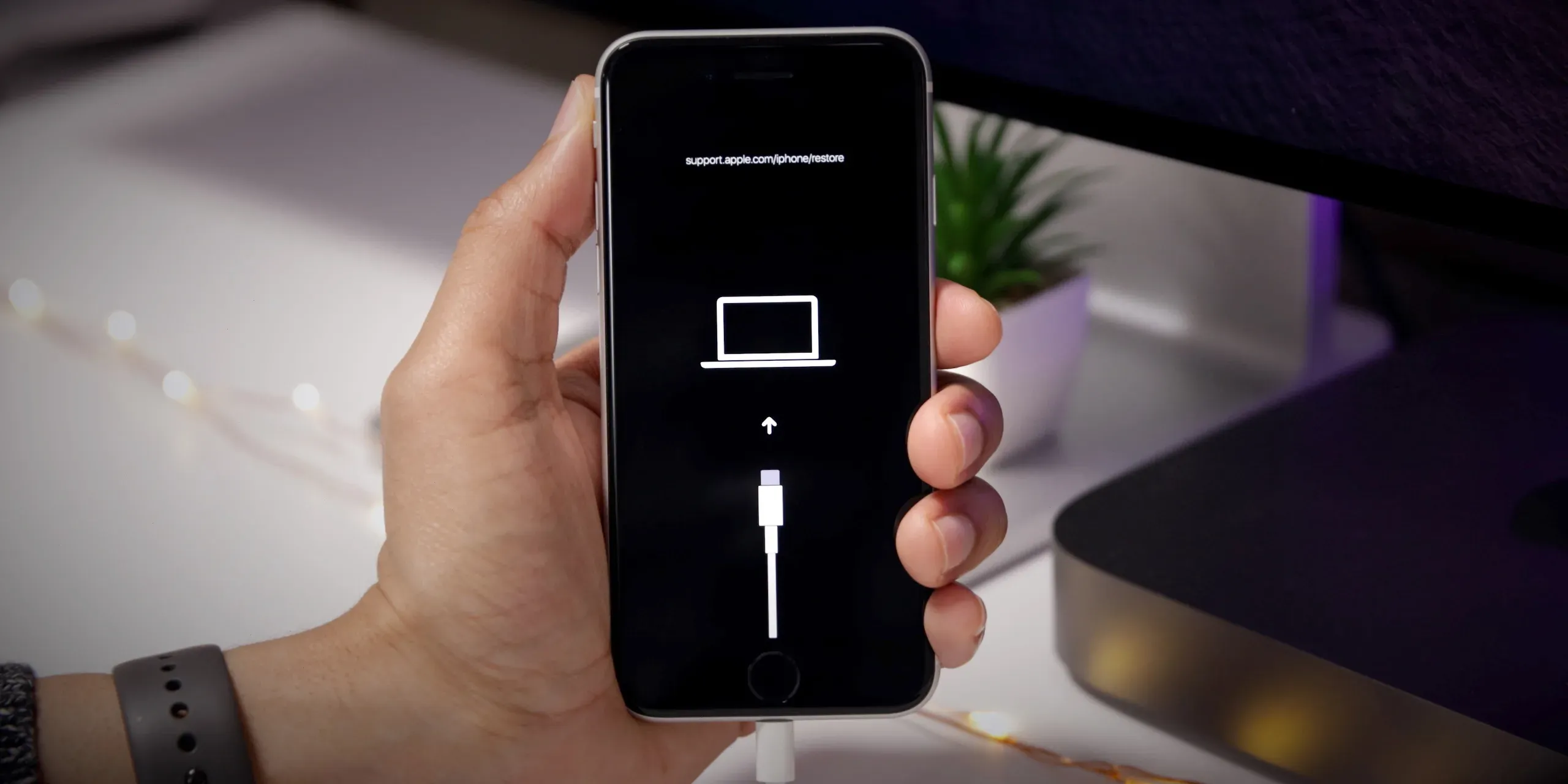 What is jailbreaking?

After hearing the term, you might be wondering if jailbreaking is safe. Don't worry, jailbreaking does not involve any illegal activity. Jailbreaking is the process of unlocking your device and gaining full control over its operating system. It is mostly associated with iPhone, iPad and other iOS devices from Apple.
Apple imposes restrictions and restrictions on all of its products. In other words, Apple prevents you from using its products the way you want.
Why would a company do this? Well, one big reason is security, but another reason is income. Apple restricts you to purchase and install only Apple-approved software and games from the App Store (guaranteed revenue). To download games or apps from anywhere else, you need to jailbreak your device.

With a jailbroken iPhone, you can bypass many locks and customize your iPhone pretty much any way you can think of. However, with this luxury comes the risk that all the information on your phone could become a target for cybercriminals. So if jailbreaking is such a big security risk, why do it?
Some customization options available on jailbroken devices:
1. Better web browsing: The web browser on iPhone is Safari in a different package, Safari on iPad is much better than Safari on iPhone. The jailbreak tweak allows for the extra functionality that Safari hosts on the iPad to be brought to the iPhone.
2. Less disturbing calls: By default, the incoming call interface occupies the entire page. Using the jailbreak add-on, it is possible to configure a banner similar to the incoming call interface.
3. Guest Mode: When lending your iOS device to someone, you can enable the Mac-inspired Guest Mode to ensure privacy with appropriate tweaks.
4. Improved Theft Protection: In the event of a theft, GPS alerts and a photo of the thief can be sent directly to the user's account, thanks to some handy tweaks.
5. Proper file browser: In terms of robustness, extracting the iPhone's root filesystem is a bit worse than making up for Apple's Files app.
6. Location Spoofing: Jailbreak tweaks can be used to spoof location, allowing access to weather information in different parts of the world to play location-based games.
7. Powerful features: The iPhone has restricted access to certain features by Apple or third-party app makers. Additional features can be ported from the iPad, and even go beyond app maker limitations with the right add-ons.
8. Smart device security: Jailbreak tweaks can be used to bypass security features such as authentication in safe places like home.
9. Endless interface customization: The main reason is the endless opportunities for customization. People who don't like the look and feel of the iPhone out of the box can tweak it to suit their personal preferences.
Jailbreak process in a nutshell
Put on your coolest shades and gray hoodie, because you're about to invade The Matrix.
I'm kidding. You don't even need any technical skills to jailbreak an iPhone. All you need is to install a jailbreak tool, run it, wait for it to do its job, and you're good to go! Jailbreak apps exploit software vulnerabilities or exploits to give you complete control over your system.
Security Risks of Jailbreaking
The greatest risk of jailbreaking an iPhone comes from allowing these apps to request root access on the device. If malware is installed on a device, it can escalate and gain root access -- effectively full access to all data on the device. Jailbreaking strips away the security of Apple's "walled garden" designed to protect users from this threat. In addition to being vulnerable to malware, jailbroken iPhones are often riddled with bugs that can keep crashing your phone and disabling other important features.
This risk became apparent in November 2015, when iOS jailbreak malware called KeyRaider stole 225,000 Apple IDs and thousands of certificates, private keys, and purchase receipts. Eventually, victims reported that their compromised accounts showed unusual app purchase histories, and in other cases, phones were locked and held for ransom.
Consider this before jailbreaking your iPhone

Of course, Apple advises users not to jailbreak their iPhones. Not only is there a security risk, but it will void the warranty of the device. Data from banking apps, stored passwords, and even data from social media accounts could be at risk if they could be accessed from a jailbroken iPhone.
You should also consider who owns the device and what information is on your phone. Does your employer own the device? Does your work email sync to it? Any malicious activity not only puts your data at risk, it also puts your organization's data at risk. You put your organization at greater risk of cyber-attacks due to the lack of adequate security on jailbroken phones.
Organizations that provide employees with mobile devices often have security measures in place to prevent users from putting company data at risk. This could include further locking down the phone so only certain features can be added or changed, keeping the device and apps up to date, and installing mobile device agents that can detect jailbroken phones. This can be a bit difficult for organizations with BYOD policies. Unfortunately, there's nothing stopping users from jailbreaking their own devices, but they can learn the risks of doing so, and employers can choose whether to allow employees to access certain information from their phones in the first place.
It is worth noting that the jailbreak software currently on the market only supports iphones with low system versions, so not every mobile phone meets this condition.
Can I use SpyX without jailbreaking my phone?
While some apps require your smartphone to be rooted, you don't necessarily need to be in order to use SpyX. Because good spyware doesn't require jailbreaking and app installation. If you need mobile spyware without root, SpyX might be a good choice for you.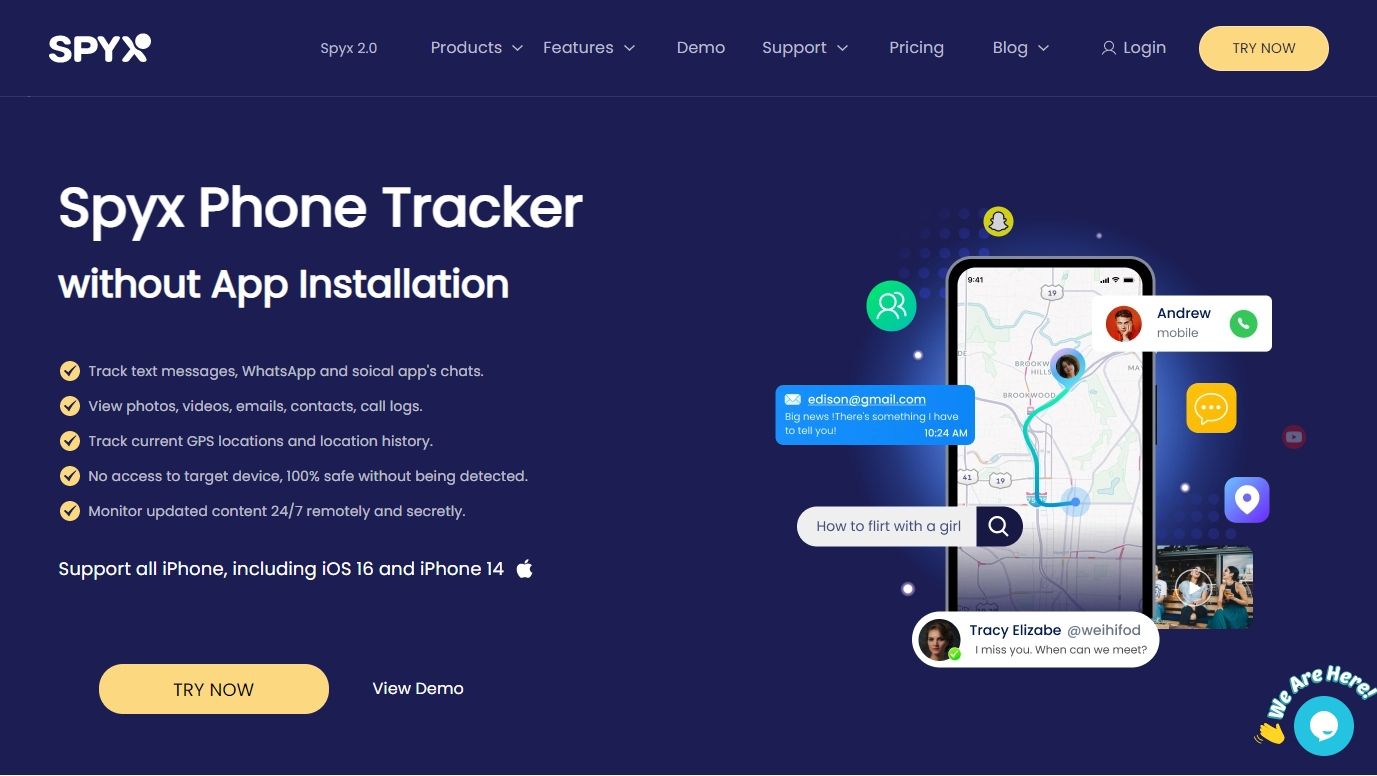 SpyX is a monitoring software based on iCloud backup, which means you can easily backup and store your phone's data in the cloud, while using SpyX to monitor device activity, without having to directly access their device to be able to monitor and record all of the device's Activity, including browsing history, call logs, text messages, social media and other app usage, and more.
1. Use SpyX to monitor someone's iphone activity
Operating SpyX is very easy.
Step 1. Sign up Free
Before start monitoring, create a free SpyX account using your valid email.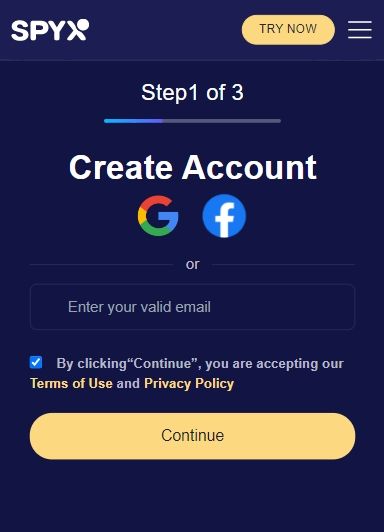 Step 2. Purchase suitable plan.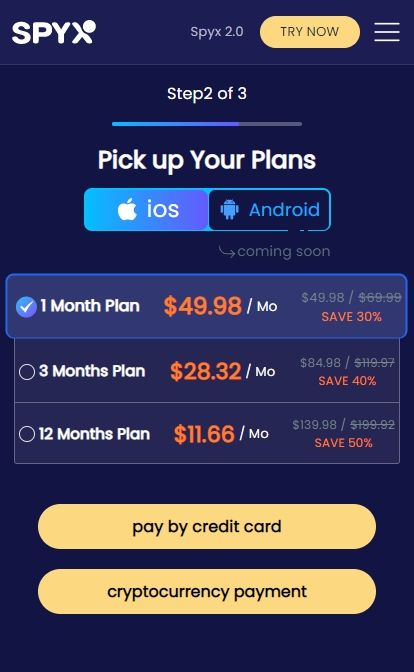 Step 3. Connect Target Phone with SpyX
Set up SpyX and login to the iCloud account using the target device's iCloud ID and password.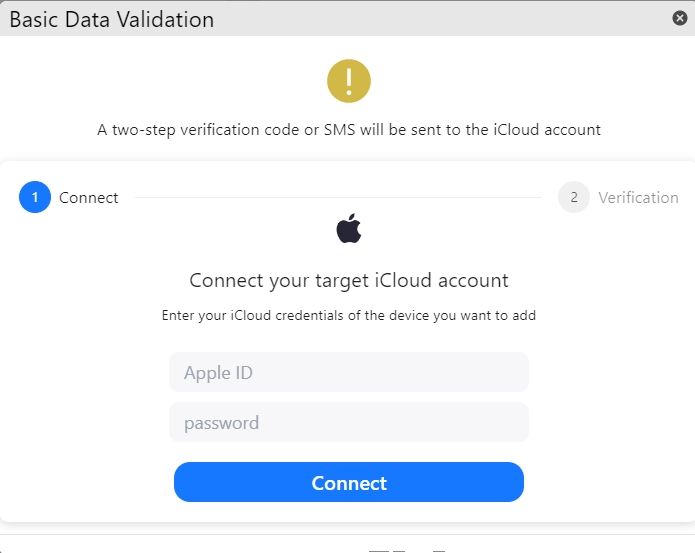 After verifying the icloud account, enter the verification code received by the target device.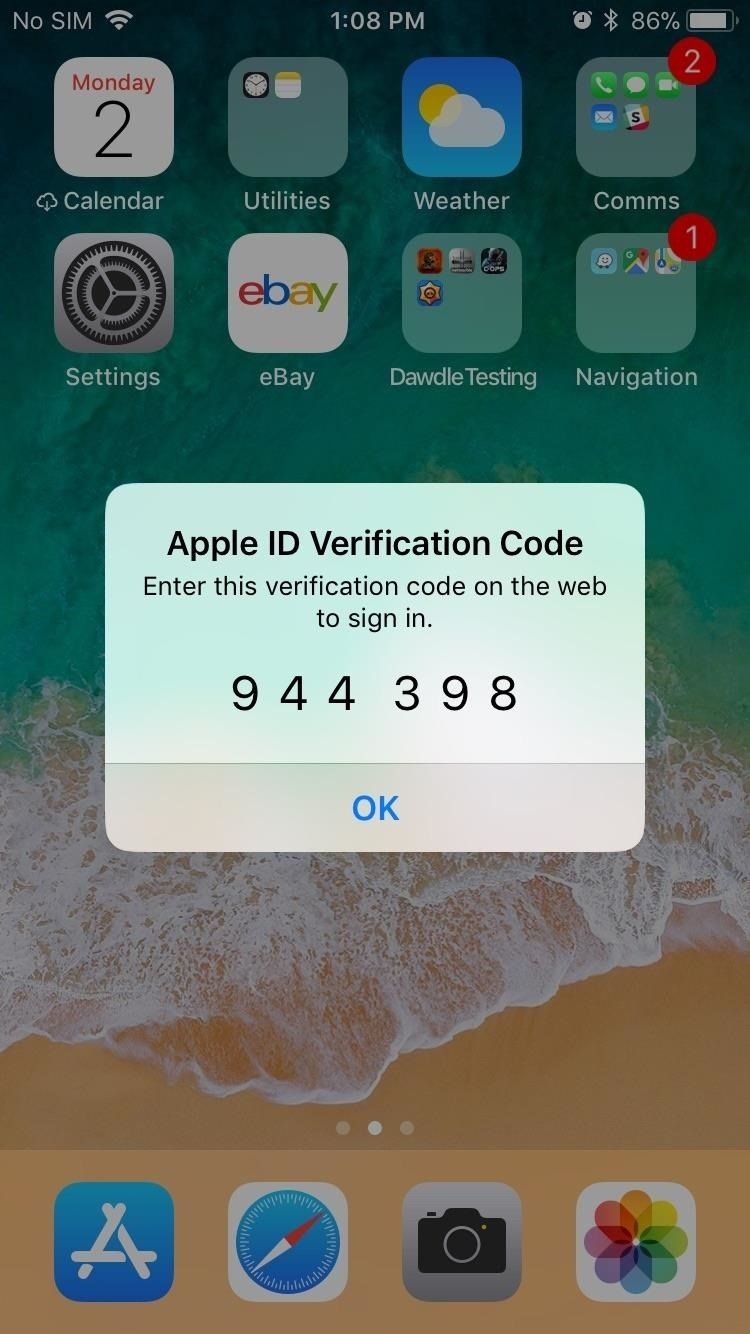 Step 4. Start Monitoring
Start viewing the activity information of the target device from the SpyX control panel.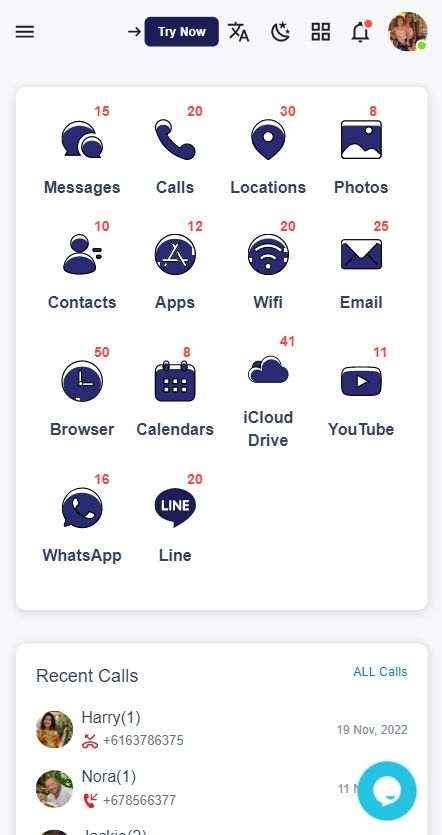 Pros of Using SpyX
1. Undetected
SpyX is hidden and undetected. If you use SpyX to track someone's phone, you will never worry about being caught. It works in stealth mode. And the target user will not know you are tracking the phone. You login to SpyX dashboard to view data of target phone anonymously.
2. Compatible with All iOS Devices
SpyX is designed for everyone who has demand of tracking someone's phone remotely. So, SpyX is compatible with all iOS devices. You don't worry about phone compatibility any more.
3. No Jailbreaking or Rooting
Once you complete 3 steps, you can start remote tracking with SpyX. Jail-breaking or rooting is not required. Because SpyX is use-friendly. And you can operate SpyX smoothly even your are not technician.
4. Safe and Secure
SpyX is 100% safe and secure. And SpyX company will not leak the data of target phone to other platforms or other people. So you don't worry about the safety of your data or that of your target.
5. Accurate Real-time Location
SpyX enables you to track target's live location via a map as well as location history. You can know where the target user is and where he has visited recently.
6. Affordable Price
SpyX provides a dozen of tracking features with affordable price. That means you can enjoy robust phone number tracker with reasonable budget. How great SpyX is! Why not choose SpyX now? It is stronger than you imagine.