For years, the popular Instagram app has left parents on edge as teens become addicted to it. Parents are still ambiguous about it. Is Instagram safe? How does it work? How can I control my child's photo-sharing app account?
Teenagers have gone a step beyond creating an Instagram profile, and now they are creating multiple accounts. Gone are the days when teenagers took selfies to share photos and videos on their social networking accounts. Now they are creating multiple accounts, also of their favorite celebrities. They let people follow their description of their interests and hopefully maintain the profile with regular updates.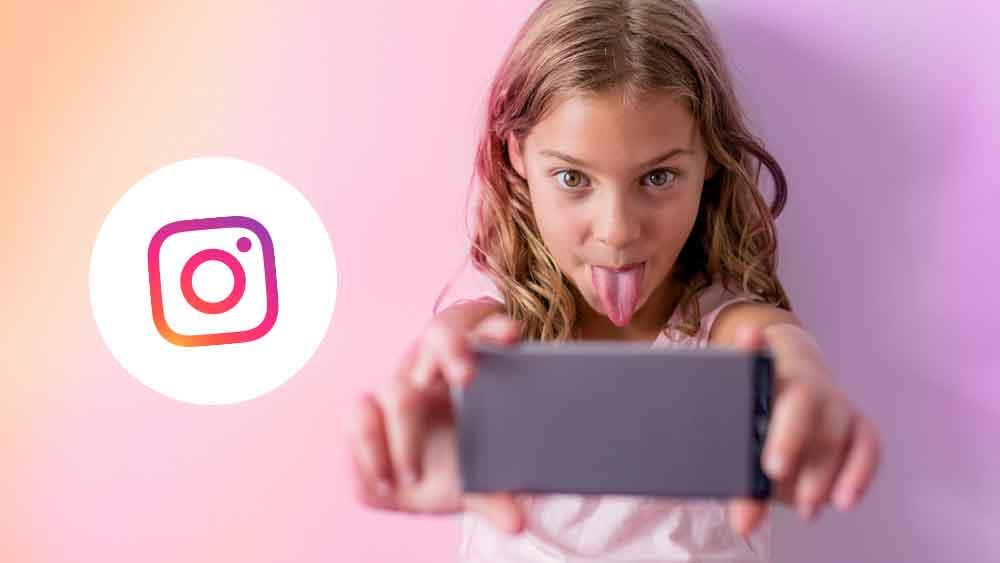 Teens Taking Their Instagram Seriously & Costing Their Private Data NBC News Report
NBC News reports said: Minors are also switching towards business accounts to watch the metrics. It enables teens to know how many people have seen their photos and videos. They are also sharing contact numbers, emails, city names, and addresses. Moreover, teenagers used to make beguiler accounts, business accounts, and Instagram reels.
Apart from teens' accounts on photos sharing app, it is known for cyber bullying and online trolling. Kids are using the image-sharing app for sharing photos and videos. They have to face rude and offensive messages and comments. Moreover, sex offenders and many others alike used to share adult content on the instant messaging app. The content sharing by others on social networks could be disturbing, nude and violent, and deceiving.
Parents have to spy to control Instagram accounts. It makes sure kids' safety and privacy online. Before we discuss how to spy on Instagram and to take control of your daughter's account, you need to know about the following:
What Is Teen's Instagram Beguiler Account?
Beguiler means to deceive someone by showing themselves something else on social media accounts. Instagram "rinsta and "finsta" are similar to beguiler accounts on the photo-sharing app. Most teens get involved in sexual fantasies and share photos and videos in a sexually suggestive manner. So, beguiler accounts on the photo-sharing app enable teens to remain sneaky by making fake profiles and by showing their faces blur. Moreover, teens create beguiler accounts to make friends and others to believe that is not true. Teens create beguiler accounts to get fame and followers, but in reality, they have nothing to do with that.
What is Instagram Reel?
Instagram reels are one of the popular features of the image-sharing app. It is a kind of TikTok version of Instagram. It enables teens to create and record short videos by using cellphone cameras and then share them on their social media account. Reel invites users to create videos for fun and to share them with friends and others. Users can record 15 seconds multi-clip videos alongside audio effects and creative tools. It means teens can now use the Instagram TikTok version and share videos for fun to be popular.
Why You Should Let Your Child Have Instagram?
Social media has entertained with teen's lives, and you need to know when you should allow your child to have an account. When you think that your child is mature enough to know about the Do's and don'ts to be a digital citizen. Allow your kid to have an account when they know digital civilization is the online duty, and when is it a trap; you can permit your teens to have an account on image-sharing applications. Furthermore, it is all about your comfort level and how much you trust your child to allow for Instagram. However, you can keep spying on the photo-sharing app to discuss where your daughter has done high-risk stuff using spy app for Instagram.
Can I Monitor My Child's Instagram?
Yes, you can monitor your child's Instagram by enabling an Instagram spy app on your daughter's cell phone active with a photo-sharing app. It can monitor your child's activity, like messages, conversations, photos, and video sharing using spy app secure web control pane. It is the best way to monitor a child's account secretly without your child's knowing. However, you can manually set your child account private because image-sharing app accounts are set public by default.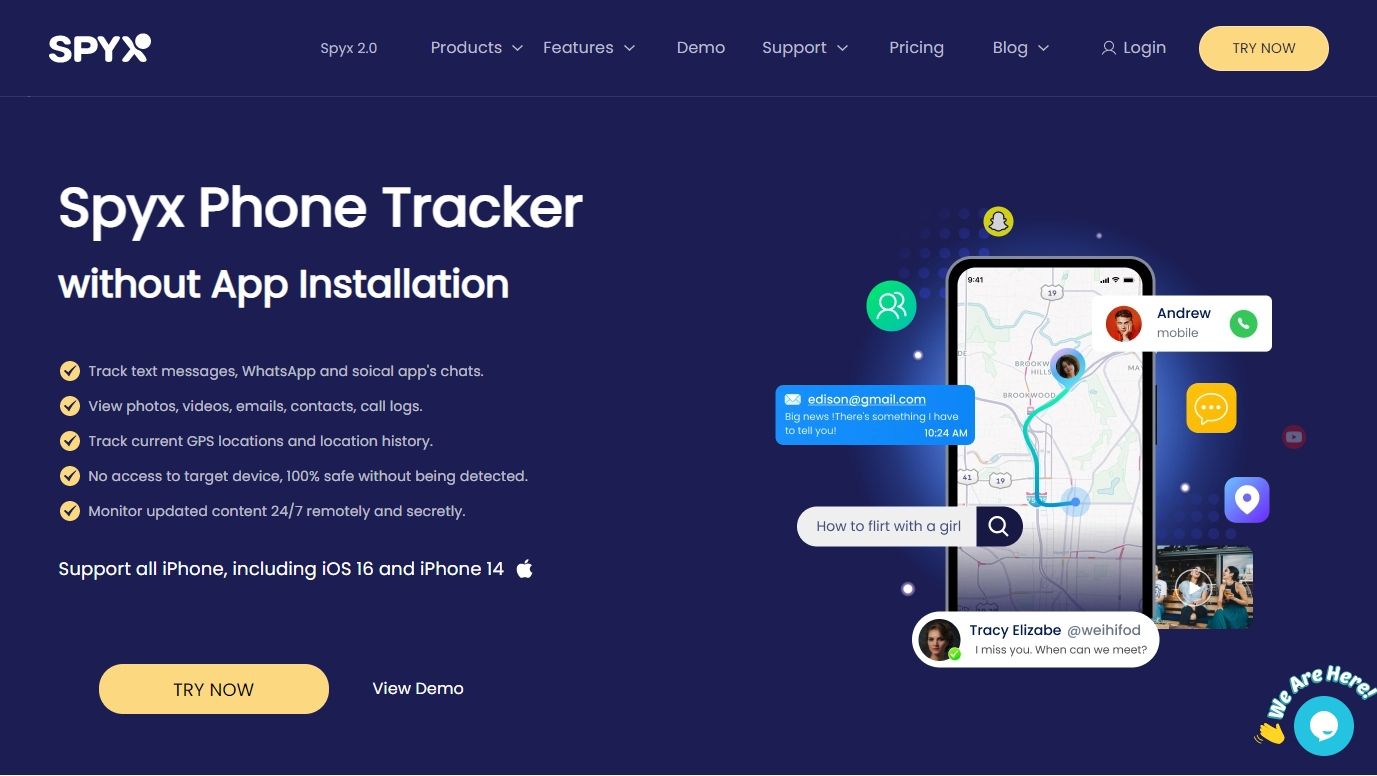 How to use Instagram's built-in features to spy on kids?
1. Create a Private Account
It is the first and foremost priority for parents to set up a private Instagram account for their kids. In this way, their content will be visible to only followers and the ones they approve of sharing with.
1.Open Instagram application.
2.Navigate to profile and click on Settings.
3.Select privacy and turn on the Private account tab.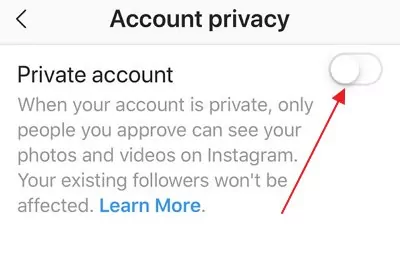 2. Block Unidentified Users
Parents can block strangers and suspicious users who might be looking for kids' location and activities through their posts and surroundings. Following these easy steps, parents can help protect their kids from harmful content and predators.
1.Open the Instagram app and go to your profile.
2.Tap the three dots in the top right corner and select "Settings."
3.Tap "Privacy" and then "Blocked Accounts."
4.Tap "Add Block" and type in the username of the user you want to block. Tap "Block" to confirm.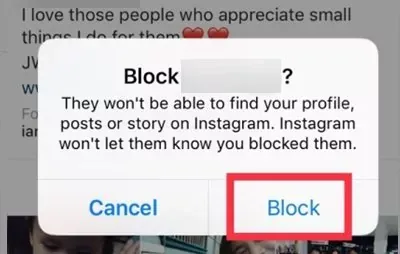 3. Limit Users
The feature can be used if you want to get rid of unwanted or disturbing comments. To temporarily limit users:
1.Open Instagram profile > Settings > Privacy.
2.Limits. Tap continue.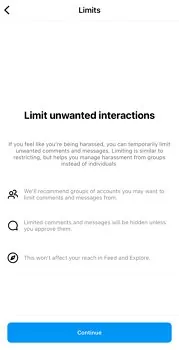 3.Determine the time and users you want to limit.
4.Tap Turn on.
Additionally, you can limit Accounts that do not follow you, including the most recent followers. There is an option to select a limit from one day to four weeks.
4. Restrict an Account
As a parent, you want to do everything you can to keep your kids safe online. That includes monitoring their social media activity and restricting unwanted or inappropriate accounts. Here's how you can do that on Instagram:
1.Open the app and go to your child's profile.
2.Tap the three dots in the top right corner.
3.From here, you'll see the option "Restricted Accounts." Tap that.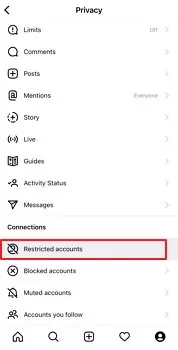 Now, any account you restrict will not be able to see your child's posts or send them direct messages. You can also approve any comments or tags from restricted accounts before they appear on your child's posts. Remember that you can always edit or remove these restrictions at any time.
5. Manage Messages
Instagram is rolling out a server-side update that brings new ways to filter the account's activities, including Limits for unwanted messages, hidden words, Instagram live privacy, and IG post interactions.
Navigate to the privacy menu in settings to configure Messages Settings.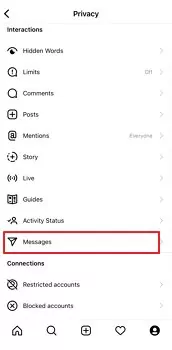 6. Manage comments
Instagram has long been criticized for its lack of features to block specific inappropriate comments. However, this is no longer the case. Fortunately, Instagram can block comments that contain exact keywords or phrases. You can also set up filters to hide inappropriate or offensive remarks in comments.
1.Open application > Settings > Privacy.
2.Select comments .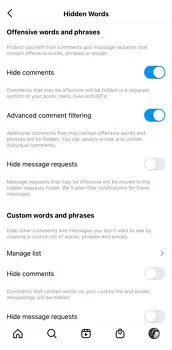 You can block comments from suspicious or strange users depending on your preferences.
7. Manage Mentions
Users sometimes experience awkward situations when strangers or new users mention them in irrelevant posts or persuade them to take action publicly. If you prefer, you can allow only friends to mention you or keep the settings according to your preferences.
1.Open the application.
2.Click on the Privacy option in the Settings menu .
3.Tap on the "Mention" menu and select whom you allow to take this action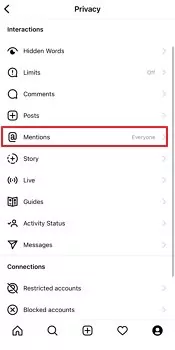 8. Use Story Controls to Disable Public Messages
You can change the settings to ensure that only private messages can be sent as replies to stories, which are public and therefore less prone to annoying comments.
Navigate back to the "Privacy" section of Instagram settings and select Stories. Change the setting under "Allow message replies" to "People you follow" or "Off."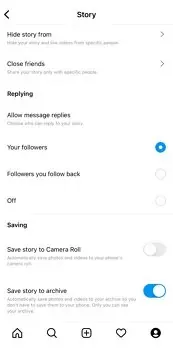 9. Turn off the Activity Status
If you're concerned about people tracking your kid's Instagram activity and the amount of time they spend online, you can turn off their activity status. This will ensure that no one can see when they were last active or how long they were online. Here's how to turn off the activity status for your kid's account:
1.Open the Instagram app and go to your kid's profile.
2.Tap the three dots in the top-right corner.
3.Tap Activity Status.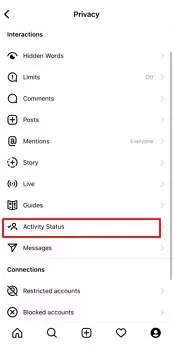 4.Confirm by tapping Turn Off.
Once you've turned off activity status, no one can see when your kid was last active or how long they were online. Ensure you can access their online status through the AirDroid Parental Control application.
10. Turn off geotagging
Geotagging allows you to update your location and add your coordinates to the application. It then enables people to see exactly where you are. For kids, this is obviously not ideal.
1. Select Settings on your phone.
2. Go to Apps.
3. Navigate to Instagram.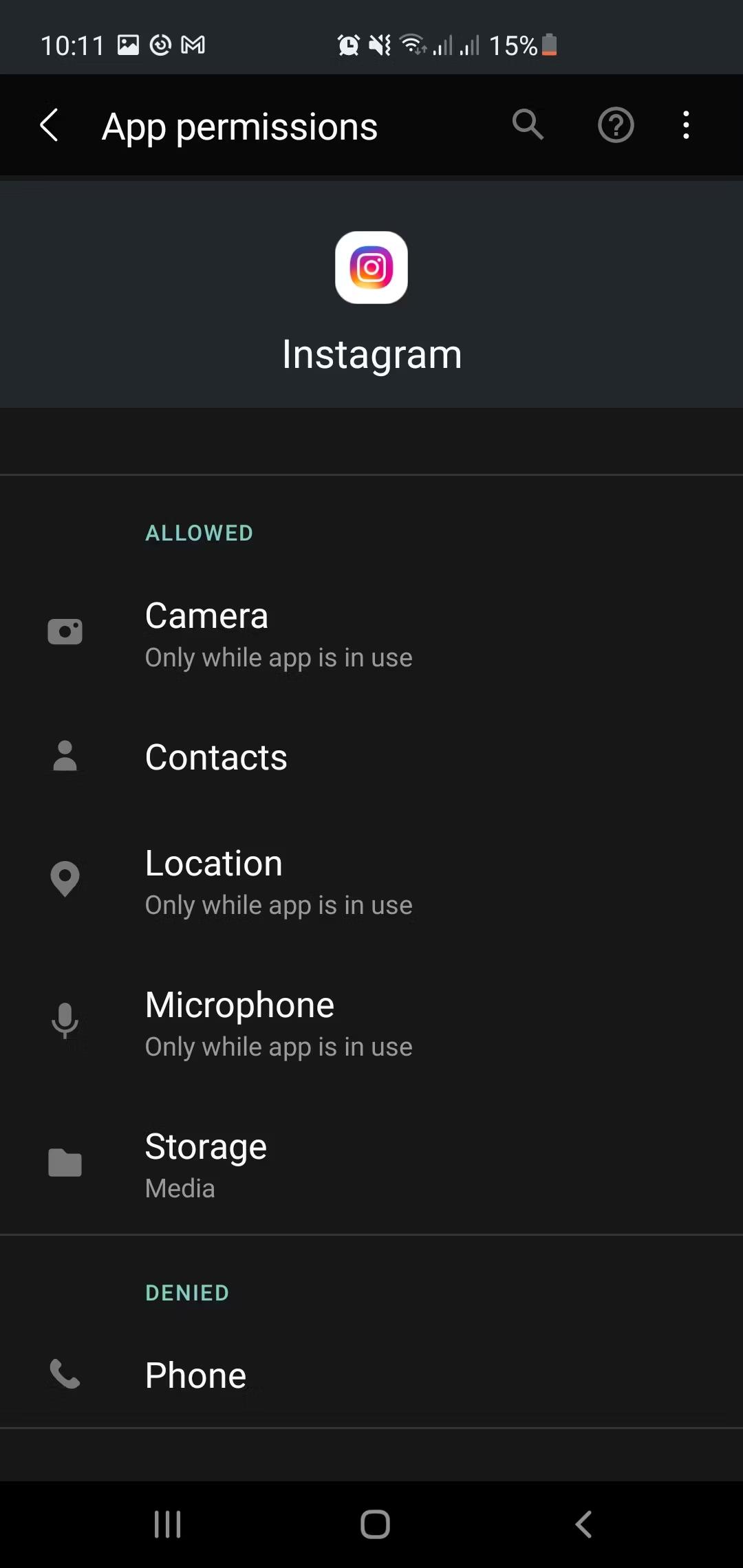 4. In the permission options, click on the location and change its permission setting to "Deny"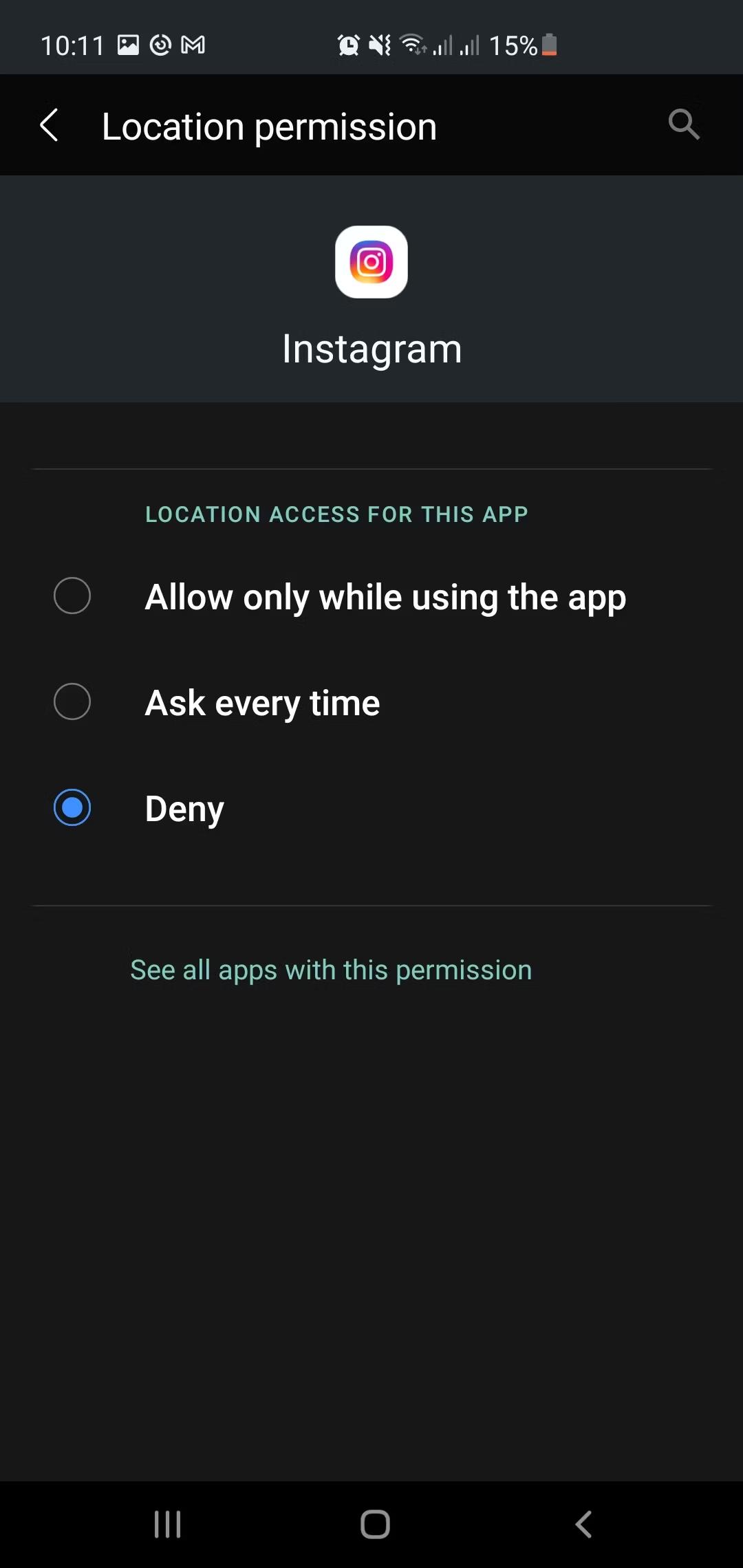 When geotagging is disabled, your child's profile will not appear on the map.
How to spy on Instagram without their knowledge?
Yes, you can spy on any instant messaging app without their knowledge. You can use SpyX to connect with your child's phone. It enables user to secretly access target phone and spy on your Instagram account without their knowledge, enables you to monitor and track messages, chats, record screen, voice and video call logs and schedule. It does not leave any traces on the target phone, which means that SpyX is 100% stealthy.
Best Instagram spy app without target phone?
Unless you use SpyX, no Instagram spy app can spy on the photo sharing app without the target phone.It enables users to spy on social networks without the target mobile phone after setup on the target device. It can remotely monitor and track social messaging apps through its secure web control panel. Users can secretly read messages and chat remotely. Also, you can monitor multimedia, voice and video calls on Instagram without the target phone.
All-in-One iPhone Spy App
SpyX is designed to track iPhones remotely without anyone knowing. It allows to track all activities on the target iPhone such as text messages, calls, photos, videos, calendar events, notes, GPS location, social apps chats.