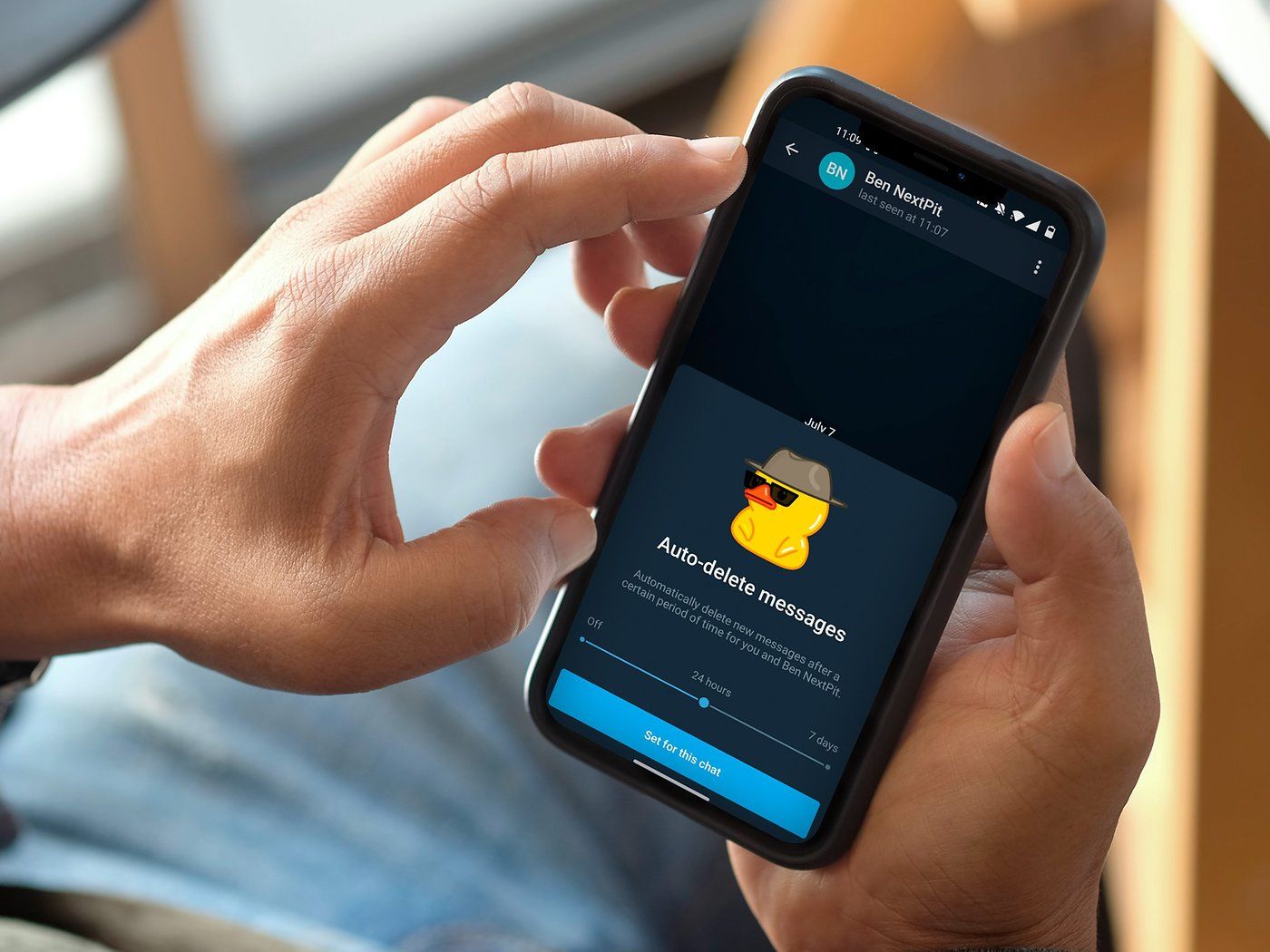 Do you want to be discreet? Here's how a chat app is teaching young people to disappear texts, videos and photos from popular social networking apps. It looks like the auto-disappearing message feature is exciting, safe, and helpful for instant messaging users. Yet these self-destructing messages exploit Gen Z like never before. You might see the premise of secret agents sending self-destructing messages in spy movies, but for generations, they didn't need to be international spies to do the same with texts. The world has evolved because of technology, and nowadays teens can easily send an auto-disappearing message to anyone.
Fortunately, technology has evolved on both sides. For example, once someone invented the function of disappearing messages, another application offered the possibility to read the messages even after they were deleted.
What Are Disappearing Messages?
It means the text is automatically deleted from the conversation after some time. When text messages disappeared, both parties can't restore or save them. You can set the period for messages to remain in the chat in messengers. In other apps, texts disappear right after the recipients read them.
Why Do Teens Uses Automatically Disappear Messages in Chat Apps?
Most popular instant messaging apps have included some kind of disappearing message feature-that means they don't want to leave a permanent record of their messages, chats, shared media, and other activities. Many social messaging apps are using the disappearing messaging feature as default. Many people love to have the chat archives to go back into for sentimental and professional reasons, but what makes young teens use the self-deleted messaging feature?
Top 4 Reasons for Teens to Use Self-Destruct Messages in Social Networks
Here are the reasons for teens that make them these days use automatically disappearing messages in social messaging apps. The following reasons will force you to spy on messages on chats that disappear itself from your cell phone device.

1.Teens Want to Delete Sent Nudes.
Teens are more likely to get involved in online relationships and hookups with strangers.
· Teens don't want to disclose online interactions with someone online with their parents in general and with their siblings in particular.
· Why do they delete sent photos to someone online? 1 out of 10 teens share nudes and explicit photos with their lovers online. They don't want to remain the sent nudes in their chat apps Archives and prefer to delete them.
What are the consequences of sending nudes with strangers?
Young teens more likely to face blackmailing, revenge porn and many other issues after they have sent the nude and compromised photos with their loved one using social messaging apps. So, there is no other way to safeguard teens online. However, parents can spy on messages that self-destruct on chat apps to protect teens.
2.Sent Videos Based on Obscenity
Youngsters these days are outspoken and have got more freedom than the previous generations. So, they love to be blunt and want to do whatever they want. So, they can easily record videos based on self-obscenity after being intimate with their partners. Sexual relationships among teens often lead them to the point where they willingly send their compromised videos to their lovers using self-deleted messages in instant messengers' apps.

What are the repercussions of sharing videos of obscenity?
The aftershocks of sharing videos based on obscenity with lovers could turn into revenge porn, fear of getting viral, suicide, blackmailing, and many more. So, parents have no choice but to monitor social messaging apps active on teens' cellphone to prevent them from sharing compromised videos with anyone.
3.Sent Data that Breaches Privacy
The popular social media networks allow users to send their location, share names, school names, and other valuable information tough messages and through their profiles. So, teens are more likely to face online bullying, body-shaming, and abduction after talking with someone online. Therefore, automatically disappearing messaging features in chat apps could save them from online predators. However, the information shared on their profiles could cause an issue.

How do you protect teens' privacy online?
Parents need to protect teens' privacy online one way or the other. So, they have one choice to protect their privacy unless they can spy on their phones to monitor social messaging activities. You need to watch teens and what they share via the self-deleted messaging feature. The question arises of how you can prevent teens from sharing location, names, and school names on social media profiles. The answer is to use parental control app for cellphones to monitor every activity on the social messaging apps.
4.Sexting Through Texting With Loved Ones
Sexting and sextortion are at an alarming level among teens.
· They love to do sexting through text messages using chat apps on their mobile devices.
· They also use dating slang with their lovers in chat and text conversations.
· The automatically disappearing messaging service in instant messengers is helpful for teens not to get caught by their parents.
How is sexting in chat apps harmful for teens?
Sexting is one of the best weapons for cyber predators to groom teens online. So, they gradually turn teens to do sexting with them and later on ask for a blind date. Young teens are more likely to become victims of gang rapes, date rape, sexual assault, and harassment. Victim teens got emotional, physical, and psychological consequences because of sexting with strangers.
What social messaging apps offer self-destructing messages?
Here are the following social media networks that allow users to do self-delete messaging to send videos, photos, files, and others:
Signal Instant Messenger
Self-removed messages feature is a default feature in the Signal chat app. However, you can also use it as an optional feature for individual conversations. Users can switch between disappearing messages to permanent messaging at any point in time. You need to tap the banner of the text messaging thread and further tap on the self-destructive messaging service.
WhatsApp Messenger
WhatsApp is one of the few social messaging apps that offer disappearing messages to images, videos, photos, and text. The recipients have 14 days to view the received items, and after that, it vanishes away. Users can tap the icon showing a circle, right next to the send icon –you can tap it to disappear image, text, video, and photo.
Snapchat Social Messenger
Snapchat is a social networking app that has given popularity to self-deleted messaging. You can access the chap app by tapping on the second icon from the left bottom of the screen. You can use the main chat list screen and start chatting with any of your contacts. Further, you can tap the icon at the bottom to chat with the person. Moreover, Snapchat will vanish anything once the recipient has viewed it.
FB Messenger
Facebook messenger signed up for disappearing messages. It saves every conversation separately, and you can use permanent messaging, and disappearing messages in the same thread. Users can delete the sent messages at any time within a few clicks.
Telegraph
Telegram is a very popular product where you can set a timer for messages to self-destruct in secret chats. This causes messages and other data such as shared media to be destroyed after a set time.
Instagram
You can activate the Instagram vanish mode only after synchronizing with Facebook Messenger. But in any case, you can send the disappearing photos and videos. The system will delete them from the group or individual chat after the recipient watches them.
Use SpyX to Monitor Automatically Disappearing Messages in Chat Apps
Disappearing text is no obstacle for you when you read text messages using the app. You will be shown all deleted messages in the chat. It allows you to see the big picture and learn everything about your child's online communications.
Almost all modern parental control solutions include options to view hidden and secret chats in popular messengers and show you texts and media sent in disappearing mode. In other words, once you've successfully connected with your child's device, you'll have access to all of their conversations.
SpyX is one of the best cell phone spy apps and monitors social networking apps that provide self-destructing messaging. Parents can use it as the best parental spy app on the target phone to know what teens are sharing and why they are using disappearing messages in chatting apps. Here are the following features of cell phone spy app that will allow you to catch every deleted photo, video, text and file share in disappearing messages on instant messaging apps.
Live Screen Recording
Screen recorder tool allows user to record continuous video of phone screen using chat apps like Facebook, Snapchat, signal, Telegram, Line, Vine, WhatsApp and every social app you name it. Also, it sends the recorded data to TheOneSpy dashboard. Users can download videos to capture disappearing messages.
Screenshot
Parents can schedule multiple screenshots by activating disappearing messages chat app using cell phone spy app on the target device. It will capture multiple screenshots at once and send them to the web control panel. You can download captured screenshots and view deleted photos, videos, messages and chat conversations on the target social networking application.
Keystroke logging
Keylogger enables users to capture and record text conversations and text message keystrokes in chat applications. Additionally, you can send keystrokes to the dashboard. Users can access the dashboard to view keystroke logs. It will only enable you to capture deleted text messages and chat data.
SpyX Dashboard
You can after successfully connecting the target phone with SpyX, it will sync each chat app's data to SpyX dashboard. So it doesn't leave anything unattended to help parents view SMS logs, chat logs, video and photo logs.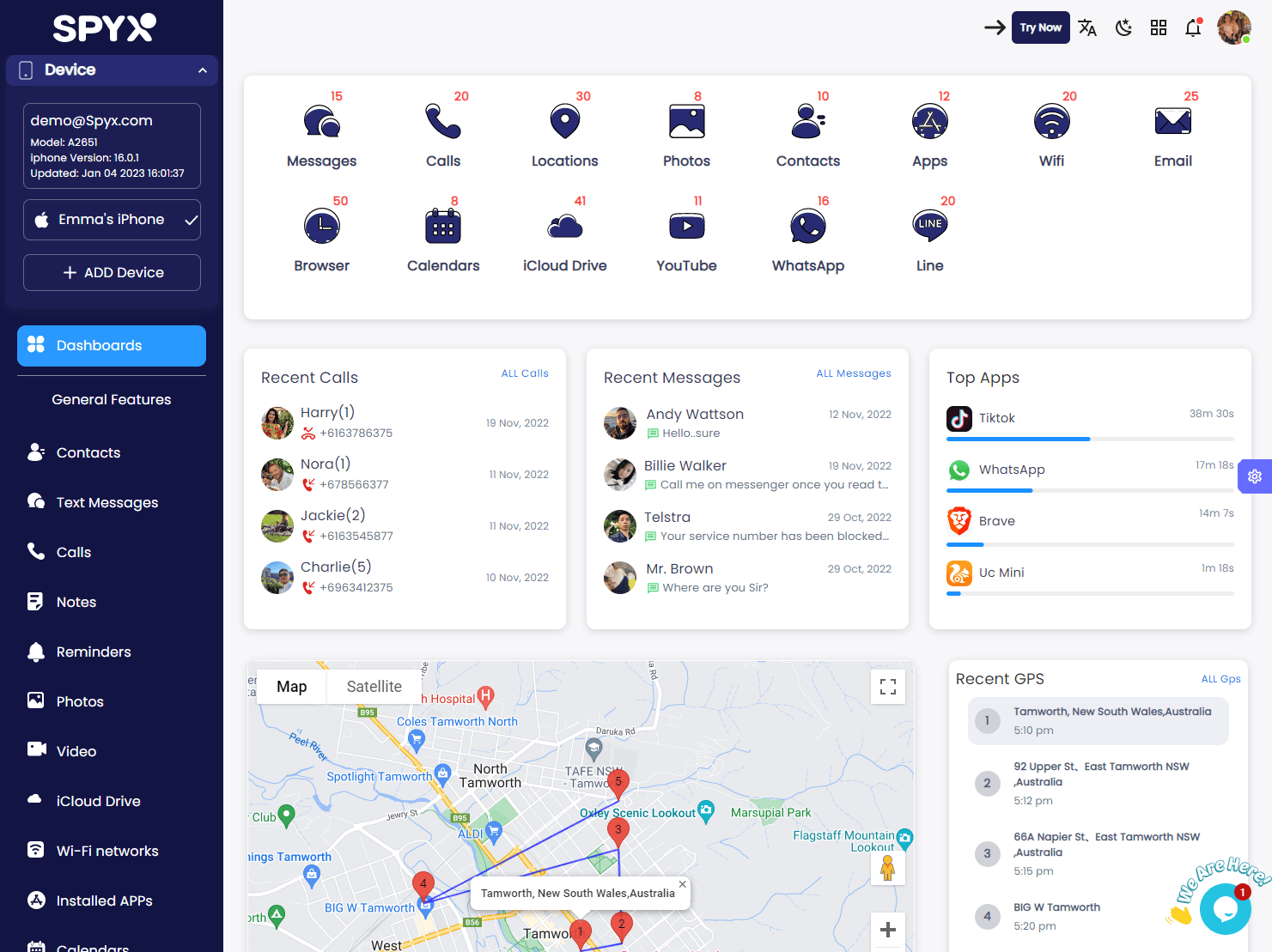 Compatibility
Always make sure that the spy app you buy works with your iPhone. A great iPhone tracker that is compatible with all iOS devices.
Customer Support
Having responsive, reliable, and helpful customer service is very important when trying to pick a good iPhone spy app.
In conclusion :
The digital well-being of children is a top priority for parents. SpyX is one of the few spying apps that can legally be used for child monitoring. Parents can use it on phones with the popular instant messaging app to monitor messages that automatically disappear.
FAQ
Can Parental Control Apps See Disappearing Text Messages?
In most cases, yes. Almost all parental control solutions save disappearing messages and display them like normal messages. Even if you activate disappearing text mode, you'll see the entire conversation in the dashboard. So it's best to check if a parental control app offers this option before buying.
What's the best way for parents to keep track of their kids' text messages?
The best way to track messages is through modern spy software developed for this purpose. Even if you can access a device and read text, it doesn't mean you know everything. Your kids can delete messages from the chat and you'll never know what they're about. Using a tracking app ensures complete control.
Does Vanishing Mode work for both parties?
Vanish mode deletes both messages. When they disappear from the chat, neither the sender nor the recipient can read them. This feature deletes information from the conversation history. However, until you follow SpyX's directions, you'll be able to see this information in your dashboard.
Is it hidden on iPhone?
With other spy apps they would have access to a lot of your personal information and would be able to keep tracking and monitoring your activities remotely as long as the software is undetected - however, SpyX is 100% hidden!