Now mobile phone has become an important role in teenagers' life. They use mobile phone to surf the internet, send and receive text messages, share interesting things. With popularity of social media, many teens post their daily life online to attract more peers to praise them and win vanity. Then it is their showoff that might hurt them. Excessive sharing can reveal personal privacy and cause Internet violence. Teens who experienced Internet violent will become vulnerable and seek comfort from strangers. Such teens easily become the target of predators and scammers. When young teens can't protect themselves online well, what should parents do? Read the articles to get safety tips for kids. Based on practical needs, parents can choose a parental control app like SpyX, settings on phone or other tools.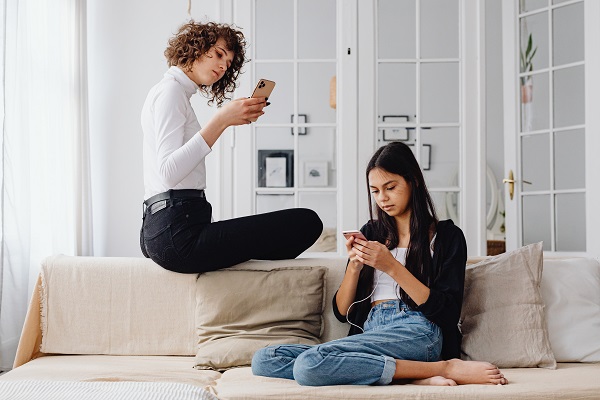 Part 1. Online Safety for Kids:Should I Forbid My Kid from Using the Internet
Parents should not restrict children from using mobile phones just because of hidden risk. This is not wise action. Children need smart phones to have a call, send messages, share locations when they meet emergency. What's more, most adolescent children are rebellious. Even if their parents forcibly ban their mobile phones, they will use friends' phones and surf the internet. Instead of tough restrictions, it is better to use parental control software for children without them knowing. For example, SpyX phone tracker can monitor children's phone activities, browse emails, read phone calls, track calendars, etc.
Part 2. How Can I Track My Child's Phone without Them Knowing
Yes, it is illegal to monitor someone's phone without them knowing. However, you have total right to track your underage child without them knowing. Here are four methods to safeguard children from online predators.
Method 1. Track My Child's Phone without Them Knowing with SpyX
SpyX can allow parents to track children's activities on phone secretly. Check calls, messages, or reminders, GPS locations, parents can do it anytime. SpyX has strong tracking features as following:
Tracking GPS locations;
Viewing contacts, messages and calendars;
Browsing iCloud files and data
Reading notes
Viewing photos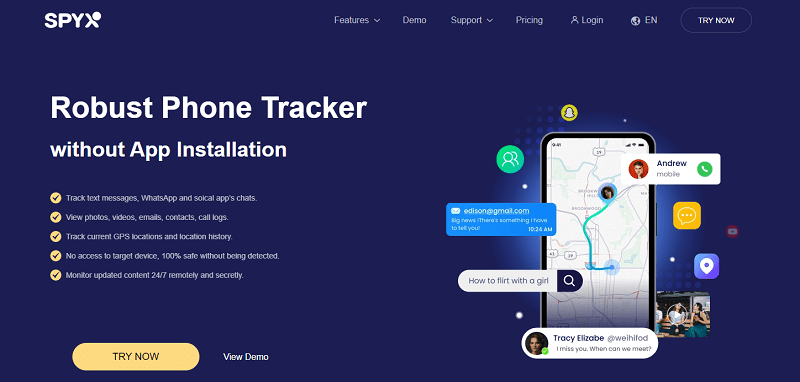 To track iPhone, Parents need to get children's iCloud credentials and password. You don't need jailbreak or app installation. Just with a few steps, you can remotely monitor your child's phone anonymously.
Step 1. Sign up free with existing email.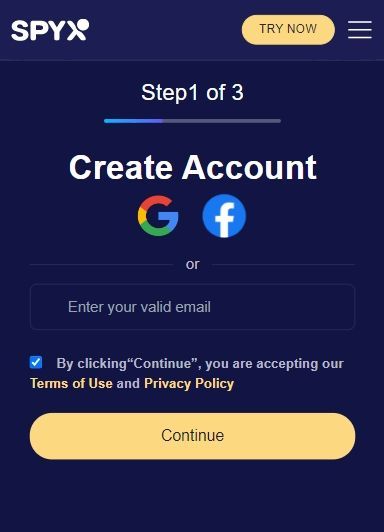 Step 2. Choose suitable plan for your needs.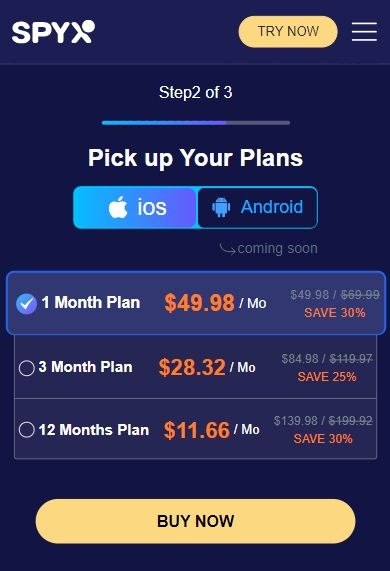 Step 3. Bind target phone with SpyX.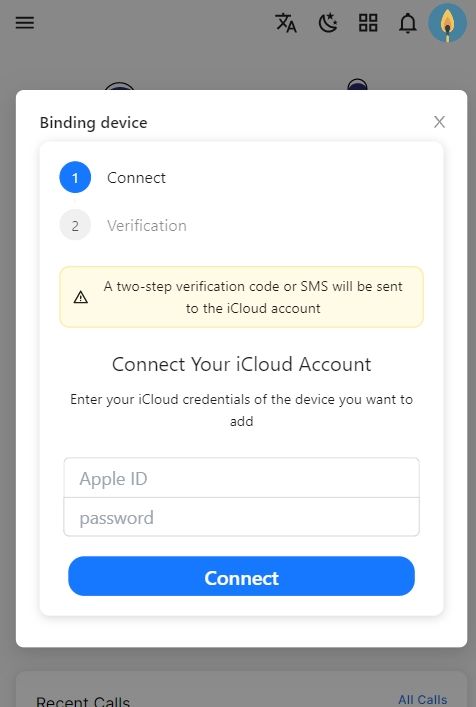 Step 4. Track target phone remotely.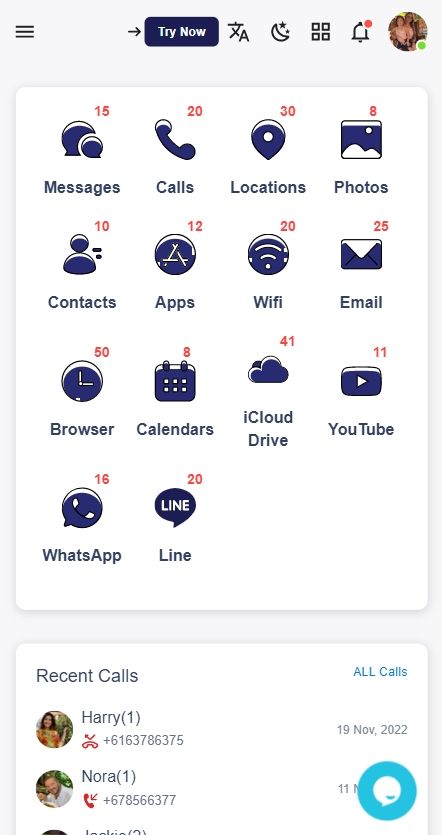 Method 2. Track My Child's Phone without Them Knowing Using Localize.mobi
If you want to locate your child urgently, you can try Localize.mobi. It allows you to learn child's location easily without installing extra apps. This solution works on both Android phones and iPhones. Compared with other monitor app, Localize.mobi doesn't have a variety of monitoring functions but focused on location tracking. It's a phone tracker by number with all mobile network provides fully covered. If you just want to track child's location, you can consider this phone location monitoring solution.
Method 3. Monitor Child's Phone without Them Knowing Using iCloud
Parents are curious about what children do with iPhone, especially the content of text messages and photos. For some sensitive information, children may delete them from iPhone. Once the iCloud is on, all data is sync from iPhone to iCloud. Thus parents can view all files though iCloud even deleted by child.
Though iCloud, you can find out kid's location, play a sound on target device, erase all information remotely, and turn on lost mode. To start monitoring your child's iPhone, you can take following steps:
Step 1. Login iCloud with credential and password;
Step 2. Click Find my iPhone;
Step 3. Go to an interactive map and choose the device;
Step 4. Find out a target person's location.
Method 4. Track My Child's Phone without Them Knowing Using Android Device Manager
If your child uses can Android phone, you can consider using Android Device Manager(AMD). It is a built-in tool by Google that can track someone's GPS location.
With AMD, you can locate the target phone, lock it remotely, erase the data on it , and reset the lock-screen password.
Follow the steps to monitor child with AMD:
Step 1. Login the Google Account linked to a target device.
Step 2. Swipe to the bottom of the screen to see the connected phones.
Step 3. Choose the one you need to monitor.
Step 4. View the target person's location or lock their device if needed.
Part 3. Final Thoughts: Online Safety for Kids
With the popularity of smart phone, more children spend a lot of time on phone activities. It is understandable that parents are anxious about the online safety for their children. The proven way is to choose a reliable parental control app to monitor their children's behaviour with phone. SpyX is such a powerful phone tracker which can track GPS locations, view sent and received messages, read emails even deleted, look though photos, learn about events marked on calendars. With SpyX phone tracker, you can know what places children visit, who they call and send messages, what topics they talk about, what the plan for the next month, ect. SpyX monitoring software is a helper for parents, which relax parents from tracking children and safeguard children online.
FAQs
Q1. How can I see everything on my child's phone?
The most effective way to monitor kid's phone remotely is by using professional parental control app. You install a parental control app on your kid's phone and parents can check everything that their kid does on his phone remotely from parent's device. This is the best option for both Android and iOS users.
Q2. Is there an app to track a phone without them knowing?
With SpyX, you get a phone tracking app that will track phone device without the knowledge of the device owner. SpyX is able to do so because of its powerful stealth mode, which lends you 100% invisibility to snoop in and track cell phone activity without suspicion.
Q3. How can I see my child deleted texts on iPhone?
To see deleted iPhone text messages of child, just follow these instructions:
1. Sign up SpyX account free with valid email.
2. Purchase suitable plan.
3. Connect kid's phone with SpyX.
4. Login to Control Dashboard and view any deleted text messages from your child's phone stored on iCloud.
Q4. How can I track my child's phone without installing an app?
You can track their phone through the carrier app or phone number. Some apps can track their location with these two options, and you would not need to install an app on their phone, just like SpyX phone tracker. Another alternative is using the IMEI number.
Q5. What app can parents read text messages?
SpyX is a leading parental control app for smartphones that allows parents to monitor text messages, calls, current GPS location, Snapchat, WhatsApp and much more.