iMessage information is an Apple service that sends information to other iOS devices (running ios 5 or later), iPadOS devices, Mac computers (running OS X 10.8 or later), and Apple Watch.This information does not cost your information package.Information sent through "iMessage messages" can include photos, videos, and other information. Many teens use iMessages to share their daily life with their friends. Because it is very convenient and easy to reach out to someone even both of you are busy. Compared with phone call, teens prefer more meaningful conversations through iMessages. That means iMessages on teens' iphone contain much information that parents don't know.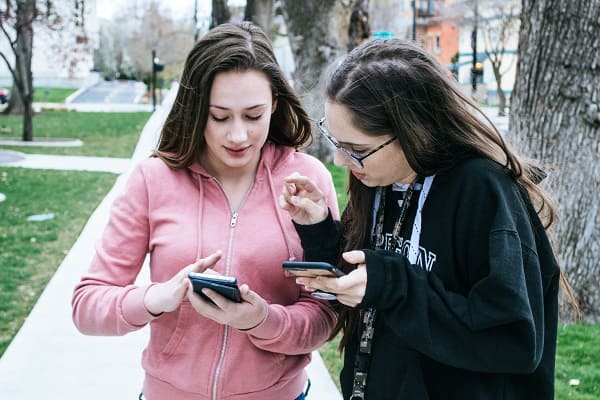 Part 1. Overview of iMessages
Maybe for some Android phone users, they are not familiar to iMessages. The following content is about the introduction of iMessages.
1. What Is the Difference between iMessages and Text Messages
iMessage only supports sending messages between iPhone, iPad, iPod touch, and Mac. In this case, Apple phone users can choose to use wireless data or Wifi without charge. Text messages are sent through the carrier (mobile, Unicom or telecom).
2. How Does iPhone Use iMessages
From the above explanation, it is clear that iMessage can only be used if both parties receiving and sending messages are Apple users and have enabled the iMessage information function. If one of them is an Android phone user or does not start the iMessage, the phone automatically selects the SMS / MMS when sending a message.
3. How iPhone Users Activate or Turn off iMessage
Open the phone, click Settings-Information, and turn on the first "iMessage" at the top. In this way, if your contact is also an iMessage-enabled iPhone user, when you send messages, you can see the iMessage displayed in the input box. If you need to close the iMessage, then follow the same operation steps, and set the check box after the iMessage function to the close state.
4. How to Block the iMessage Spam
Since iMessage is free to use and requires only wifi or cellular access, iMessage is often used for spam messages. Some spam messages are also beginning being sent through iMessage groups.In fact, in iOS11 systems, you have added the "Filter of unknown senders" feature, which allows you to directly filter the iMessage of unknown senders. From then on, the information sent by the strange ID will not be reminded, the specific setting way is: open the [Settings] - [information] of the mobile phone in turn, enter the "unknown and filter information", and open it.
Related: Why You Should Monitor Child's Text Messages
Part 2. What Are Dangers of Using iMessages
Apple's iMessage experiences severe problems with its latest encryption. The app is attacked by retrospective decryption easily. This is dangerous for iMessage users. Those attacks can reveal the contents of all the victim's past messages, even personal information and credit card details. This means that if you send a private message to someone, experienced scammers are likely to steal your data information. Also, the person you love is likely to be a victim of online cheaters. Especially for parents, in order to protect their children from this experience, we need to monitor their mobile phone information without knowing them.
Related: Protect Child from Online Predators
Part 3. How to See Your Kid's iMessages without Them Knowing
Kids spend much time on iMessages. Thus parents want to know who they are talking with and what they are talking about. Here we provide three methods to see your kid's iMessages without them knowing.
Method 1. Intercepting iMesaages with a Parental Control App
If you want to read your child's iMessages anonymously, you can try SpyX, a parental control app. Except for tracking iMessages, SpyX can track phone calls, notes, reminders, browse emails, monitor GPS locations. Just follow the steps to starting phone monitoring.
Step 1. Create an account
Visit spyx.com to sign up free with your valid email.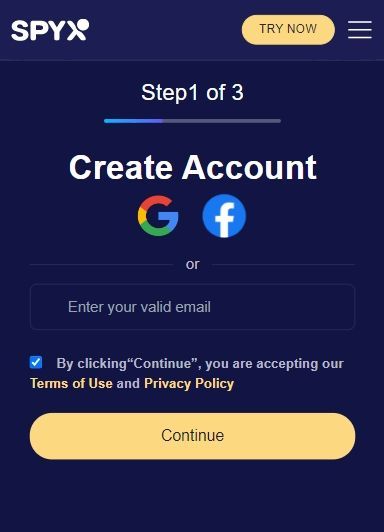 Step 2. Pick up you plan
Choose the subscription compatible with iOS-operated devices.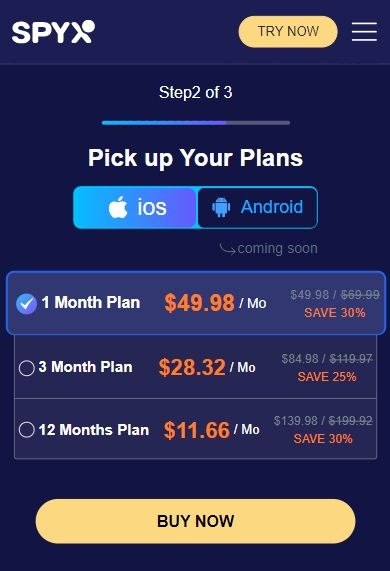 Step 3. Bind targeted device
Type in the target iCloud with email and password, and bind target iPhone with SpyX software.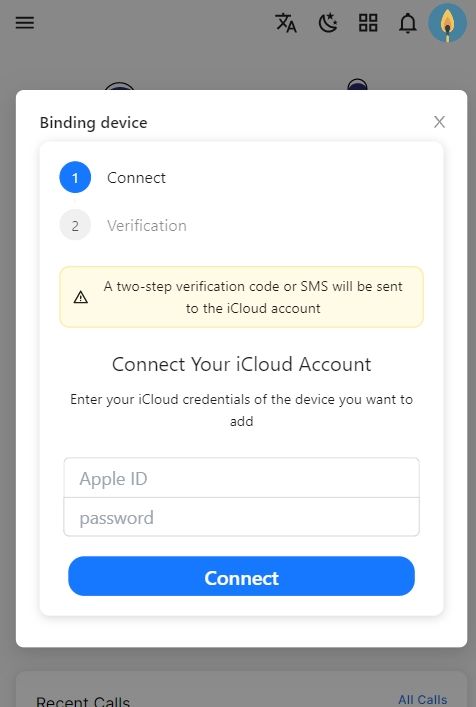 Step 4. Start monitoring
Login to your SpyX dashboard, link the target iPhone and track iMessages.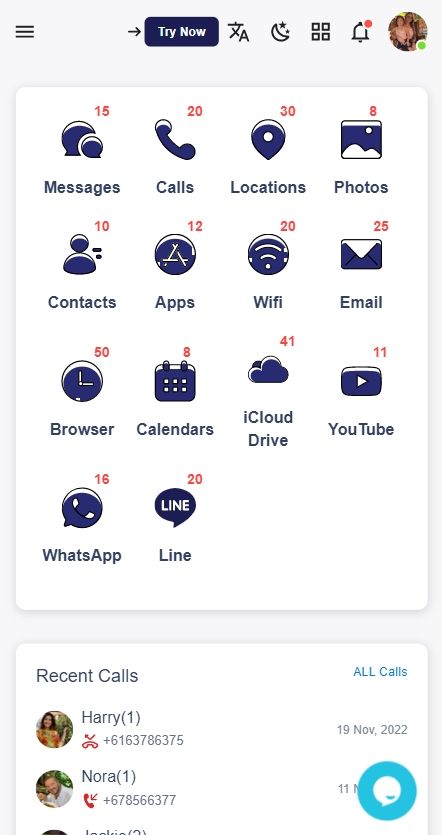 Method 2. Getting Someone's iMessages Via iTunes Backup
You can use an iCloud backup extractor to view someone's iMessages online. It can help you see the backed-up data, including text messages, stored on another person's iPhone. You're likely to get the freshest data, as Apple recommends doing regular back-ups. Steps are easy as following:
Step 1. Download and install an extractor (it can be any app you like).
Step 2. Launch the app and click Recover from iTunes (or whatever the button might be called in the app you're using). Then, click Start.
Step 3. Select the type of data you need to see. In your case, it's iMessage.
Step 4. Start scanning the source of data. When the process is complete, you can read another person's iMessages.
Method 3. Viewing Someone Else's iMessages with Their Apple ID
If you know child's Apple credentials, you can log in to iCloud and read iMessage without them knowing. You can take steps as following:
Step 1. Log in to iCloud using the Apple ID and password of the person whose iMessage you want to read.
Step 2. Access their iMessages and read them.
Step 3. If you find evidence of abuse or dishonest behavior, make screenshots and save them on your cell phone.
Part 4. Conclusion
When you choose parental control app, you need to consider two factors, privacy safety and monitoring functions. SpyX is a legal phone tracker designed for parental control. It protects the data on the target phone and doesn't hack the private data. What's more, SpyX has strong tracking functions to meet practical needs. It is a really reliable phone monitoring app for parents who want to protect children from hidden dangers online.
FAQs
Q1. How can I see my childs text messages on iPhone without them knowing?
There are different ways to monitor your child's phone without them knowing. Through cloud sync, find my phone app or Google family link. However, the best way to monitor your child's phone without them knowing is via a parental control app.
Q2.How do I link my childs iPhone to mine?
On your iPhone, iPad, or iPod touch
1. Go to Settings.
2. Tap your name.
3. Tap Family Sharing, then tap Add Member.
4. Tap Create an Account for a Child, then tap Continue.
5. Follow the onscreen instructions to finish setting up the account. You can use the child's email address for their Apple ID.
Q3. Can I track my childs phone without them knowing?
Yes, you can track the whereabouts of your child's phone without them knowing. In addition, you can spy on their phone discreetly with SpyX phone tracker. It is best to do all of these before giving them the phone.
Q4. How can I get my child's text messages sent to my phone?
You can get your child's text messages sent to your phone via text forwarding on your iPhone or parental control app. SpyX parental control app runs on iOS. You can take advantage of the app to get your child's text messages sent to your phone.
Q5.How can I see my childs iPhone messages?
If you're using iOS 12 or later, you can use Apple's cloud messaging feature. By enabling iCloud syncing, you can access all the data on your child's device. Make sure to enable message syncing so you can read messages on your child's phone.