Your iCloud account stores tons of photos, videos, documents, and chats. Are you worried about your iCloud account being hacked? The iCloud hack is not a myth. Although Apple is a security-conscious company and iCloud is a highly secure storage system, you still hear about Celebgate, where nude photos of celebrities were leaked on the Internet.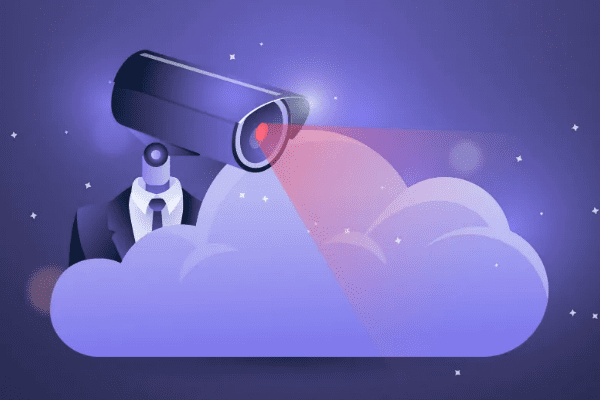 In order to keep your personal iCloud account safe or secure, you need to know how to use different solutions to hack into your iCloud account, what methods hackers typically use to hack into your iCloud account, and what to do if your iCloud account is compromised. If you have a target device that you want to monitor, you can hack into it with a spy app-SpyX and monitor it discreetly. In this article, you will find the satisfactory answer. Let's start learning all about the iCloud hack right now!
Part 1. How to Know If Apple ID Hacked?
Apple takes security very seriously, and iCloud is a very secure storage platform. But that doesn't mean iCloud is 100% secure. Some hackers can still hack into someone's iCloud account using software or methods. So you need to know the signs of what might happen when your iCloud account is hacked. This will help you stop the iCloud hacking and prevent further data loss or leakage. Hacks are a scary reality of using tech devices. But keeping an eye out for signs of a hack and addressing them right away will put you in a better position to protect your data.
1. Your password is invalid.
2. You get an email from Apple alerting you that someone has logged into your account on an unknown device.
3. You receive a two-step verification text message.
4. Your account information has been changed
5. You did not initiate the trade, but you were notified of the trade
6. Your Apple device is in lost mode or locked.
Whether you're using iCloud or other services that sync your files and messages across your devices, there are a few things you should be doing to protect your accounts.
Check Authorized Devices
iCloud lets you see all the authorized devices. To check which ones are connected to your account, go to Settings and Apple ID. Then, scroll down to the list of authorized devices and remove any that you no longer use.
Log out of All Devices
You can do that by simply changing your password. Most services will log you out of your devices and ask you to log in with your new credentials.
Enable Multi-factor Authentication
Multi-factor authentication (MFA) makes a huge difference to cybersecurity online. Even if a service you use accidentally leaks your passwords, not only would it prevent the attackers from getting into your account, but you would also be notified about their attempt.
Act on Your Suspicions
If your device feels weird, don't be quick to dismiss this feeling. Maybe your smartphone started using much more data or drains your battery faster? These may be signs of a spying app on your device.
Part 2. How to Hack an iCloud Account Remotely?
Reading this article, you want to find an effective way to hack into someone's iCloud account, right? There's always a reason to hack into someone's iCloud account. For example, as a parent, you want to know what apps your child has on their phone, what chat apps they use, and what they're talking about. Your goal is to keep your child safe from Internet hazards, such as violent, pornography content or websites. You want to check your partner's iCloud because you suspect that your partner is cheating.
It's not impossible to hack into someone's iCloud account. You need to find a professional software. However, many professional software require certain technical knowledge to operate. They are very complex, difficult to operate. SpyX is a simple and effective mobile tracking software. With SpyX, you don't need to install an app on the target device, you don't need to jailbreak, you just need to provide someone's iCloud account information, you can hack into someone's iCloud account remotely and easily.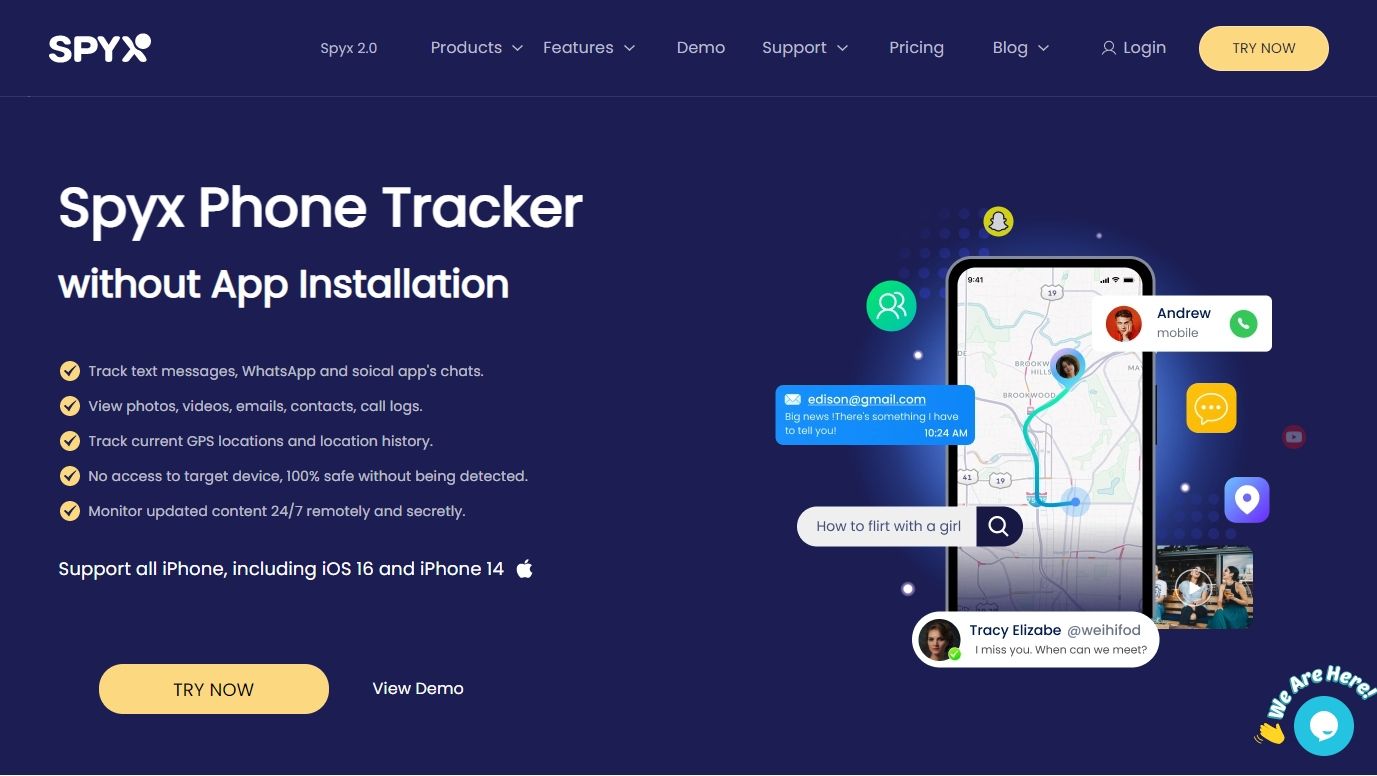 How to Use SpyX in 3 Steps?
SpyX can be used to hack into someone's iCloud account remotely and without them knowing.
Step 1. Create Account
Before using SpyX, you need to create a SpyX account. Just visit official website spyx.com, and click on "TRY NOW" button to sign up free with your valid email.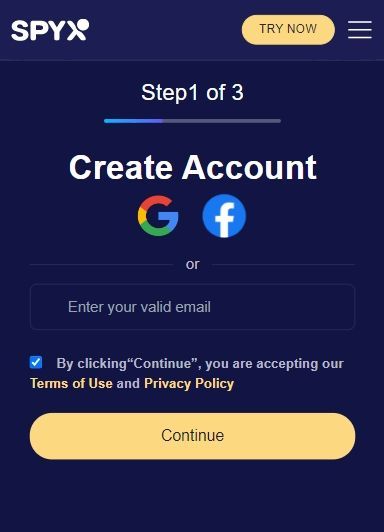 Step 2. Add iCloud Details
After signing up, you need to choose suitable subscription plan from 1-month plan, 3-month plan, 12-month plan. Then, you can enter iCloud details of target device so that you can bind it with SpyX.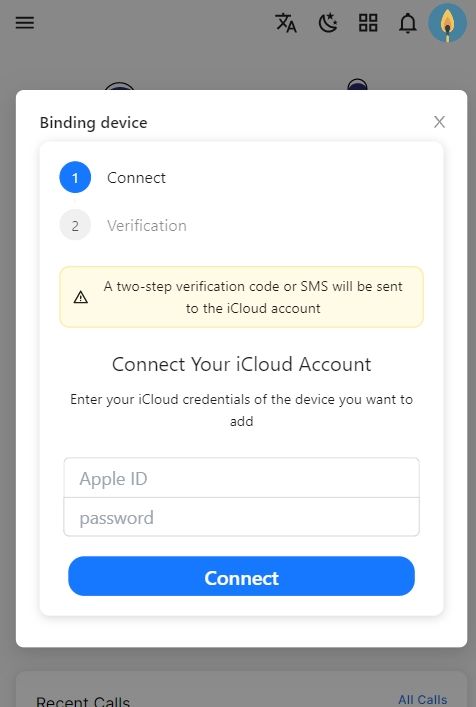 Step 3. Start Hacking iCloud Account
Once you finish setup, go ahead to login to your dashboard and start hacking target iCloud account remotely and secretly.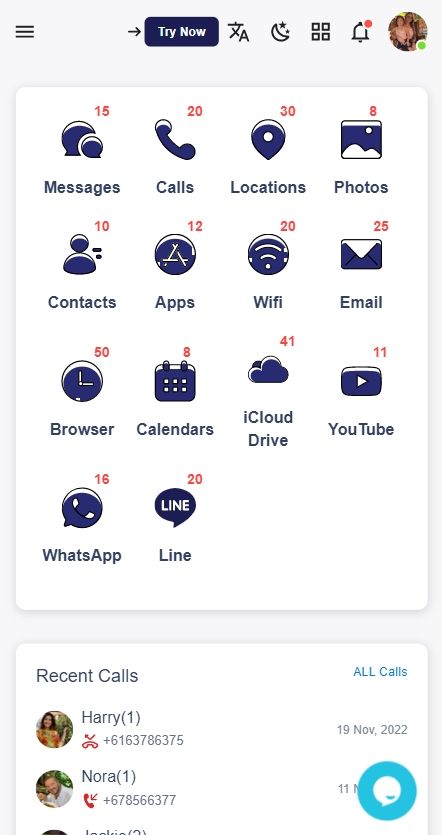 Benefits of SpyX
SpyX ranks first in mobile phone tracking software because it has other powerful tracking features, so let's learn about SpyX tracking features together.
All-in-one Phone Tracker
SpyX supports to track more than 40 types of data. You can track text messages, photos, videos, GPS locations, social media apps (WhatsApp, Instagram, Kik, Snapchat)
Easy Operation
SpyX is user-friendly. Even you are not tech-savvy, you can operate SpyX without any difficult. App installation or jailbreak is not required, which makes the whole process simpler.
100% Safe and Reliable
Only you have the right to view the data on the target phone. SpyX will not reveal the data to other people or platform.
Stealth Mode
SpyX is totally undetectable. You can use SpyX to hack someone's iCloud account with stealth mode. No one will detect that you are spying on the target iCloud.
24/7 customer support
For any question, you can get access to 24/7 customer support. Send email to [email protected] or contact through online chat. Our customer service is sincere and timely.
Part 3. Other Solutions for iCloud Hack
We will also introduce other software that you can try if you are interested. While they're not as great as SpyX, they can meet some of your needs.
mSpy
if you want to dive deep into your child's online world and make sure they're being safe online, mSpy should be your another alternative. Why? Because mSpy is more than just an app to turn of Internet and block apps. And it does even more than show you what sites they've visited. mSpy goes way further, lifting the curtains on almost everything they're doing online. mSpy also shows you the photos on their phone, who they called, and even their social calendar. There's also a Screenrecorder feature that takes snapshots of their phone as they go about their business. And a keylogger that captures every keystroke they type.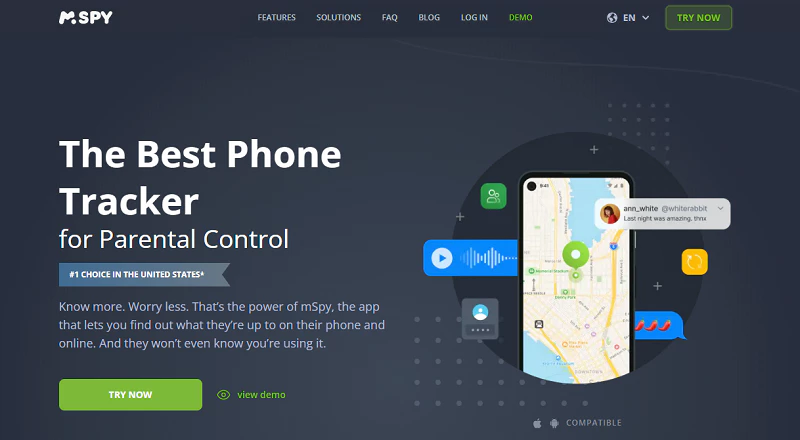 SpyBubble
SpyBubble is a great app to hack an iCloud account for your target device. If you suspect that your partner is cheating on you, you can use SpyBubble to track their phone activities. With SpyBubble, you can track a;; popular messengers, such as Snapchat spy, WhatsApp spy, Facebook spy; knowthe exact location of the target user, such as GPS location and Geofencing; spy on calls and text messages. What's more, SpyBubble works on all Android and iOS devices.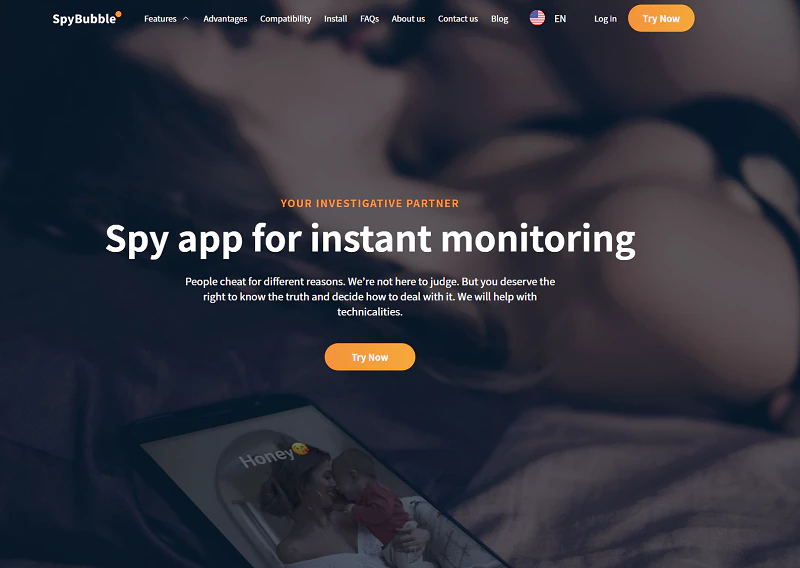 MobileSpy.io
If you are looking for a super easy-to-use and user-friendly kind of software, I suggest you download and use the MobileSpy app. If you are new to the parental control world, you won't have to worry about using this app. MobileSpy is very easy to install and use. It takes just 3 steps to download and use this app. It gives you a free trial to check what this product can offer, and later you can buy monthly subscriptions to access all the features this app offers.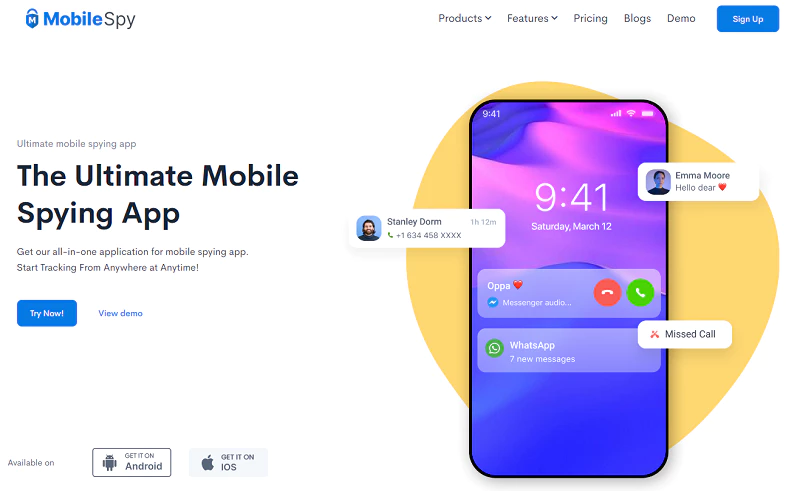 Part 4. What Can You Do If iCloud Has Been Hacked?
If you suspect you have been hacked, keep calm. We provide the following five steps you should take immediately:
1. Sign into the iCloud account and change your password and then turn on two factor authentication either from a iPad or iPhone or through the system preferences on a Mac. This is of course assuming the person with unauthorized access has not already locked you out of the account.
2. Change the password on your email account, you need to protect email as this is likely to be a method of verifying your identity when attempting to regain access to your account.
3. Force sign-out of all the browsers that are signed into your iCloud account, this is an option in the iCloud Settings page.
4. Call Apple's tech support team to retake account access, you will need other devices linked to the account or specific details held on the account to validate your identity.
5. Inform the FTC's IC3 team of the potential identity theft.
Part 5. Common Ways that Hackers Hack iCloud Account
Understanding the common ways to hacking iCloud can help you prevent similar things from happening.
Malicious Apps
Hackers can use malware to steal your iCloud password. To prevent your iCloud hacked, don't easily download software from other sources, it is better to download the App in the App Store and check the permissions of the app. Software or links shared by others should not be clicked easily to prevent viruses in the phone.
Phishing Attacks
Some hackers copy legitimate websites, then use fake copies to trick users into filling out information and steal personal information, such as iCloud account names and passwords. To prevent yourself from being lured by fake websites, it is best to only log in to websites that use SSL certificates.
Unencrypted Public W-Fi Hotspots
When you visit public WiFi hotspots, do you notice that they are encrypted? WiFi hotspots without encryption are easily exploited by hackers. Once your phone is connected to one of these unencrypted WiFi hotspots, hackers have a chance to hack into your phone and steal your account information. Very dangerous!
Compromised Computers
When you log into your iCloud account on a non-ios device, you increase the risk that your iCloud account will be hacked. To reduce the risk of being hacked, it's best to only log into your iCloud account on your usual iOS devices.
Part 6. FAQs on Hacking iCloud
1. How Does iCloud Hacking Work?
The hacker must know (or have found out) the victim's Apple ID and password. This is how the service gains access to the victim's iCloud account.
Two-Factor authentication must not be enabled on the victim's account. This is an extra layer of security that makes it more difficult for hackers to access someone else's iCloud account.
The victim's device must be configured to backup to iCloud. So that there are regular backups available online to extract data from.
2. Is It Easy for People to Hack into iCloud?
With the technological advancements, you don't need to be a computer genius to hack iCloud. All you have to do is to look for a good quality iCloud hacking application, then you can rest assured to get the best results.
Best iCloud hacker, SpyX for iCloud, that can help log into someone's iCloud without them knowing.
Not only does the app give you full access to iCloud files, but it can also be set up remotely. It is completely web-based so you don't need to have access to the target iPhone and install the app, let alone jailbreak it.
As it is 100% undetectable, your target person will never suspect that they're being monitored. Furthermore, you can get real-time updates on your own device whenever an iCloud backup is created. With its cutting-edge features, you can view 40+ files on someone's iCloud.
3. How to Remove an iCloud Account without password?
Users who want to delete their iCloud account without entering the password can follow these simple steps:
Step 1. Open the Settings and press on iCloud.
Step 2. When you tap on the iCloud option, you will be asked for the password. Put in any random number in its place.
Step 3. Press doneafter entering the random number. iCloud will tell you that it's not correct.
Step 4. Tap on OK and then Cancel. You will be directed towards the iCloud page again.
Step 5. Press Account one more time, then erase the description and tap on done.
Step 6. You will be taken back to the main iCloud page without the password option. The find my phone feature will be turned off.
Step 7. Scroll down and press delete.
4. How Do I Protect Against iCloud Hacking?
You can secure your iCloud account more secrete:
Choose strong password for iCloud;
Add security questions;
Setup two-factor authentication for Apple ID on iOS device;
Sign out of Apple ID when not in use;
5. What Data Can Be Accessed?
With SpyX phone-hacking app, you can access almost all data on the target phone, such as browsing history, installed apps, social apps chats, GPS locations, call logs, notes, calendar events, ect.
6. Can Someone Hack My iCloud Account?
Yes, but it is very difficult. Because the hacker must know your Apple ID and password. If the two-factor authentication is enabled, hacker will need physical access to your iPhone and unlock it in order to get a verification code and make the necessary changes.
Part 7. Conclusion
If you want to hack into your children's iCloud account and ensure their Internet security, SpyX is your best choice. SpyX enables you to access all data on your children's phone without them knowing. With the technology development, iCloud hack is not a very difficult thing. So you need to understand how to protect your iCloud from hackers. Hope this article can help you a lot.