As the largest and most popular platform for video content, YouTube has become the go-to place for everyone. Millions of people, from kids and adults to the elderly, turn to this site when they're looking for videos of all kinds, whether it's a fun clip or an in-depth tutorial.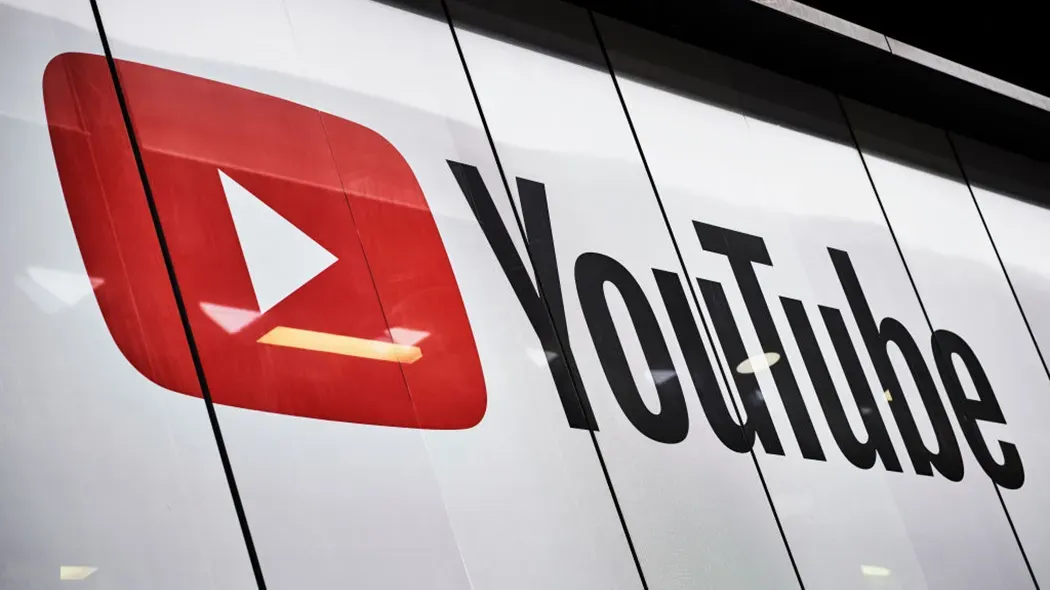 YouTube has grown so big that it's hard to imagine life without it. It has become one of the essential things in people's life. Anything you're looking for, you can basically find anything you search for on YouTube, whether it's education or entertainment. It has changed the lives of many people, both viewers and video creators.
As of January 2023, YouTube has 122 million active users daily. 1 billion hours of content is watched across the world every day.
Due to the variation in age demographics among its audience, YouTube imposes certain restrictions on the content uploaded to the site. While YouTube doesn't allow for strictly adult content, some videos are still inappropriate for younger viewers.
That's why YouTube has a Restricted Mode to filter out such videos contents. If you are a parent or have children in your home below 18, and they regularly watch videos on YouTube, turning age restriction on is the right thing to do for their safety as they can view inappropriate content on the Internet.
And although it's undoubtedly useful, it can be aggravating to search for a specific video and find out it's not in your reach. To access and unblock videos on YouTube, you can turn off age restrictions. So, this article will show you how to turn off age restrictions on YouTube on different devices such as Android, iPhone, and PC.
What is Restricted Mode on YouTube?
Content on YouTube ranges from playing video games to car repair tutorials and just about everything in between. With such a wide range of user-generated content, it's natural that not all videos are permissible for all audiences.
To make the platform safe for all users, YouTube restricts access to mature content deemed unsuitable for all ages.
Restricted Mode is an optional setting on YouTube's website and mobile app that screens potentially objectionable content from being viewed and removes user comments from all videos.
Why Are Videos Restricted on YouTube?
There are several reasons that a video on YouTube could be age-restricted:
· Child Safety: restrictions include videos of people participating in activities that could be dangerous when imitated by a minor. For example, lighting off fireworks, playing violent video games, or dangerous physical challenges.
· Harmful or dangerous activity: restrictions include videos containing potentially harmful pranks and references to drugs or other regulated substances.
· Nudity and sexually suggestive content: restrictions include videos intended to sexually arouse viewers – including provocative dancing, posing, and clothing that wouldn't be considered appropriate in a public setting, like lingerie.
· Violent or graphic content: restrictions include videos containing violent, graphic, and gory images, whether real or from video games and movies.
· Vulgar language: restrictions include videos containing profanity in the audio, video, title, thumbnail, or metadata.
While these are the most common reasons a video may be restricted, it is not an exhaustive full list. YouTube reserves the right to age-restrict any video or channel for any reason it sees as valid.
How You Can Turn Off Age Restriction on YouTube
To turn off YouTube's Restricted Mode, you will need to update your account settings on the YouTube website or mobile app.
Since Google purchased YouTube in 2006, YouTube and Google accounts are integrated with Youtube. So, if your Google account's birthdate is below 18 years of age, you won't be able to turn off Restricted Mode.
If your birthdate is set incorrectly on your Google account or no birthday is set, you can easily update it by following the given steps:
Step 1. Visit google.com and sign into your account.
Step 2. Click on your user profile photo at the top of your screen.
Step 3.Click on Manage Your Google Account in the dropdown menu.
Step 4. Then, click on Personal Info.
Step 5. Under Basic Info, update your Birthday to the correct date and click Save.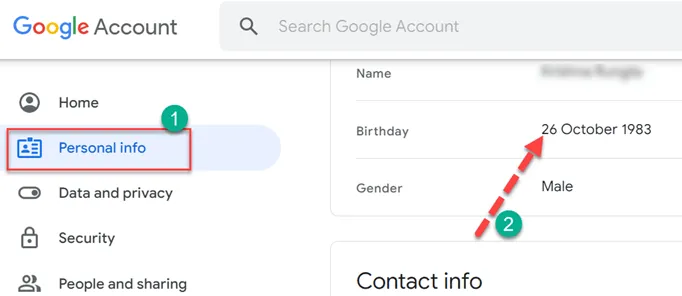 How to Watch Age-Restricted YouTube Videos on Your Phone
Turning off YouTube's restricted Mode on your phone is pretty straightforward. It can be disabled using the YouTube mobile app or your phone's web browser.
To disable Restricted Mode on your mobile phone using the mobile app:
Step 1. Open the YouTube App
Select and Open the YouTube app, and sign into your account.

Step 2).Click on your user profile
At the top right of the app, click on your user profile photo to access the user settings menu.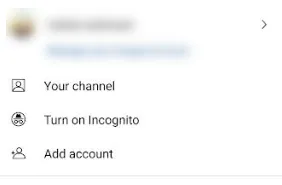 Step 3. Select the Settings button.
Check the left corner of your YouTube screen, and select the setting button.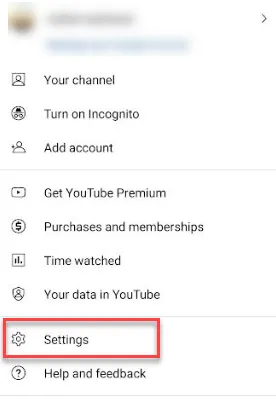 Step 4.Select the General option
Enter the setting menu and select the General option.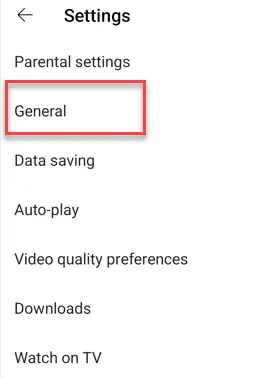 Step 5. You'll see an option to toggle on or off Restricted Mode. If the switch is blue, the Restricted Mode is still on. When Restricted Mode is toggled off, the switch will turn gray.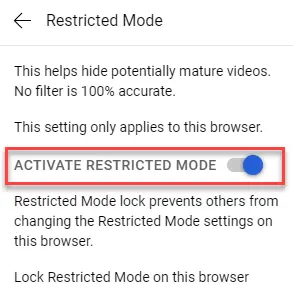 How to Turn Off Restricted Mode on Your Phone's Browser
To turn off age restrictions on your phone using the web browser:
Step 1. Open your web browser and visit youtube.com. Sign into your account.
Step 2.In the top right of your browser, click your user profile photo to open the user settings menu.
Step 3. Click Settings, then open the Account settings dropdown menu.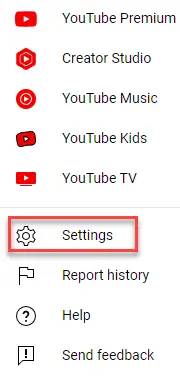 Step 4.Turn Restricted Mode on or off. If the switch is blue, the Restricted Mode is still on. When it is off, it will turn gray.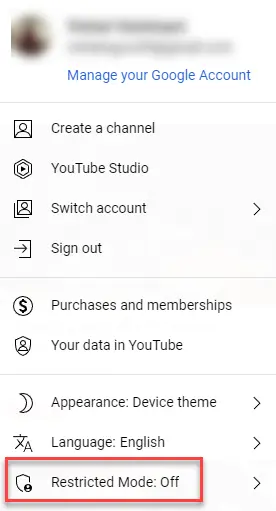 You'll only need to complete this process once if you're using the same YouTube account in the mobile app and your phone's browser.
How to Remove Age Restrictions on YouTube on a PC or Laptop
To disable Restricted Mode on a PC or Laptop, you'll need to toggle off the option in your YouTube account settings. To watch age-restricted videos on a computer or laptop:
Step 1. Visit youtube.com and sign into your account.
Step 2. Click on your user profile photo at the top of your screen.

Step 3. In the drop-down menu, click Restricted Mode.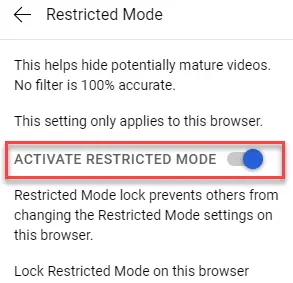 Step 4. At the bottom of the box that pops up, toggle off Restricted Mode. When turned off, the switch will go from blue to gray.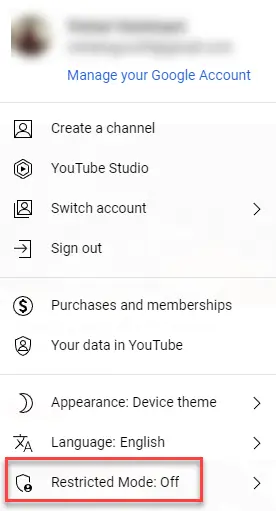 If you're having trouble disabling YouTube's Restricted Mode, you may be on a computer or network with a filter. Public libraries, universities, and other shared public spaces often turn on Restricted Mode on their computers.
How to Bypass YouTube Age Restriction on TV
YouTube age restriction can pop up on your smart TV for several reasons. First, you may have logged in with the wrong account. Another culprit is when the YouTube app associated with your account is in Restricted Mode.
In many cases, smart TVs use a brand account as their default login. Those accounts are subject to age restrictions and won't show all the content available on YouTube.
You can fix this issue by switching to your personal account. The exact steps will vary depending on the particular smart TV model you own, but you'll likely find account options under the Settings menu or its equivalent.
When logging in to your account, ensure that you've entered the birth year info. If that information's missing, YouTube will default to displaying content suitable for minors.
If you suspect that your YouTube app is in Restricted Mode, here's how to switch the mode off:
1.On your TV, open the YouTube app and verify that you're logged in.
2.Go to Settings and enter the menu by pressing OK or whatever the confirmation button is on your TV controller.
3.Navigate to the Restricted Mode option.
4.In the prompt that pops up, select Off.
This method will allow you to disable the Restricted Mode for YouTube on your TV. Once you've done that, all videos should play normally.
In conclusion:
Turning off age restrictions can give you access to a huge amount of content on YouTube that would otherwise be inaccessible. Many videos on YouTube are subject to the site's age-restriction policies, which may be useful for different educational, in-depth tutorials, and entertainment purposes, so removing the age restriction may be beneficial.
However, in most cases, YouTube has age restrictions for good reason. Sometimes it is necessary to block YouTube for various safety reasons of your child. You can also keep your kids safe by setting up parental controls, whether it's YouTube, Facebook, Netflix, Snapchat, or other apps.
Now that you know how to turn off age restrictions on YouTube, it's wise to find out if the video you're trying to watch is appropriate.
So, that concludes our guide on how to turn off age restrictions on YouTube on 3 different devices, namely Android, iPhone, and PC. If you have any questions or suggestions, please contact our customer support staff.