Telegram, a popular instant messaging app with hundreds of millions of users, is used especially for political campaigns and social media in some countries. Although the app offers security and privacy features such as end-to-end encryption, that doesn't mean it's completely safe.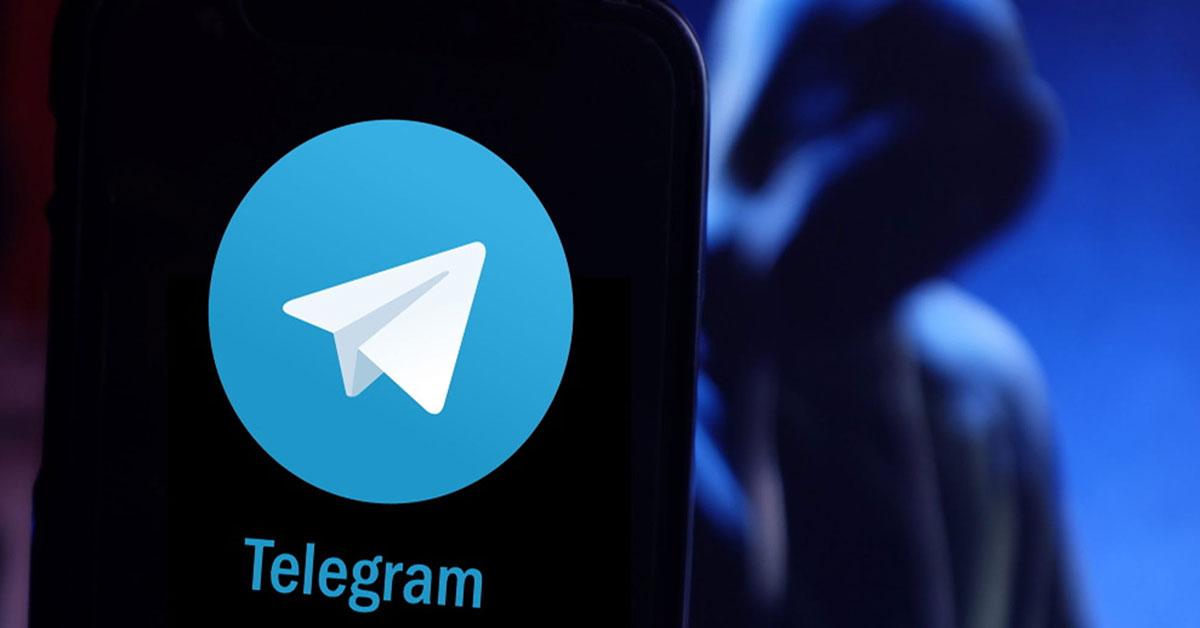 Therefore, parents have reason to pay attention to their children's activities on Telegram. If children do not use Telegram in the right way, it can lead to some harms, such as:
1. Objectionable content:
Telegram offers many groups and channels, some of which may contain pornography, hate speech, or other objectionable content. Children may be exposed to such content and be negatively affected by it.
2. False information:
Since Telegram allows users to post information anonymously, there is a risk of false information. Children may receive false information which may affect their trust and safety.
3. Pornography and Harassment:
There are some inappropriate content and inappropriate pictures and videos on Telegram that can harm children and subject them to pornography and harassment.
2. How to monitor Telegram
When monitoring children's use of Telegram, parents can use the following methods:
1. Use the monitoring tool officially provided by Telegram. Telegram officially provides some monitoring tools, such as Telegram Passport, which can be used to monitor children's personal information. However, these tools can only monitor part of the content, and cannot fully monitor the child's chat history.
2. Use third-party monitoring software, such as spyx, which can easily monitor Telegram without installing any apps on the target phone to view the child's Telegram activities, including chat history, sent pictures, videos, and other attachments.
Part 3. Best Spy Apps for Hacking Telegram Messenger
When considering to hack someone's Telegram account, you can try different spy apps. To save you time and cost, we have researched and listed a few effective phone spy apps, SpyX, mSpy, eyeZy, IKeymonitor. Let's start with the best phone tracker-SpyX.
1. SpyX-Hack Someone's Telegram Account without Knowing
SpyX is a great phone tracker that enables you to track someone's Telegram account without anyone knowing. As online service, you don't need to install app on the target phone. That means the monitored user will never detect that you are spying on his Telegram account. Except for hacking someone's Telegram, you can also benefit more from SpyX tracking features.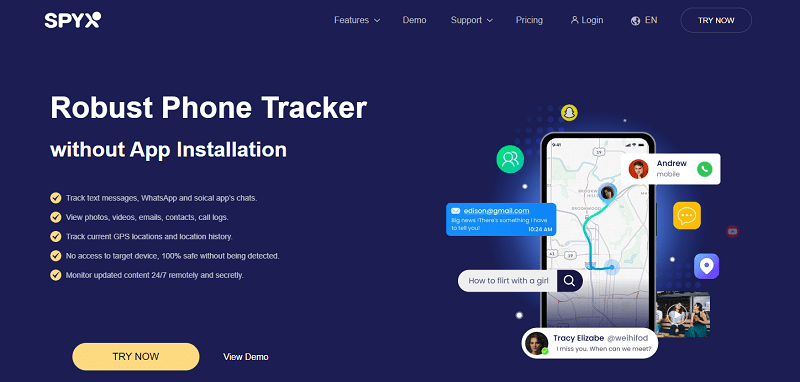 Features of SpyX Telegram Hacking App
Call tracking
You will be able to track all the incoming and outgoing calls from the hacked phone. You can also check the list of missed calls too. The call tracking feature shows the exact time when these calls were made.
Spy on text messages
SMS is still one of the most used forms of communication today. With SpyX you can open the inbox and outbox and read all the messages.
Track GPS Location
Modern cell phones come equipped with GPS technology. The track GPS location feature from SpyX will help you determine the exact location of the owner.
Spy WhatsApp
As one of the most used communication apps today, it is definitely useful to get a chance to monitor WhatsApp activity and this is exactly what you get from SpyX.
Spy Snapchat
Spy Snapchat -the same goes for Snapchat which is a popular social media platform. SpyX allows you to access to someone's Snapchat without touching target phone.
Spy On Facebook
Facebook has millions of active users on a daily basis and many people use it to share personal information which makes it excellent for spying and retrieving important info.
View Photos and Videos
View Photos and Videos-another great feature that allows users to enter the videos and photos gallery on other people's phones.
Remote Control
This means that all the tasks are performed remotely. In addition to the excellent features, another great thing about SpyX is that it is extremely easy to use this app.
How to Spy on Telegram Using SpyX
Step 1. Register
You visit spyx.com with any browser. Then click on TRY NOW to sign up free with valid email.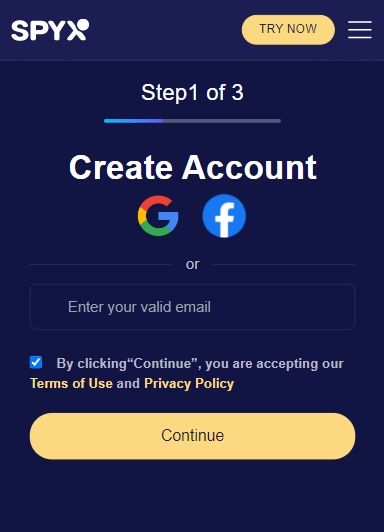 Step 2. Verify Target iCloud
Choose suitable subscription plan. Then enter Apple ID and password of target iCloud in the required field.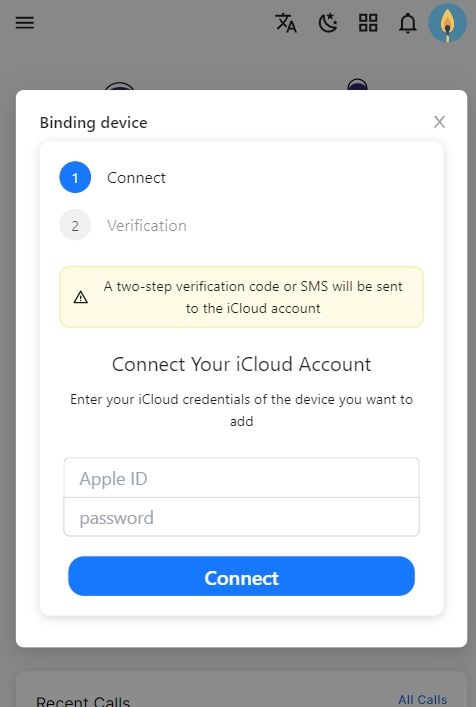 Step 3. Track Target Device
Once you bind the target phone with SpyX successfully, you can login to your SpyX dashboard. You will view the Telegram activity on the target device.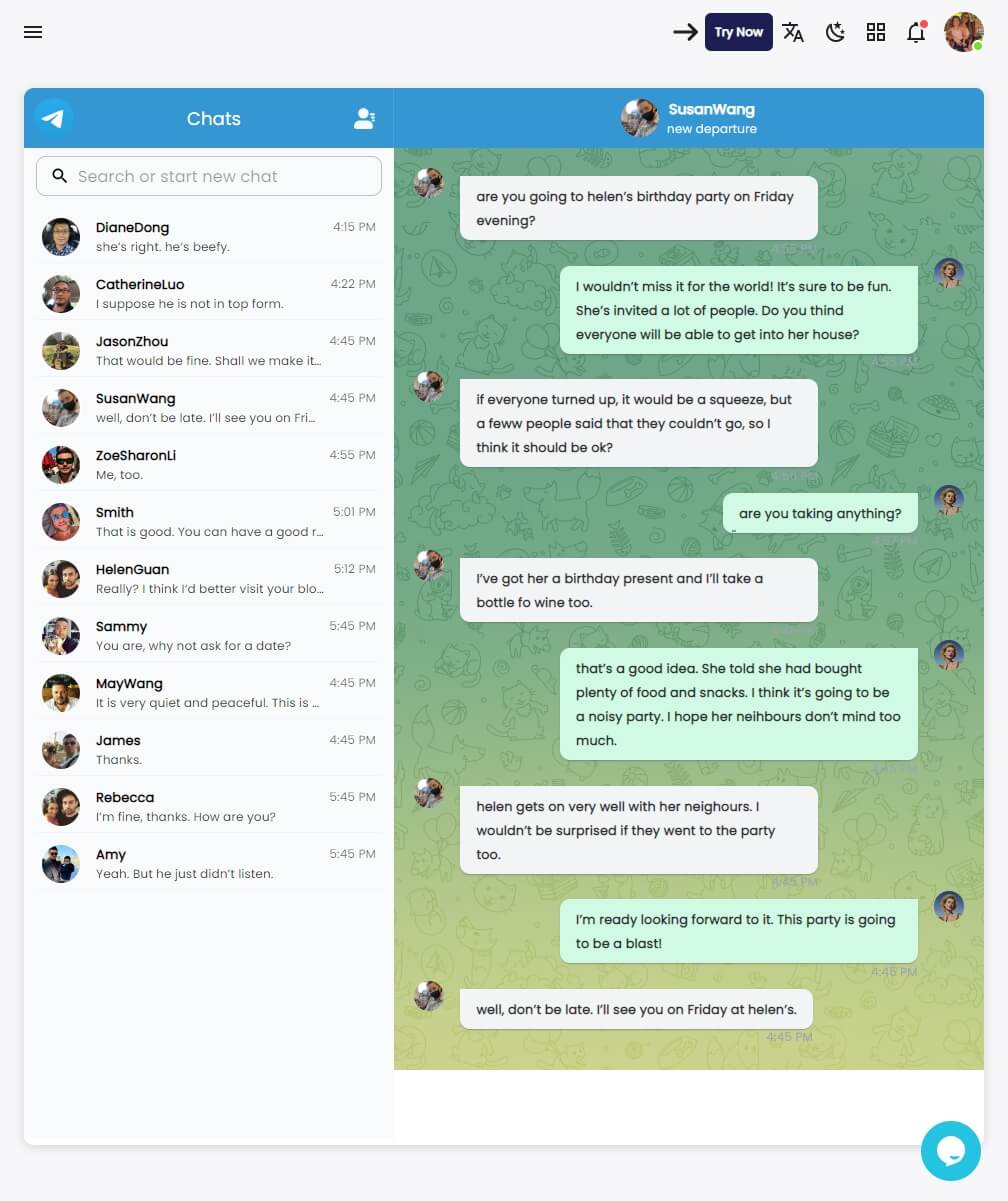 1. Why do you need to monitor your child's mobile phone?
In some families, parents can't wait to buy cell phones for their children. However, due to their immature age and immature psychology, many children cannot guarantee the safety of using mobile phones by themselves. So, why do you need to monitor your child's phone?
First of all, monitoring children's mobile phones can prevent children from being exposed to bad information. In the Internet age, all kinds of information rush to us, some of which are not healthy enough, especially for minors, some of which may have a serious psychological impact on them. Parents can screen out bad information by monitoring their children's mobile phones, and keep children away from bad information, which is conducive to healthy growth.
Second, monitoring your child's cell phone can keep your child safe. When children use mobile phones, they will frequently come into contact with strangers, and these strangers may use the information in the mobile phone to arrange some criminal acts. And some parents don't know who their children are contacting, and some criminals will use this blindness to lure them. Parents can determine the child's contacts by monitoring the child's mobile phone, thereby ensuring the safety of the child.
Finally, monitoring your child's cell phone can be an opportunity to communicate with your child. By monitoring their children's mobile phones, parents can better understand their children's situation and carry out more effective communication methods. Therefore, monitoring children's mobile phones is not only for the sake of children's safety, but also an effective way of communication.
(2) Why choose spyx
This method is very effective at blocking porn sites. On iPhone/iPad or Android mobile devices, this method helps block explicit content on the internet. Here's how OpenDNS works:
For iPhone:
1. Reliability
Although free monitoring software is convenient, the risk of information leakage is also great. As a paid software, spyx can have more functions and better services. Its software has good reliability and high security, which can protect parents' children from being damaged.
2. Service quality
spyx also provides excellent customer service. Parents can contact the technical support or customer service of the platform at any time, whether it is software usage problems or service consultation, they can get timely answers from technical staff.
3. Privacy Protection
spyx attaches great importance to the privacy protection of users and promises to ensure the security of user data, and only users themselves can view their information.
4. Easy to operate
Parents can use spyx to monitor very easily, and the software also provides a wealth of operation guides, which can easily complete the monitoring function without complicated setting operations.