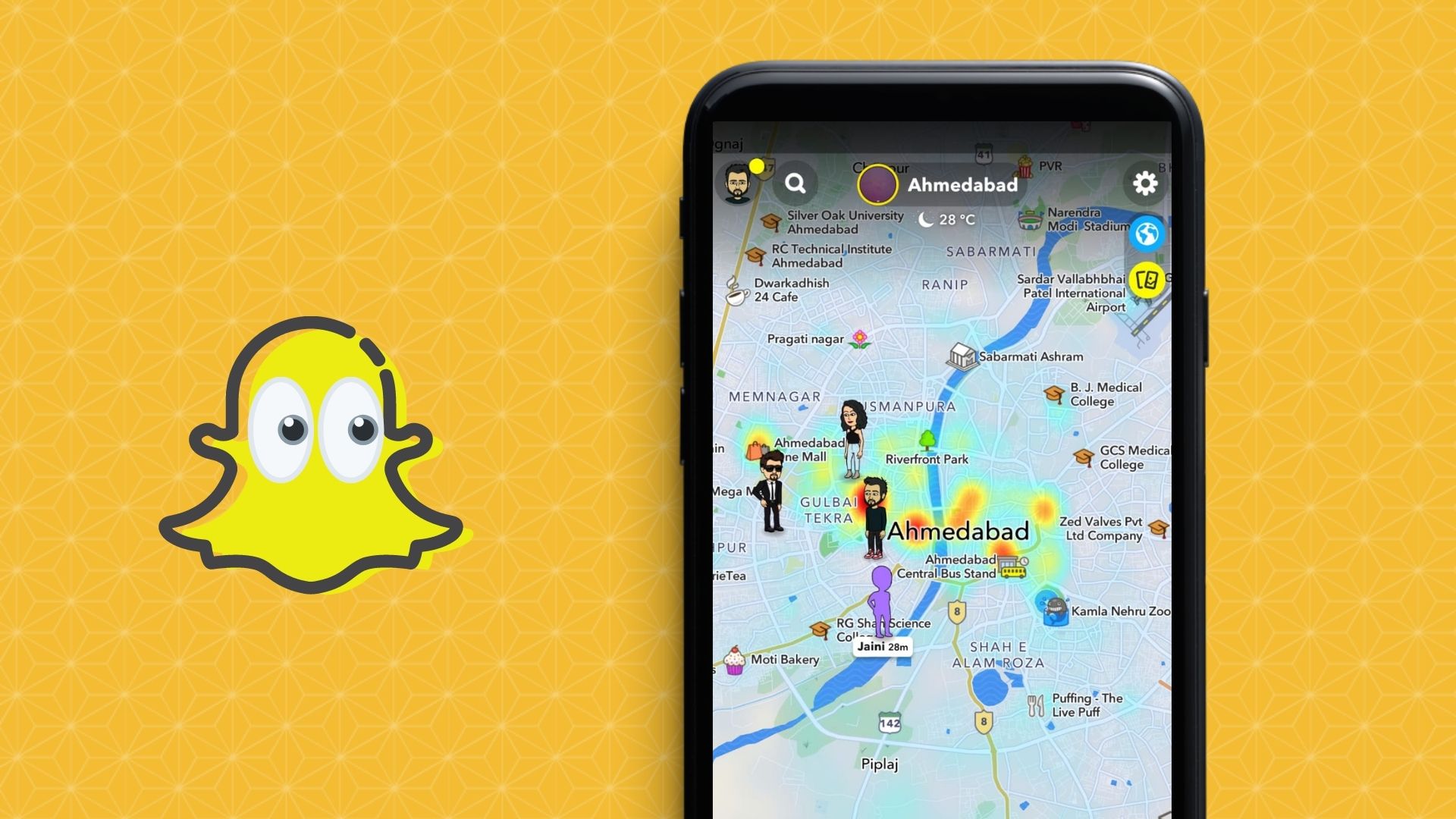 Snapchat is arguably the most fun social media app around — and that's precisely why you need an app to see their Snapchat location history. Seriously, Snapchat can be extremely dangerous.
Talk to your kids and they'll tell you how much fun they have playing with different lenses to create all kinds of funky pics and videos. What they won't tell you about is all the strangers they've connected with — including the random strangers who show up on their Snap Map.
These are people in your community that they can connect with, chat with, and meet up in person with.
Worried? Don't be. Once you learn how to see someone's location on Snapchat, you'll be able to relax, knowing that they're safe.
Remember, in most jurisdictions around the world, it's perfectly legal to use a Snapchat location finder as long as you're using it to find your own kid's location, assuming that they're under 18 and under your care.
Part 1 : Prerequisites for You to See Someone's Location on Snap Map
Before going into the details of how, it is good to know the requirements that you need to meet in order to see the location of your contacts within the Snapchat application.

1.Your Friend Allowed the Location Permission on Snapchat

The first condition you must meet in order to see the location of your contacts within Snapchat is to enable location sharing by your friends.
In fact, for privacy reasons, if this specific location feature is not activated by contact, other users will not be able to see his or her location within the Snap Map.

2.Your Friend Enabled the See My Location Option

Next, your friends must also turn on the See My Location option within the Snapchat app settings.
This is additional security, in addition to housing the use of location, to protect the privacy of the social network's users.

3.You Are Included to See Your Friend's Location

To see the location of your Snapchat contacts, you also need to make sure that your friends have included you in the list of contacts with whom they have shared their location.

4.You Enabled the See My Location Option

The final requirement to be able to see the location of contacts in Snapchat is to enable the See My Location option on your profile.
Once you have completed this step as well, you will have everything you need to access the Snap Map and locate contacts who have shared their location with you.
Part 2 : How to Find Someone's Location on Snapchat
After reviewing the necessary requirements to meet to see the locations of your contacts on Snapchat, we go into more detail about the practical process to follow.
1.How to Enable the See My Location Option on Snapchat
The process to enable location sharing on Snapchat is very similar whether you use an iOS device or an Android smartphone. Let's look at both procedures in more detail.
Step 1: Open the Snapchat app on your phone and access your profile settings by clicking on your Bitmoji.
Step 2: In "Settings", scroll down and click on "See My Location" under the "Who Can" section. Ensure your Ghost mode is disabled and "Who can see your location" is set to "My Friends". If you want to share your location with a small group of users, you can choose "Only These Friends" and select the contact list to enable it.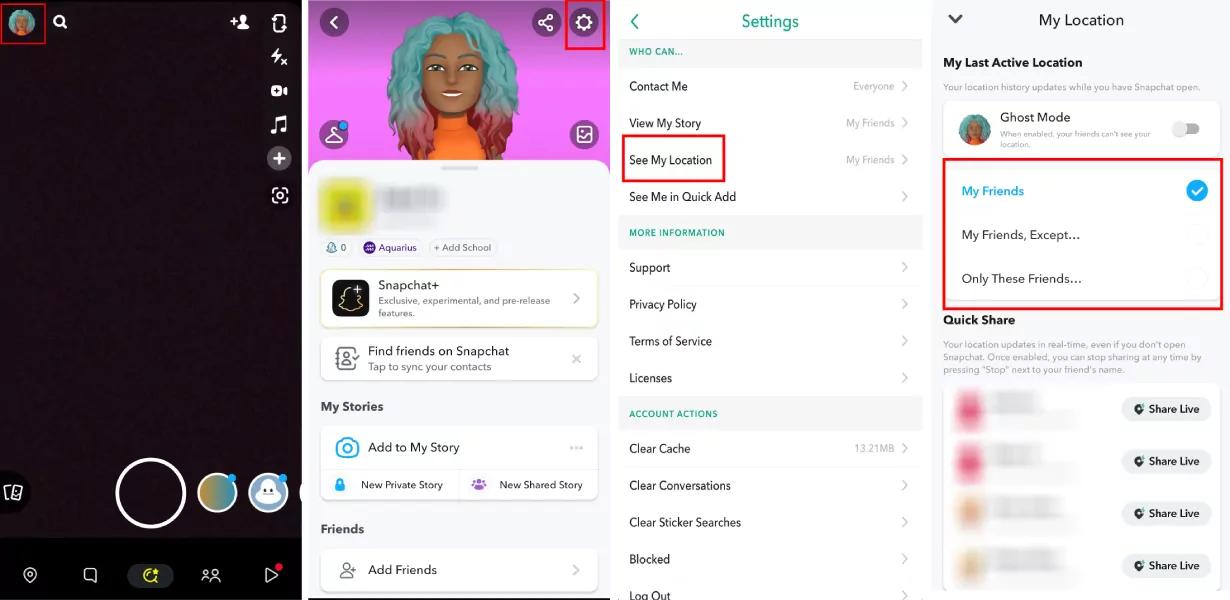 Step 3: Ensure that location sharing with the Snapchat app is enabled forward. To do this, swipe to your phone's "Settings" > "Apps" until you find Snapchat.
Step 4: Click on "Snapchat" and check if the location permission is turned on and set to "While using the app". If not, just put the location as "Allow only while in use" to enable sharing. There could be situations where sending a text message to emergency services (for example, dialing 911 in the United States), would enable them to use your location details for providing assistance.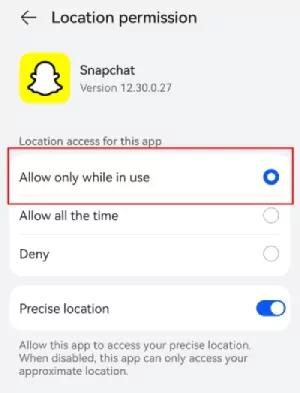 After completing all these steps, your friends or contacts you have personally selected can see your location within the Snapchat app.

2.How to See Someone's Location on Snapchat
We understood how to enable location sharing within our Snapchat account. So let's now see in practice how to view the location of our friends and contacts.
Find Someone's Location on Snap Map Directly

After you enable sharing your location on Snapchat, you can see your contacts' location.
To do this, open the Snapchat app and tap the "Map" button in the lower left corner to open the Snap Map. Here you will see your position and that of your friends.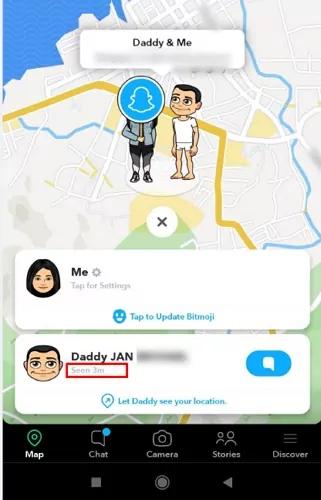 Search Specific Friends to See Where They Are

To locate a specific friend, you can follow the steps below:
Step 1: Open Snapchat and click on the Map button.
Step 2: Click on the Friends button at the bottom right.
Step 3: Tap the "Search" button and enter the username.
Step 4: Click on the user, and you can see the location on the screen.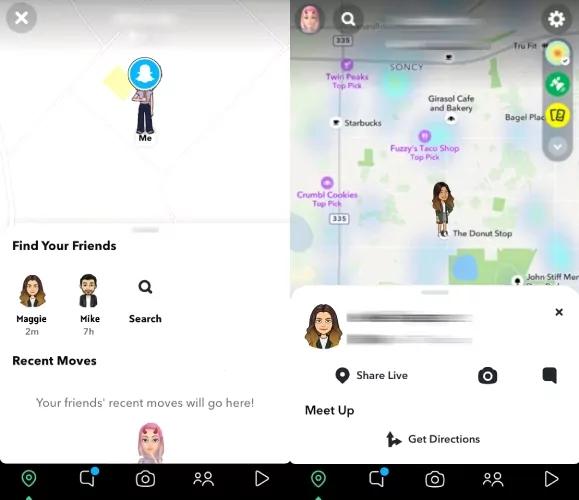 Note : However, it is good to remember that this feature will only work if the location sharing of that person has been enabled.
Request Your Friend's Location

Before a recent update, within Snapchat, there was the option to request the sharing of a contact's location. Unfortunately, with the current version, this option is no longer available.
If you have an older version of Snapchat, you might have the option to request sharing of a certain person's Snapchat location. Of course, the other side also needs to have an older version:
Step 1: Open Snapchat.
Step 2: Go to your friend's profile page.
Step 3: Scroll down to the Snap Map section and click on "Request xx's location".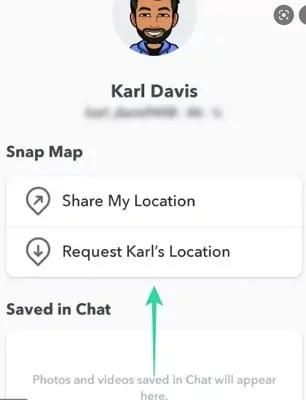 At this point, your friend on Snapchat will receive a location sharing request and can decide whether to accept or reject it. It is also good to keep in mind that the contact will receive the request only if it has enabled location sharing in the social media application settings.
Part 3 : How to See the Live Location of a Child Who Is in Ghost Mode on Snapchat
If someone has Ghost Mode enabled on Snapchat, you won't find their location on the Snap Map. So, to see the location of someone having activated this mode, you need to check the user's Snap stories and see if a location has been tagged or not. These location tags on Snap stories are added when the user uses image filters before posting them.
Or, if you're a parent concerned about your child's safety, you can first directly ask them to turn off Ghost Mode, allowing you to see their location in real time. If they refuse, you can use a spying app such as SpyX to track your child's real-time location via GPS.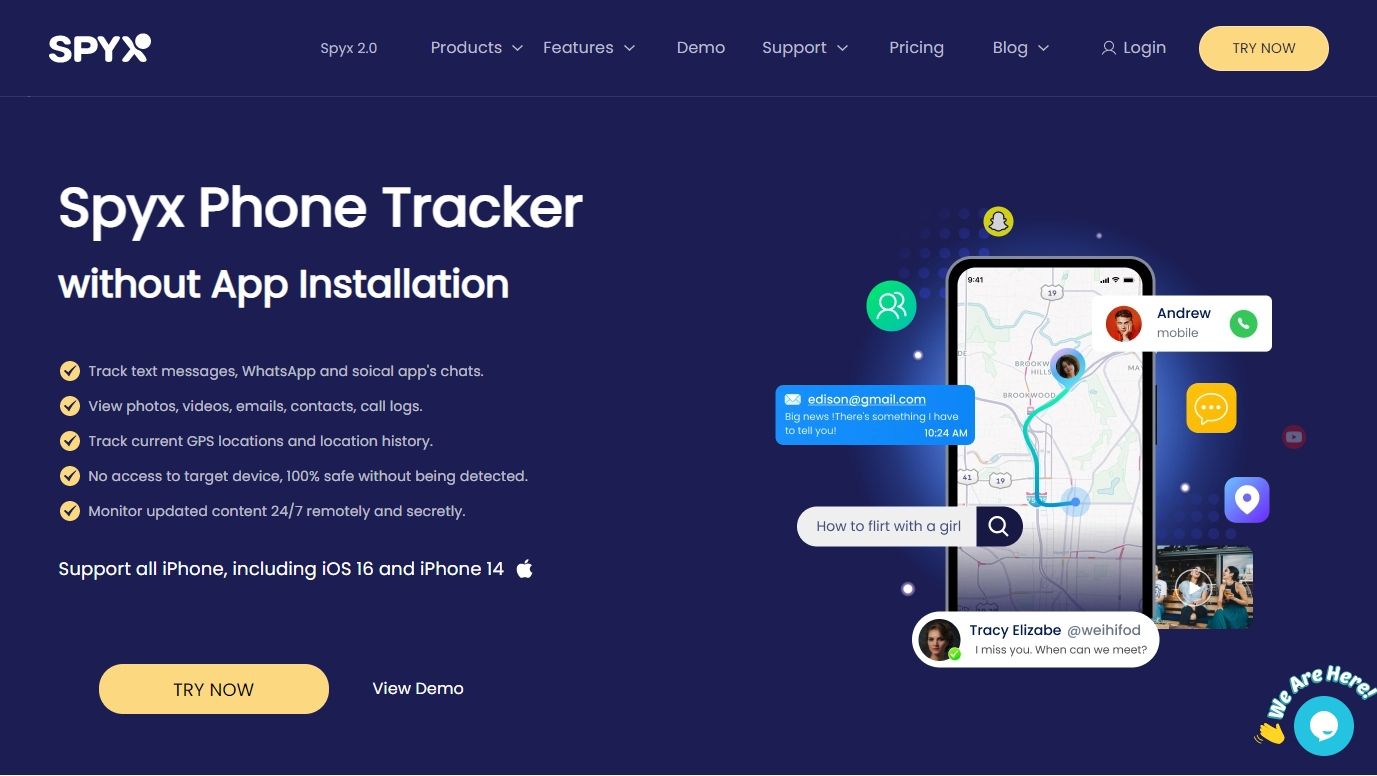 All-in-one tool for viewing someone's Snapchat location
Besides checking someone's Snapchat location, what if you want to hack someone else's other social media apps? Don't worry, SpyX Phone Tracker allows you to monitor target social apps like Kik, WhatsApp, Instagram, Facebook, WeChat. Just log into your SpyX dashboard and you can view all the messages, chats, pictures and videos exchanged through these social applications.
Perfect recorder
SpyX is compatible with all iPhone. You can monitor target iPhone with any phone or computer, iPad. It is convenient to monitor target iPhone with SpyX. And you can monitor all activities of target phone, such as phone calls, emails, GPS locations, notes.
GPS location tracker
To monitor target phone activities, SpyX can track previous gps location history and current locations in real time. Thus you can know where the monitored person is and what places the user has visited. This is also useful for finding the last place of the lost/stolen phone so that you can quickly locate the location the cell phone.
Track other files
As a professional Snapchat hacking tool, SpyX also enables you to access to other files of target phone, such as contacts, browser history, call logs, emails, installed apps. Compared to other single-function Snapchat hacking tools, SpyX offers a one-stop service, which helps you track all the data on your target device at once.
Why choose SpyX to view someone's Snapchat location
Whether it comes to function, ease of use, or price, or service, SpyX is the best Snapchat hacker you deserve. Below we will detail the advantages of SpyX.
It has over 40 tracking features
SpyX can hack more than 40 types of data which covers chats, videos, contacts, browser history, keylogger, reminders. SpyX phone tracker can get all data you want.
It works in stealth mode
SpyX enables you to hack someone's Snapchat secretly and view all other data without them knowing. SpyX works in stealth mode. You never worry about being detected and caught when monitoring target phone with SpyX.
No jailbreak or rooting needed
SpyX is user friendly and easy to use. Even if you are not tech-savvy, you can operate SpyX successfully. No jailbreak or rooting is required.
Easy to get started
The entire operation process of SPyx is very simple. You sign up for free, buy the right plan, bind the target phone, and just log into the SpyX dashboard, click on Snapchat in the left sidebar and start seeing all of someone's Snapchat messages. The dashboard will display all chats, photos and videos shared via Snapchat, including real-time locations.
Real-time Snapchat data
SpyX track all activities of target Snapchat in real time, thus you can get updated data.
It is 100% safe and reliable
With SpyX, you never worry about the data of target phone leaks out to other people or third platform. Only you have the right to view the target phone.
Part 4 : Safety and Privacy Tips for Snapchat
Location sharing on Snapchat could be a privacy issue for many users. Let's see, then, some tips to protect your personal information while on using Snapchat.
1.Turn on Ghost Mode
Turning on Ghost mode allows you to disable sharing of your location within the Snap Map so that any contact of your chat list won't see your real-time until you turn the option back on.

2.Turn off Snapchat's Location Permissions
Another way to disable the sharing of your location on Snapchat is to disable the use of the location by the application within the settings of your device. This way you can be sure that, even by accidentally enabling ghost mode, Snapchat will not display your current location to users as it will not have access to it.

3.Use VPN
Finally, there is a mode to mask your real location while using Snapchat, but keeping the ability to access the Snap Map active. This is using a VPN that allows you to connect to a server located in a country other than your own and make the application look like you are in that particular place.
Summary
By using Snap Maps, you can see where your contacts are located within the Snapchat app. However, to access it, you will need to share your location. Please note that live sharing is only active when you are physically present in the app and will not update in the background. Then using spyware (SpyX) becomes the best choice. View real-time location with ease and features. Finally, if you're concerned about your privacy, you can turn on ghost mode, turn off location access for apps, or use a VPN.