The Omegle app connects users with strangers anonymously through text and video messaging. Both adults and children may find this appealing, but minors may face several risks on this platform. Initially, Omegle was just another dating app, but now it's more like a dating app with adult and violent content. Today it raises a question about children's online safety. The site may seem harmless to anyone who is 18+, but it may not be safe for all users due to some privacy concerns. Additionally, Omegle has a seedier side that can expose minors to obscene or predatory content. During the pandemic, Omegle and other online apps have become more problematic. As a result of multiple lockdowns and remote schooling, many children spend more time online. The desire for social interaction has become strong among all age groups. The combination of these factors makes apps like Omegle and the concept of talking to strangers appealing and easily accessible. Omegle does not have any direct parental access, despite prompts to encourage safe use. That is why most people prefer parental control apps for their kid's safety which is ethically right.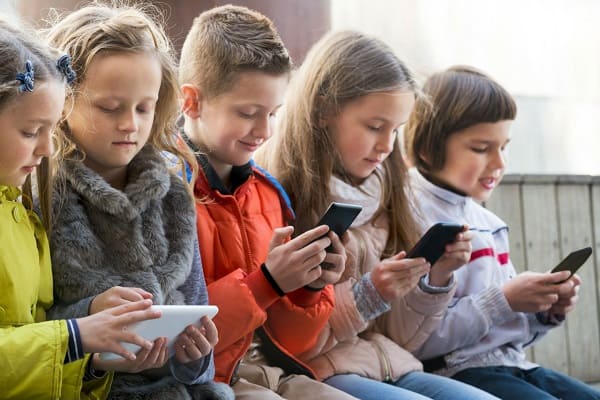 Part 1. What Is Omegle
1. Definition
Omegle is a social media app where users from around the world can chat in this 'virtual chat room' either in unmoderated or moderated mode. The platform has got a lot of popularity since being launched in March 2009.
2. How does Omegle work
There are many video chat sites available on the internet, but Omegle is one of the most popular. This application pairs random users identified as 'You' and 'Stranger' for an online chat via 'Text', 'Video', or both. Additionally, a user can add their interests, and Omegle will pair them with others who share those interests. If not, you could get paired with random strangers. If the user does not identify themselves, the chat is anonymous. It's free of cost and requires no account sign-up. This is where Omegle online safety comes into the picture.
3. Who uses Omegle
The minimum age to use Omegle is 13 years old with parental permission and users must be 18 years or older without parental permission. But none of this gets monitored on the platform. There are a lot of Omegle users in the United States, the United Kingdom, India, and Mexico. Several social media influencers use and promote it, which makes it extremely popular among children and young people. YouTube has thousands of Omegle chatting videos with millions of views.
Part 2. Is Omegle Safe for Kids
Omegle comes with plenty of safety concerns due to its anonymity and absence of security settings. The following are some of the most pressing safety concerns.
1. Cyberbullying
Bullying is easier behind a screen. Cyberbullying could have long-term effects on the mental health of your child if strangers ridicule their looks or comment on mannerisms. This behavior will give your child a lifetime of insecurities and fear.
2. Online predators
We all see the news of the sexual exploitation of children every day. Online predators are always in search of these platforms to exploit minors. Due to the lack of parental control apps, they can easily manipulate kids. Omegle can be used by predators in a variety of ways to exploit minors. They first pretend to be nice and try to be friendly with kids. But once they gain the trust of your child, they might suggest taking their relationship to another platform, requesting explicit messages, images, or videos, or suggesting a face-to-face meeting. On Omegle, there are other predators who scare children into giving in to their demands.
3. Sexual content
There have been many reports where the website found live streams and videos of sexual activities. There were videos in which minors as young as seven were featured. Due to its lack of rigorous moderation, registration, and age verification, Omegle is commonly used by online predators.
4. Data leakage
Video and message hacking is easily possible on Omegle. There are a fair number of scammers on Omegle. It is possible for strangers to gain your child's trust and trick them into giving out personal information, such as credit card numbers, passwords, addresses, and the names of their schools.
5. Screen recording
Omegle might seem like a private site but as we know privacy is a myth these days. There are multiple screen recording tools that can be used to record video chats or text conversations.
Part 3. How to Keep Your Kids Safe on Omegle
1. Open up to children
You need to talk to your children before they face any threats from the internet. If your kids want to explore this app then you can allow them to use it under your observation. By doing this, at least you'll be able to guide them away from the seedier areas of the app. If they encounter anything uncomfortable, you can discuss it with them.
2. Use the parental control app
With the rising threat of Omegle, using parental control apps has become a necessity. In terms of popularity and usage, SpyX is among the most popular spy apps. More than 1.5 million people worldwide use SpyX to monitor their children's online activities. In addition, SpyX only takes a few minutes to set up and updates every five minutes on the user's activity. Both Android and iOS devices can be used with the spy app. You can download the Android app from the Google Play Store. When installing iOS devices, you must verify your iCloud account details. As soon as you install SpyX, you will be able to view messages and social media activity, check location data, look at any call logs, browsing history and view the contact list on the device. You can track all calls and SMS, view their contact list, and read the browser history with SpyX. In addition to social media trackers, the SpyX app includes the necessary tools for monitoring activity on the most popular social media platforms.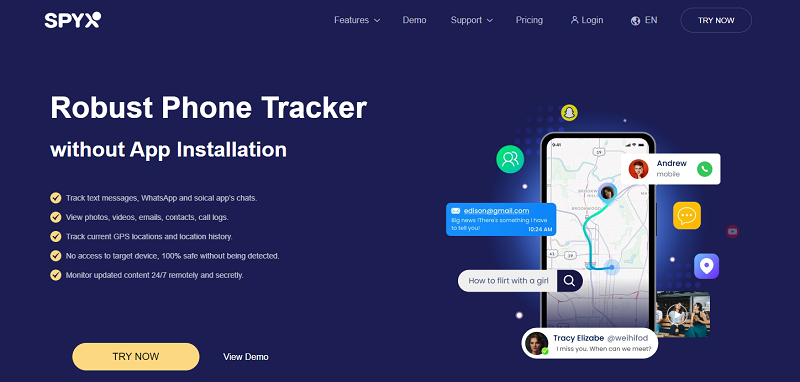 3. Aware your child of internet danger
Keeping the door open for discussion about what your kids are talking about on the platform is the best thing you can do. Prior to handing over the latest technology, you must also educate them. Tell them all the pros and cons of social media platforms so that they don't fall for the trap.
4. Be a digital partner with your child
Some children may shrug it off, while others may feel uncomfortable and regret having seen or read certain content. Regardless of their reaction, it's important to provide them with a safe place to discuss any concerns.
Part 4. FAQs
Q1. What is the Omegle App?
It is an online chat platform where users can talk to random strangers around the world. You will be connected with a stranger based on their shared interests or without sharing anything Through text messaging, and video conferencing, strangers can interact privately.
Q2. Is it safe to use Omegle?
Although the company claims that Omegle is safe, technically it is not. There is a risk of sharing or viewing inappropriate content. There does not appear to be a powerful moderation system on Omegle. Furthermore, it does not require registration or age verification, which makes it a potential abuse target for young people.
Q3. Is Omegle under monitoring?
Video chat has two options: monitored chats and unmonitored chats. Monitored conversations are filtered by moderators to prevent vulgar content from being exposed. But it is always advisable for parents to use parental control apps for their kid's safety.