Have you ever been weary of handing over your iPhone to your kids? I am sure many of us have. Of course, being a father or a mother, there are certain limitations that you would want for your child and even more due to the increasing online activity and social media craze these days. You cannot be blamed if you are paranoid about your kids downloading apps and increasing your app-purchase bills or worried about your kids accessing unwanted apps that you would want them to stay away from. iPhone has always been in the forefront in terms of phone security and unlike, Android, iPhone offers inbuilt restrictions and parent control feature to protect and shield your child from the above age and unnecessary apps.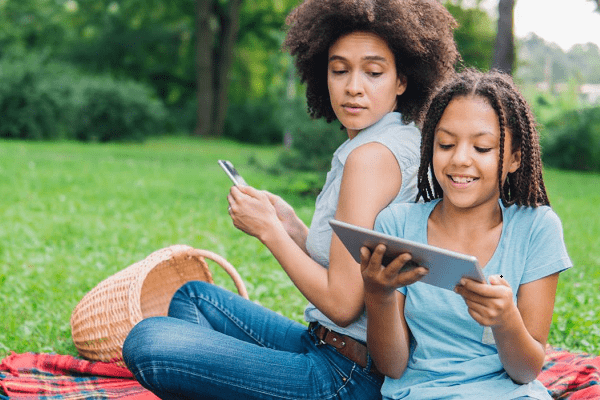 Part 1. Can You Block Apps on iPhone?
Yes, you can block apps on iPhone with Apple built-in utility, Screen-Time. It enables you to block specific application directly. With Screen-Time, you can restrict children access to certain apps, such as games, social media apps, or any app with adult content.
You can also use parental control app to block apps on kids' iPhone and keep an eye on all activities they perform on their phone.
And we will introduce the steps to use Screen-Time and the best parental control app for children-SpyX.
Part 2. Why Block Apps on iPhone?
For minors, too much exposure to inappropriate content is not conducive to their physical, mental and intellectual development. Parents have the responsibility to ensure that their children are not exposed to explicit material that is inappropriate for them, such as pornography, violence, drugs, etc.
The popularity of mobile phones accelerates the spread of mobile Internet information. Children may come into contact with some bad content when chatting with others or browsing the dynamics of some apps. Therefore, parents should limit the use of some apps to prevent children from becoming the target of some bad people and protect their physical and mental health at the same time.
Part 3. How to Block An App on iPhone with SpyX?
You can get your kid's phone to set Screen-Time on iPhone. What to do if they don't give iPhone to you? Or they can cancel Screen-Time on the phone. At that time, you can try parental control app-SpyX to block an app on iPhone remotely as well as monitor other activities on children's phone.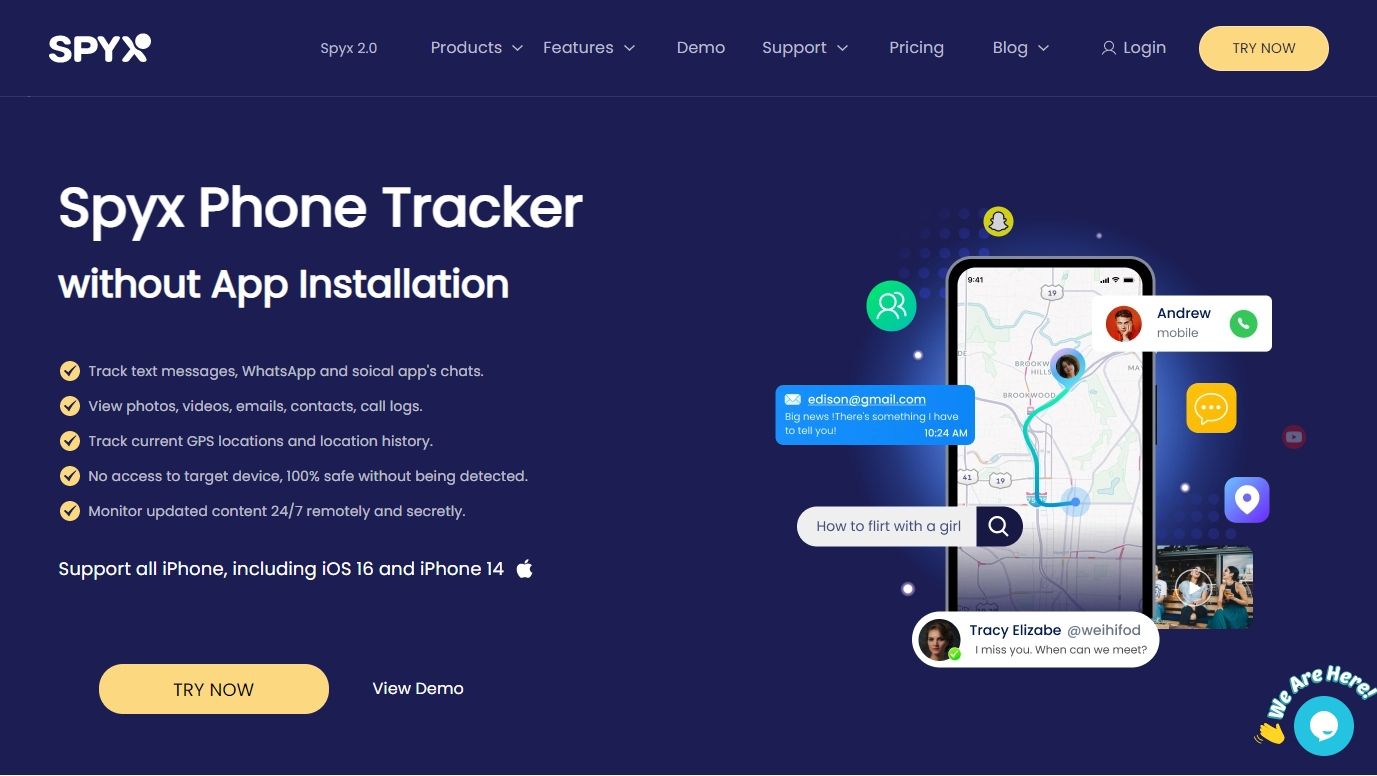 Steps to Use SpyX to Block An App on iPhone
Follow the steps below to block an app on iPhone with SpyX.
Step 1. Sign up Free
Create a free account with your email. Make sure that the email must be valid.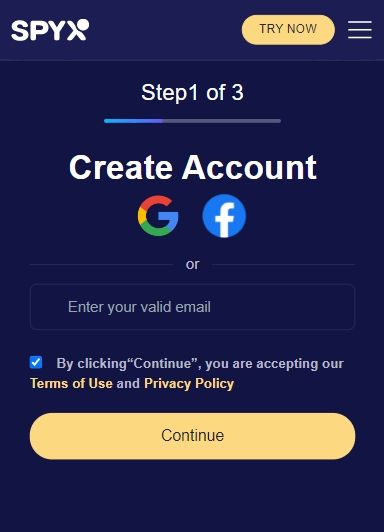 Step 2. Enter iCloud Details
After signing up, you need to connect target phone with SpyX. All you need to do is to enter Apple ID and password of target phone.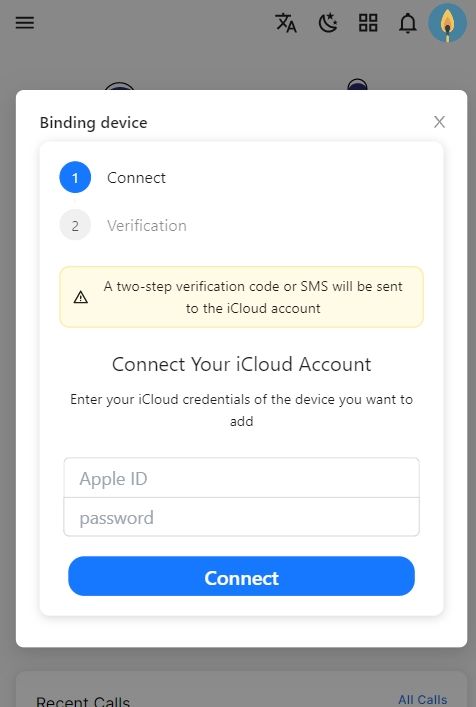 Step 3. Start Monitoring
Log in to your dashboard, and you can restrict apps on iPhone remotely. What's more, you can view all activities on the target phone.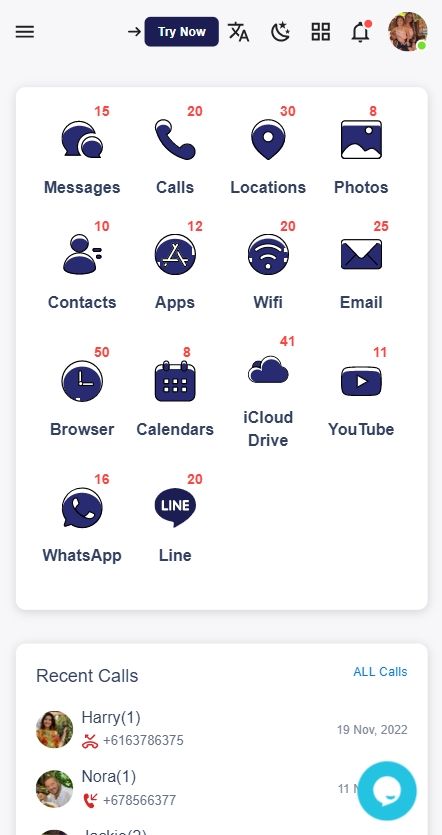 The Benefits of SpyX
You don't need to get the target phone in your hand for blocking apps on children's phone. With SpyX, you can restrict apps remotely without them knowing. Except for blocking apps, SpyX also has other great tracking features. For example, you can track social media chats from WhatsApp, Facebook, Instagram, Kik, Snapchat.
If you find that your child is chatting with strangers and you will pay attention to the chat history. Then you can find whether your child revealed private information or photos to strangers.
SpyX also enables you to track children's phone location in real time. You can also view their browsing history, text messages and photos on the phone secretly.
Part 4. How to Block APPS on iPhone with Restrictions
These restrictions, also known as parental control can be used to block or control access to certain apps and features on your iPhone.
The first thing you should do is to turn on restrictions. Simple go to Settings >General >Restrictions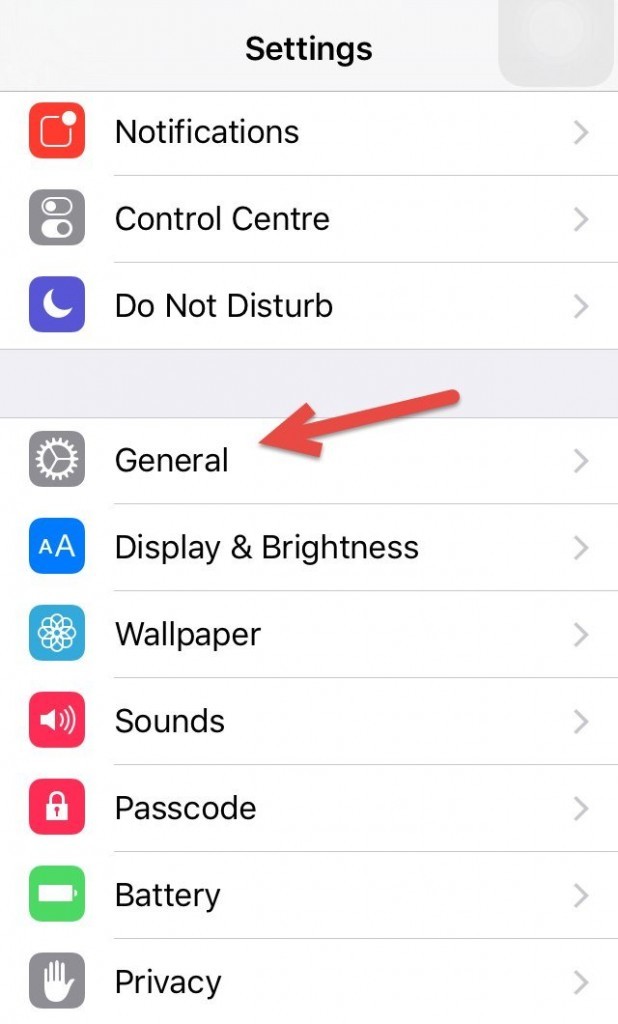 Now, scroll down and tap on restrictions and then enable restrictions.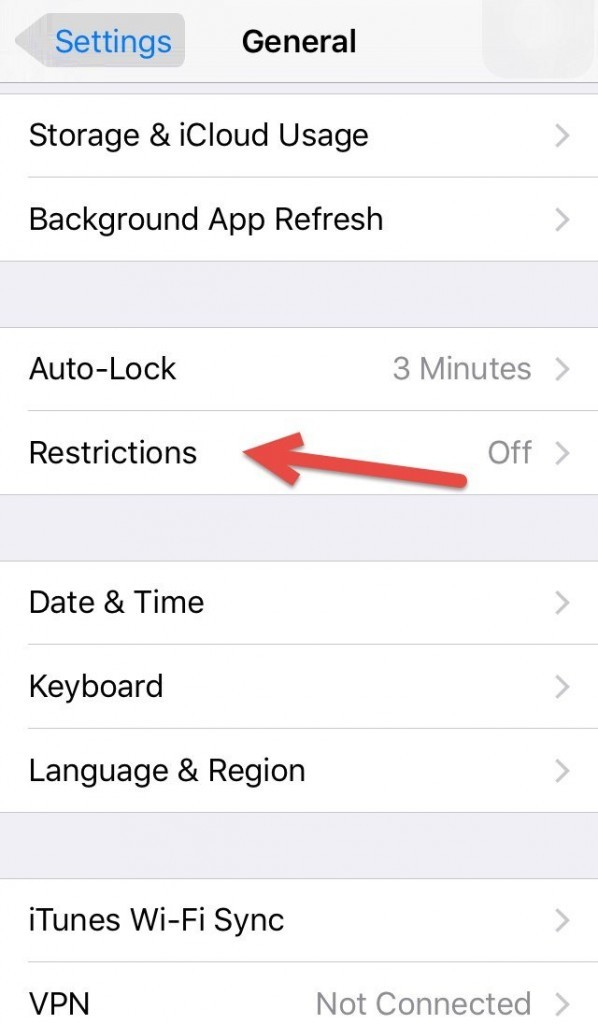 The next step involves creating a restriction pass code which you will need in the future as well to change settings or maybe turn off the restrictions.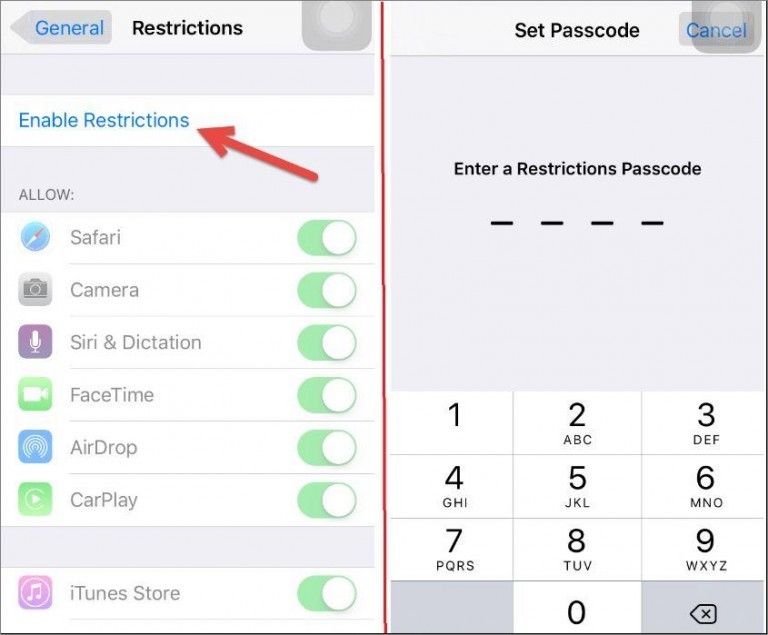 Once you set the pass code successfully, you will see the list of apps installed in the iPhone which will include Safari, Facetime and Camera. Uncheck, to them off. Also, there is a list of services that lets you turn off iTunes and the access of install, delete of buy apps. You may also just turn off user ability to download apps, music etc which is visible on the bottom of each app store and iTune listing.
Important Note : If you ever forget your pass code, you will need to erase your device and set it again as a new device to remove the restrictions pass code from the settings as this is the only way to return to default settings. Keep a check that you do not by mistake delete certain in-built apps. When restrictions are on, you may not be able to see certain apps or features, so try turning off restrictions if that happens.
Finally, to change the restrictions pass code:
Go to settings>general>restrictions, enable your current restrictions pass code, tap on disable restrictions and enter the pass code once again, now enable restrictions and enter a new pass code for yourself.
Part 5. Block Certain Apps on iPhone with Parental Controls Apps
In this part we will learn how to block certain applications on your iPhone using a few Parental Control Apps.
Net Sanity
Net Sanity is a US parental control app for mobile which is inbuilt with excellent features to protect your tech savvy kid. Net Sanity lets you try it for free for a period of 14 days after which if you can purchase it. It has made a mark for itself and featured in many of the known media houses like CNBC, CNN, iPhoneWorld, Fox News, abc News, and USA Today. Let us look at some of its features.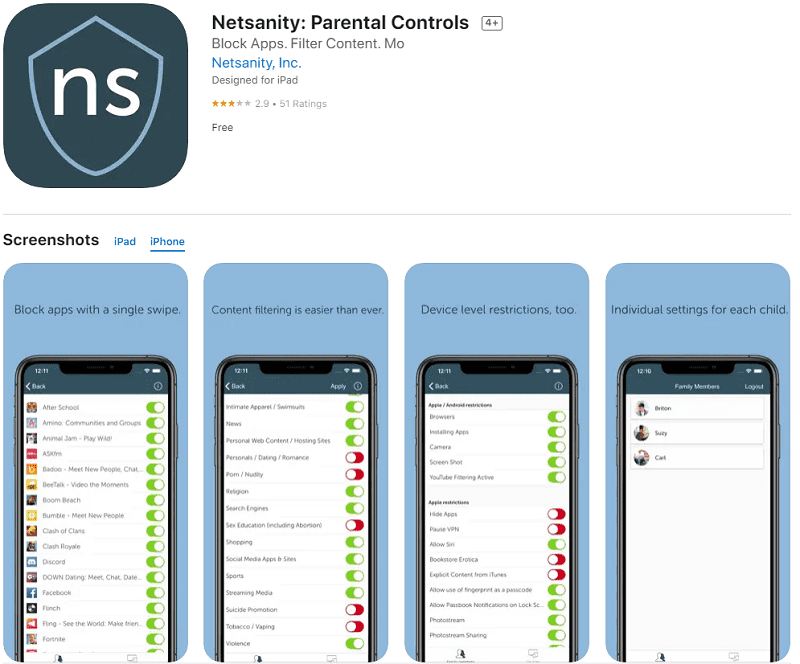 The most important feature of Net Sanity is its App Blocker feature.
1. You can block inappropriate content in the app and the game.
2. Limit the screen time
3. Easily avoid bullying situations.
4. Reduce the net data bills for heavy apps and games.
5. Reduce in-app surprise purchases by your kids.
6. You have the ability to block over 50 apps with the click on a button on your iOS handset with Net Sanity which would include inappropriate photos and posts on Snapchat, Twitter and more.
Price : $59.95 per year for 1 device, $99.95 per year for 2 and $139.95 per year for 3 devices.
Pumpic
Pumpic is an Apple Mobile Monitoring App that lets you enjoy multitasking on your iPhone without any jailbreak. You can easily follow online activity by tracking location, viewing calls and even texts. Pumpic has been featured in many posts and magazines like the Huffington Post, Lifehack, business.com, ChicagoTribune, iOSHacker, allBusiness and many more.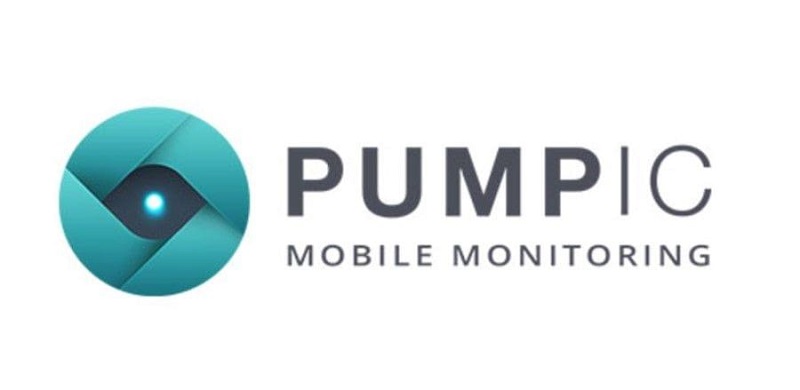 Pumpic comes with over 13 useful parental monitoring features for iOS. Here are a few of the important ones:
1. Control Applications installed on the iPhone.
2. Monitor sent, received and deleted iMessages, MMS, call history.
3. Monitor social media applications like WhatsApp, Skype, Snapchat, Facebook, Viber, Instagram and Kik.
4. View Videos and Photos taken by the iPhone camera or downloaded.
5. Monitor browsing history and the bookmarked websites.
6. View all historical data stored on the device in the iCloud.
Price : Ranges from $19.95 per month to $99.95 for a year on quarterly basis.
Mobicip
Mobicip is a trusted mobile monitoring software by hundreds of schools all around the world including Alpine School District, Lansing Christian School, Catapult Learning and MidWestern Intermediate Unit IV. It lets you control as well monitor your kid's activities on the iPhone. You simply have to set up the iPhone one time and then you can go online or use the Monitoring App to select age appropriate settings and time limits remotely. We have listed below some of the striking features of this parental control app.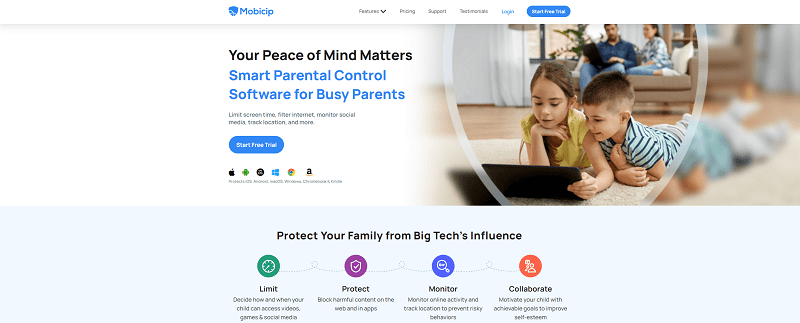 1. Review usages, apps and request and respond immediately using the Monitor app on your iOS device.
2. Control what apps are being used by your kid on each of your device. Review rating, price and category of the downloaded apps on the app store.
3. When you block a certain content, the user may disagree and you would receive an override request which you can review to allow or reject the content.
4. Customize filter settings for websites on internet.
5. Has accountability mode which lets you give a certain user profile unrestricted access, however keeps you updated of all the usage.
6. Manage multiple users by creating different profiles.
7. Supports a filtering system for school as well.
Price : Free Signup for basic plan, $39.99 per year for 5 devices and you would need to request quote for 20+ devices.
Qustodio
Qustodio parental control software has been rated as excellent on the PC mag and is the editor's choice for best parent monitoring app. It helps in keeping online track of all activities of your kids on all devices including iOS. It is also called the most stylish app due to its impressive looks and dashboard. Qustodio has been featured in softonic, addictivetips, softpedia, steveharvey and cnet. It is based on Apple's powerful ADM technology.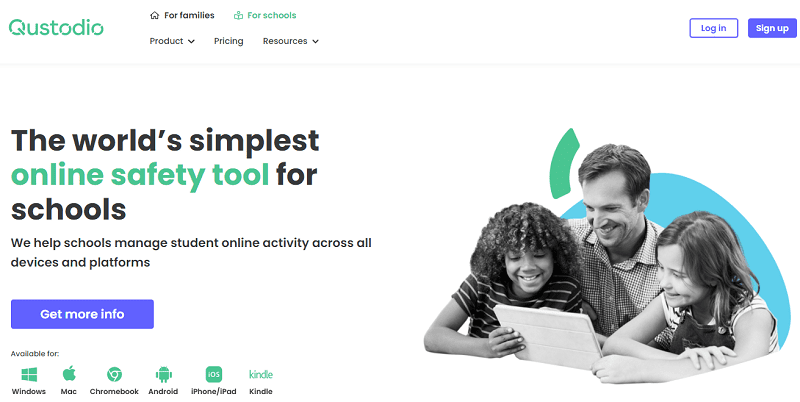 The iOS protection software from Qustodio comes with exceptional features like :
1. Get full reports of your child browsing on safari without the need of a safe browser.
2. Easy time controls on your iPhone which switches off internet connection when its bedtime and so on.
3. Get controls and reporting for YouTube, Facebook, Facebook Messenger, App Store, iTunes, WhatsApp, Kik, Instagram, Spotify and Netflix. There are many more apps that will come in this list soon.
4. Runs on any device iOS 7 or up and can be managed through a single family portal.
Price : $44.95 per year
Net Nanny
Net Nanny is an award winning parental control app. It has been awarded by Top Ten Reviews 2016, PCMag.com, Best of Parental Control App - 5 star rating, 2014 gold winner at the National Parenting Publications Award, 2012 Seal of approval and Computer Shopper Editors Choice. It is a trusted and safe solution to block apps and web filter content on any device and any network.

Here are the exclusive features of Net Nanny:
1. Warns and blocks Pornography and other adult content.
2. View the total number of internet hours in a day and set specific time when your kid can be online.
3. Its masks profanity, so your kid can view web page without being hassled by vulgarity in language.
4. Use any computer to change and view your child's online activity and receive emails and reports.
Price : $74.99 per year for 5 devices, $119 per year for 10 devices.
Part 6. What Are Most Popular Apps for Children to Block?
If children spend too much time on social media apps, it will affect their health and study. Staring at the phone screen for a long time can damage their eyesight. The more time they spend on their phones, the harder it is for them to concentrate and become anxious and irritable. Putting down the phone and going outdoors is better for their physical and mental development. In addition, scammers like to use various social media apps to get their targets, and minors are more likely to be the targets of these scammers. Therefore, limiting the use of some apps is conducive to the healthy growth of children.
Some adult content spread on the app is also not suitable for teenagers, such as pornography, violence and so on. Parents have the responsibility to block some inappropriate content for their children and create a healthy online environment for them.
Here are the top 3 apps parents should block.
1. Instagram
Instagram is a photo and video sharing social networking service. The app allows users to upload media that can be edited with filters and organized by hashtags and geographical tagging. Posts can be shared publicly or with preapproved followers. Users can browse other users' content by tag and location, view trending content, like photos, and follow other users to add their content to a personal feed.
Related: How to Hack Instagram
2. Snapchat
Snapchat is a multimedia instant messaging app. Pictures and messages are usually only available for a short time before they become inaccessible to their recipients. It also allows users to store photos in a password-protected area called "my eyes only". It has also reportedly incorporated limited use of end-to-end encryption, with plans to broaden its use in the future.
Related: How to Hack Someone's Snapchat App
3. TiktTok
TikTok, is known in China as Douyin. It hosts a variety of short-form user videos, from genres like pranks, stunts, tricks, jokes, dance, and entertainment with durations from 15 seconds to ten minutes.
TikTok has been subject to criticism over psychological effects such as addiction, as well as controversies over inappropriate content, misinformation, censorship and moderation, and user privacy.
Related: How to Keep Children Safe from TikTok
Conclusion
Protecting your kids and your data from online threat is a must and the iPhone in-built restrictions as well as the parental control apps put together definitely would give you carefree nights going forward. So, do not worry and go for any of these apps to protect yourself and your family from unwanted people.