When you don't understand something, surfing on Google or Edge might be your first idea to find answers. But what about your children? What are the safe internet browsers for them? Because kids may stumble upon information or images they shouldn't see on the Internet. Your kids can use a variety of kid-friendly online safe browsers to solve their queries. As we all know, aside from offering educational materials and business ideas, the internet is a great source of unwanted, inappropriate, violent, and pornographic content for you and your children. It is always a good idea to introduce your children to technology but with care and precautions. A safe internet search engine can help your children and prevent internet scams. By using a browser designed specifically for kids, such harmful interactions can be prevented. So let us explore some of the safe web search engines available today.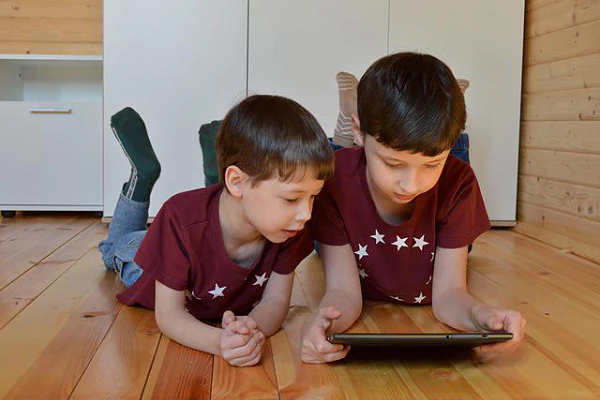 Part 1. What are Kid-Friendly Browsers
Using kid-friendly browsers is like giving kids their own internet. These browsers are designed specifically for kids to protect them from the dark sides of the internet, and they're similar to Google Chrome or Firefox. Your kids won't be exposed to harmful content through these browsers' web filters. These browsers offer content that has been pre-screened and approved for children. It is natural for children to want to know about new things, and they are likely to search for anything that interests them. There are millions of websites that are not suitable for kids to view, and they may accidentally click on them. These browsers keep your kids away from those sites.
Part 2. 7 Kid-Friendly Web Browsers That are Safe for Kids
1. Kiddle
Kiddle. co is an online encyclopedia and search engine focused on children's safety. The Kiddle search engine is powered by Google Programmable Search Engine and employs SafeSearch with additional filters. Kiddle uses Google Custom Search but isn't affiliated with Google.
Features:
● Larger thumbnails and larger fonts
● Displays kid-friendly content by filtering out all inappropriate content.
● Block profanity and other questionable words from search results.

2. Safe Search Kids
With Safe Search Kids, Google safe search is automatically turned on while using any browser. It has evolved into a robust filtering API that aggressively blocks unwanted websites that are hazardous to children. This online safe browser includes a safe kids wiki, safe images, and a video website that pulls only filtered videos from many educational sites, including YouTube. As a result, it provides an alternative to mainstream video channels. SafeSearch can also be implemented on any desktop browser or smartphone. Moreover, a parental control option is available in this browser. A child's access to websites with illicit or explicit content is instantly blocked when parental controls with internet filtering are installed.
Features:
● Strictly filtered Google search (Safe Images, Wiki Search, and video search)
● Error message pops up if you search for some questionable words.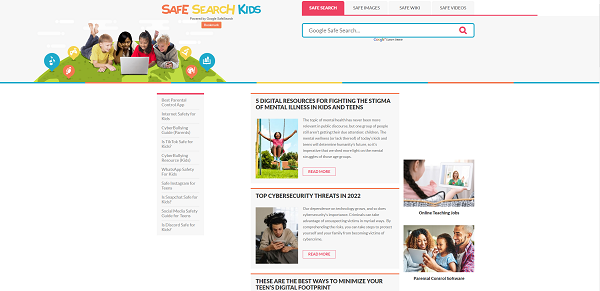 3. KidRex
Powered by Google Programmable Search Engine, KidRex.org is a visual child-safe search engine. A database of inappropriate websites and keywords is maintained by the website using Google SafeSearch. So whenever your child searches for any inappropriate term, the browser does not show the results.
Features:
● As part of KidRex's efforts to reduce unsuitability results, it has built its own database of inappropriate words and websites.
● User-friendly interface for kids.
● Records all inappropriate sites and keywords in a database.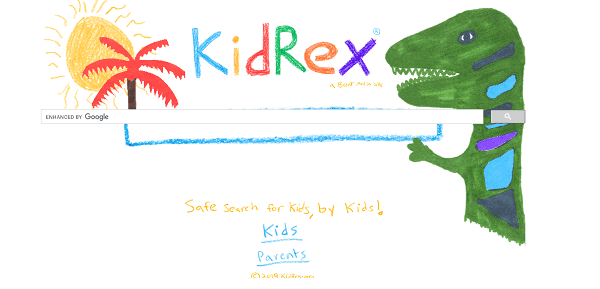 4. KidSurf
Using KidSurf Child safe web browser, adults can control what children see while they browse the internet. There are standard navigational buttons such as the back, forward, and refresh on its clear-cut interface. Additionally, it displays a Parent button for easy security configuration.
Features:
● The interface is very user-friendly
● Your children can have their own email accounts
● Select the sites you would like to add
● A comprehensive list of kid-friendly sites

5. Sandbox Web Browser
The Sandbox Web Browser is designed for iOS devices. You can limit the search within a Sandbox Web Browser by creating a list of websites called whitelists. Sites specified on the whitelist are only accessible to kids.
Features:
● The user-friendly interface makes it easy to install.
● All iOS devices are compatible.
● Specify a list of websites to search.
● Ads will be blocked automatically.
6. Kidoz
An adult must install this safe internet browser and create a parental account. Later on, you can edit the content provided by Kidoz and add websites and videos that your child may enjoy.
Kidoz's interface is very easy to use, intuitive, and attractive. You can let your child have fun while learning about computers and surfing the Internet in a safe way with this program.
Features:
● Colorful and attractive design
● Manage program settings with a password-protected parent account
● The content can be edited and new stuff can be added
● Inappropriate ads and pop-ups are blocked.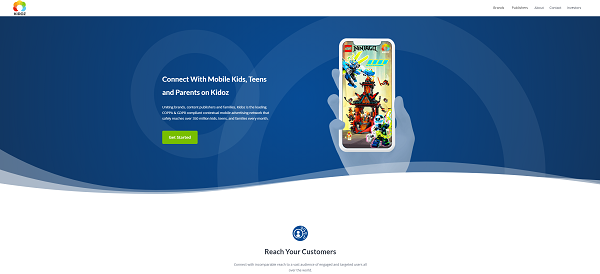 7. KidZui
The KidZui system is closed and all available content has been reviewed and approved by editors. In the left-nav sidebar, kids can search for topics such as science, movies and TV, games, sports, and animals using the search/URI bar. You will find three tabs, one for Web browsing, one for Photos, and one for Videos, just below the search bar. Both of these work similarly to Google's Image and Video searches, in which you type what you're looking for and the tab narrows it down to the specific type of content you need.
Features:
● Both popular and most visited websites are displayed.
● Avatars (zuis) can be set up by kids
● Feature of automatic search completion
● All appropriate sites and contents are maintained in a database.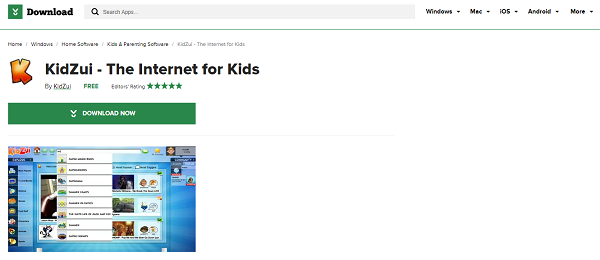 Part 3. Why Use Kid-Friendly Browsers
1. Blocks and filters unwanted and inappropriate adult contents
Safe web browsers are essential in today's changing dynamics and social media. Kids can stay away from unwanted content with these safe internet browsers. Using a browser that filters out all the unwanted content will keep your child protected from cyberbullying and internet scams.
2. Monitor their web activities
You can easily establish parental control with safe web browsers. You can track your kid's online activities with browsers' inbuilt tools and also see the keywords that they search for. These browsers immediately block inappropriate content and show the error page for such results.
3. Search limited to child-appropriate pages
All search results are selected and edited by the browser before they are displayed to kids. In these browsers, a database keeps track of child-friendly keywords, websites, images, and videos. The kid-friendly browsers are trustworthy and the best way to protect your children.
Part 4. Conclusion
The responsibility of protecting children online falls on all parents. In spite of the fact that there are a number of tools available to do this effectively, implementing them can be a challenge sometimes. You can provide your kids with safe answers to their questions by researching and installing the right web browser. Moreover, you must talk to your kids, educate them, and make them aware of the dark side of the internet.