With the ever growing technology in the digital world, the need of having a Parental Control software has become a must on each and every device. Whether it is a mobile phone, tablet, PC, iPod, we need to tab and control our children's activities to shield and safeguard them from online hackers and predators who are in the look out for a small opportunity to harm our loved ones, especially kids. There have been many cases which have come in newspaper and media that how these online predators keep a close watch on the innocent children and the slightest of carelessness can cause harm, even to their life. Which parent would want his kid to get hurt, whether physically or mentally? This is where Parental Control software helps parents in protecting the surroundings of their children without even them knowing about it.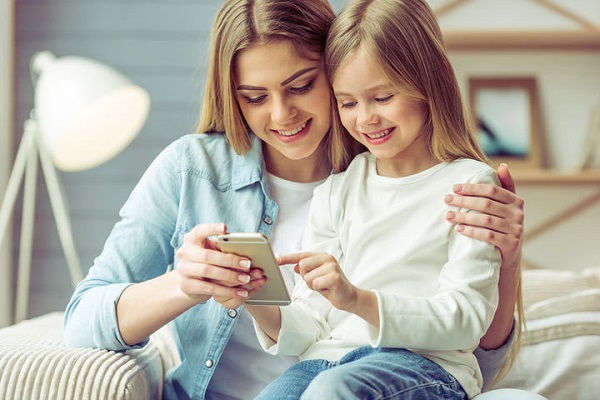 Our focus for the day is on iPod Parental Control Software, so let us today, get to know about the Top 10 Best Parental Control Apps for the music lover kids, used on iPod.
Part 1: SpyX
SpyX is a global leader in Parental Control Software and is the ultimate monitoring tool for all devices including iPod. It has got endorsements from some of the leading media agencies like The Huffington Post, Forbes, TNW, Fox News, CNN to name a few.
Have a look at its features and capabilities:
● Has 24/7 customer support with multi language options.
● Offers free basic account so that you can monitor several types of data without spending a cent.
● It can be accessed easily from any browser.
● You can remotely track any device from anywhere.
● It securely and safely helps in store, backup and export of your data.
● It tops the charts with 95% customer satisfaction.
● Tracks iMessage with contact info with no jailbreak
Price : Purchase a 1, 3, or 1-year plan for $48.99, $27.99 and $11.66 every month.
Step 1. Create Your Account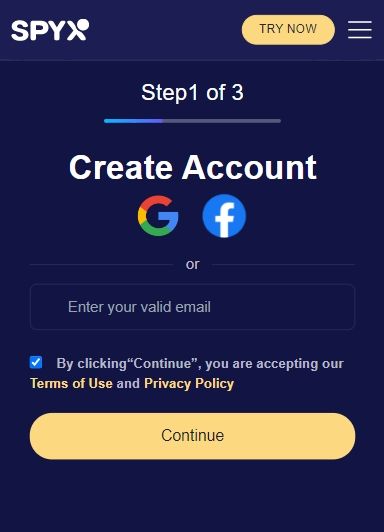 Step 2. Verify Target iCloud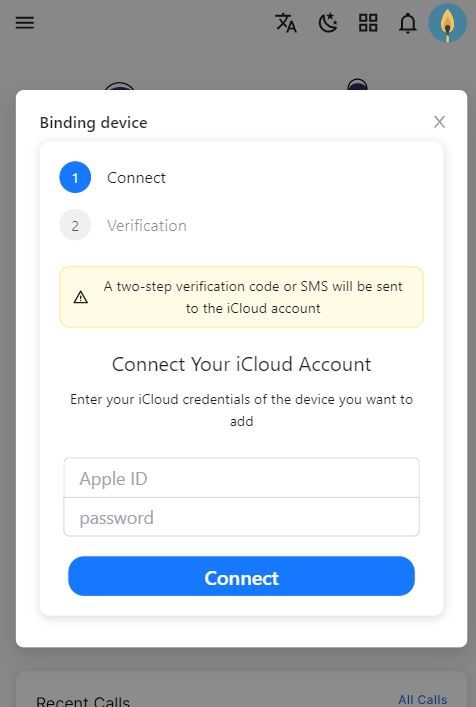 Step 3. Start Parental Control with SpyX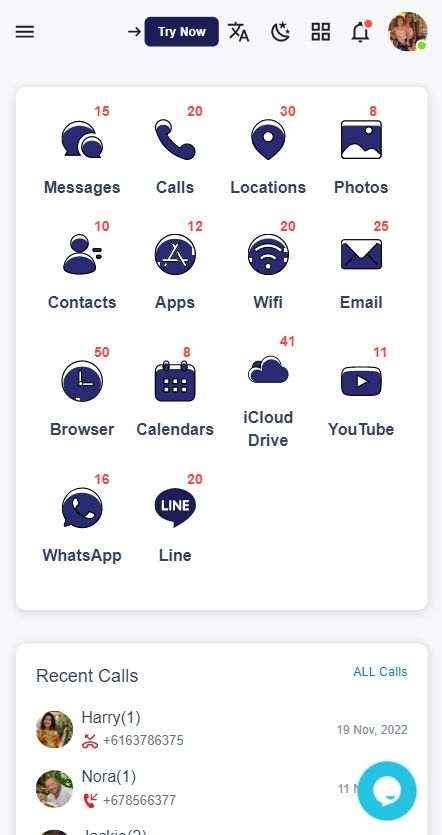 Part 2: uknowkids
uknowkids is one of the world's leading parental control app, created by parents to help parents with growing kids. It helps track all the digital activities, whether on an iPhone, Android, iPad and even iPod. It lets you discover its benefits by giving a one week trial period for free. It has some exclusive features that not many out there offer.
Lets have a look at them.
● uknowkids will inform you in case your child is getting involved in risky behavior through calls or text messages.
● It will keep a watch on who all is your child sharing their photos and will tell you if strangers are seeing their photos.
● uknowkids will advise on social media as in what and with whom is your child sharing online activity.
● It can also notify, if your child has a social media account, that you are unaware about.
● uknowkids sends notifcations informing you that who is the closet person to your child, in his digital world.
● Helps you keep upbeat about the latest digital and social trends.
Price : $240 for lifetime
Part 3: Netsanity
Netsanity boasts of giving parenting superpowers. It offers free trial for a period of 14 days so that user can explore and decide on purchasing this great parental control app. It has extremely easy setup with quick and effective usage. You can take a quick sneak peek into the dashboard of Netsanity through their demo video. Netsanity has been featured on some of the top notch media houses like CNN, CNBC, Fox News, abc news, USA Today and so on.
Now, let us go through some of the features that Netsanity has:
● It can block over 50 apps and games with just a touch of a button, at your convenience.
● It can instantly disable internet with the touch of a button, an exclusive new feature called Timeout.
● Block games with a click of a button, this exclusive feature is not available in any other app.
● It has a premium content filtering which blocks explicit content.
● Filtering is also available for search engines, Isn't that amazing?
● Another great feature, is it ability to show current status of battery on the device.
Price: $59.95 per device, per year
Part 4: Netnanny
Netnanny is an award winning parental technology with 5 star ratings from various organisations. It puts you in charge, as you set the rules, from any device, anywhere and offers your smart filter choice to block or run whatever you want on your kid's iPod.
There are many, but we will list a few of the most talked about features of Netnanny:
● For clean and safe internet, Netnanny, gives intelligent, category wise web filter content.
● It blocks and warns about pornography and other adult content.
● It can even mask pornography so that your kid can view web pages without any issues.
● You will receive alerts and notifications on your child's online activity.
● You can be a remote admin for your child's online profile.
Price : $59.99 for five devices, per year.
Part 5: Family Time
Family Time talks about itself as the world's most powerful Parental Control App which gives three day free trial. It helps manage content across all devices at home and is one of the top notch Parental Control App for iPod as well. It has featured on Yahoo, Chicago Tribune, The Huffington Post and many other known newspapers and blogs.
Let us see some of its features:
● The homework time screen lets you lock the iPod at a scheduled time.
● Another similar feature called Bedtime, locks the iPod so that kids do not spend time online in the night.
● Family Time has advanced feature of Geo-Fencing that creates virtual Geo fence and sends you instant alerts when your kids go off their limits.
● Add people for Watchlist contacts, so that you get alerts when someone unwanted, tries to contact your kid.
● Gives you location history of the child they have visited over lifetime.
● They are also coming with a new feature called Family Map which creates a virtual map for all your family members to instantly see their exact location.
● Family Buzz give you instant SOS, Pickmeup, Auto check-in check out and instant blocked app alerts.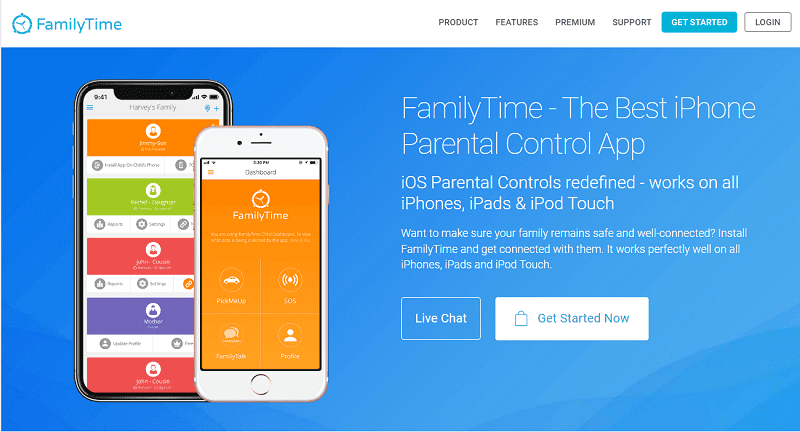 Price : $1.46/month for 2 devices, $1.15/month for 5 devices and $2.25/month for 1 device.
Part 6: Qustodio
Qustodio has built-in premium features that is useful for family of any size. It is rated excellent as a Parental Control App by PC Mag, which called it a stylish and effective software making it the editors choice. It has been featured in softonic, addictive tips, softpedia, cnet and steve harley. Their only mission as they say is customer satisfaction.
Here are the features of Qustodio:
● Get advanced Facebook monitoring through Qustodio with status updates, pictures, friends and much more activities.
● Provides parents a 30 day full report on device usage.
● Simple dashboard which is easy to understand in order to monitor your child's movements.
● Automatic protection from harmful content through powerful web filtering.
● Panic button for your child in case of emergency.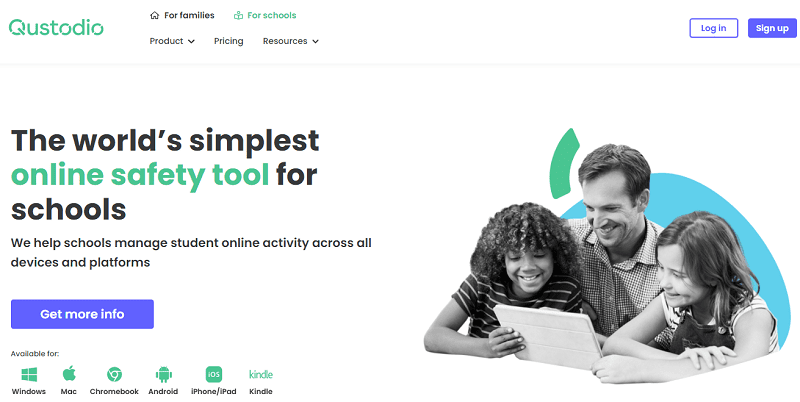 Price : Free to get started, 10 Devices - $19.95/month
Part 7: OurPact
OurPact is one Parental Control App which every parent would need. It is a simple software that allows parents to limit screen time on their Kids iPod, and blocks internet usage and applications. You can use this device to tell your children to be on bed at a certain time and follow proper device habits. It is trusted and endorsed by nickjr, Forbes, Goodmorning America, Jamie Oliver, Yahoo and Kids Activity Blog.
Below are some of the features:
● 24/7 customer support
● Remotely block internet and app usage of your child.
● You can manage multiple devices, so multiple children at one go.
● It allows you to grant access manually to your child's device within a time schedule when requested by your kid.
● You can set up recurring unlimited schedules, like bedtime, school time, dinner time and so on.

Price : Free for Basic - useful for small families, Premium costs $1.99/month to manage multiple children
Part 8: Appmia
Appmia gives you control and protects the activities of your loved ones remotely. It is a powerful tracking software which is able to spy on any mobile device from anywhere. With over 250,000 satisfied customers, Appmia has also been featured in the some of the media power houses such as CNN, BBC, CNBC, The New York Times, Yahoo and Crunch Base, for its effective features in helping parents keep a tab on their children from online threats.
The key features of Appmia are as follows:
● With this Parental Control app you can record phone calls and surrounding noise, that too undetected. You can fix a time when you want to start recording and then download the recordings in your personal profile anytime.
● It has email tracking facility along with the tracking of messages on social media apps like WhatsApp, Viber, iMessage etc.
● You are able to access all the multimedia files like Music, Photos and Videos on your Kid's iPod.
● All the information in the iPod, like any voice message, calendar details, keylogger and so on are accessible.
● It is 100% invisible and undetectable and recovers old and deleted text messages too.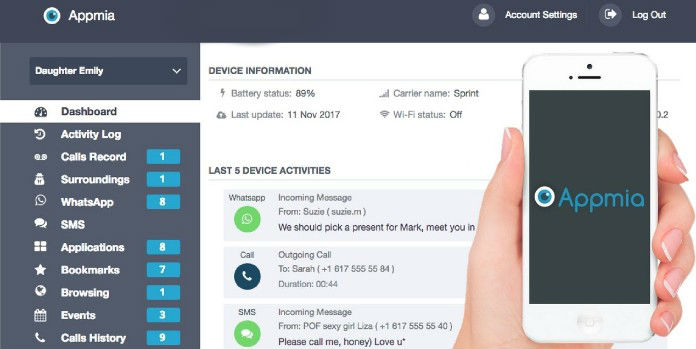 Price : Basic pack - $8.32/month, Premiun - $16.24.month, Lifetime - $599.99 for one device
Part 9: ScreenTime
With ScreenTime, you can manage the time spend by your kids on their iPod screen. It offers a 14 day free trial and that too of their premium package. It has excellent user reviews and people have found it a great monitoring tool for Apple products.
Some of its features are here under :
● You can let your kid choose the screen time limits and therefore manage their time better and at peace.
● Choose school time or bed time restrictions on certain apps.
● You can remotely pause and play your kid's iPod or give additional time on screen.
● Assign tasks and homework for your kid and make parental control fun your kids.
● Receive daily activity summary on your email.
● Monitor unlimited devices for every child.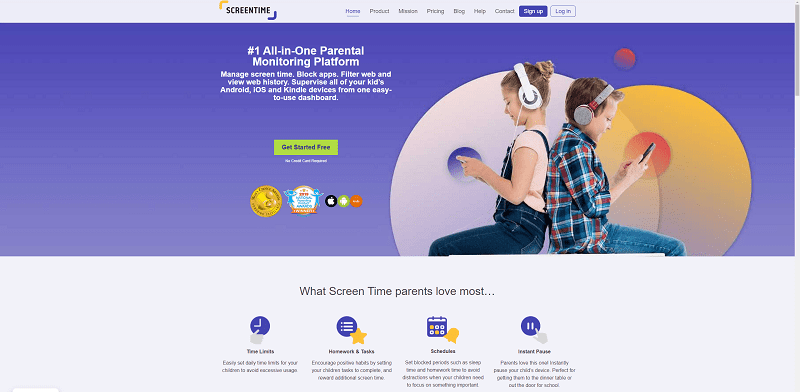 Price : Free for basic, Premium - $3.99 per month
Part 10: Teenlimit
Teenlimit, as the name suggests, is a simple parental control monitoring software for the teens of today. It helps kid with the best use of technology and parents, the much needed peace of mind. Like any other parental control app, Teenlimit can be managed remotely and provides a number of different features and gives a 10 day free trial period.
Let us have a close look on some of the features :
● Browse internet safely with its extra internet filtering feature.
● Receive real time notifications and respond to all your child's request.
● Instant configuration lets you apply exceptions to the rules set by you.
● Soon, Teenlimit will launch Statistics of Use which will tell you what sites or apps your teen likes and the time spent on each one of them.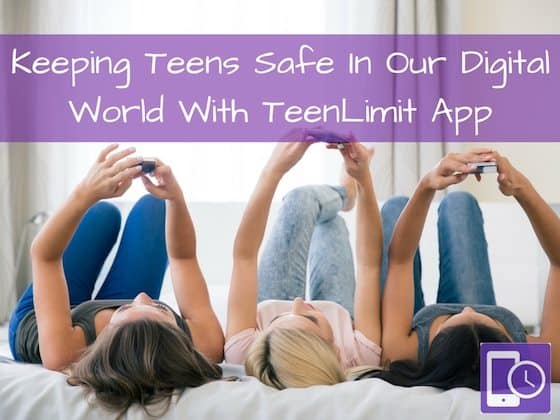 Price : $3.39/ month
Conclusion
Hope our Best 10 Parental Control App list will help in guiding you in choosing the best for you and your family. Many features may differ, but the basic focus of all these apps to to provide the best protection to your kids from outside world and make your relationship with them better as they outgrow you.