Kik is very popular because anyone can easily open an account. The only information you must provide is your name, email address, and age; no verification of any kind is required. One of your children or employees. You can use the SpyX tool to monitor Kik activity by recording keystrokes and taking screenshots of Kik activity.
SpyX phone tracker allows you to monitor your children's or workers' Kik accounts. You can spy on Kik activities with the SpyX by recording keystrokes and taking screenshots of Kik activity. Do your kids experience online bullying? Have you observed that they've maintained a strong connection with shady characters on Kik? Are your employees using Kik to leak sensitive company data to rivals? With SpyX phone tracker, which not only keeps track on Kik activity but also carefully observes mobile activities, you can learn the real story behind the popular instant messaging service.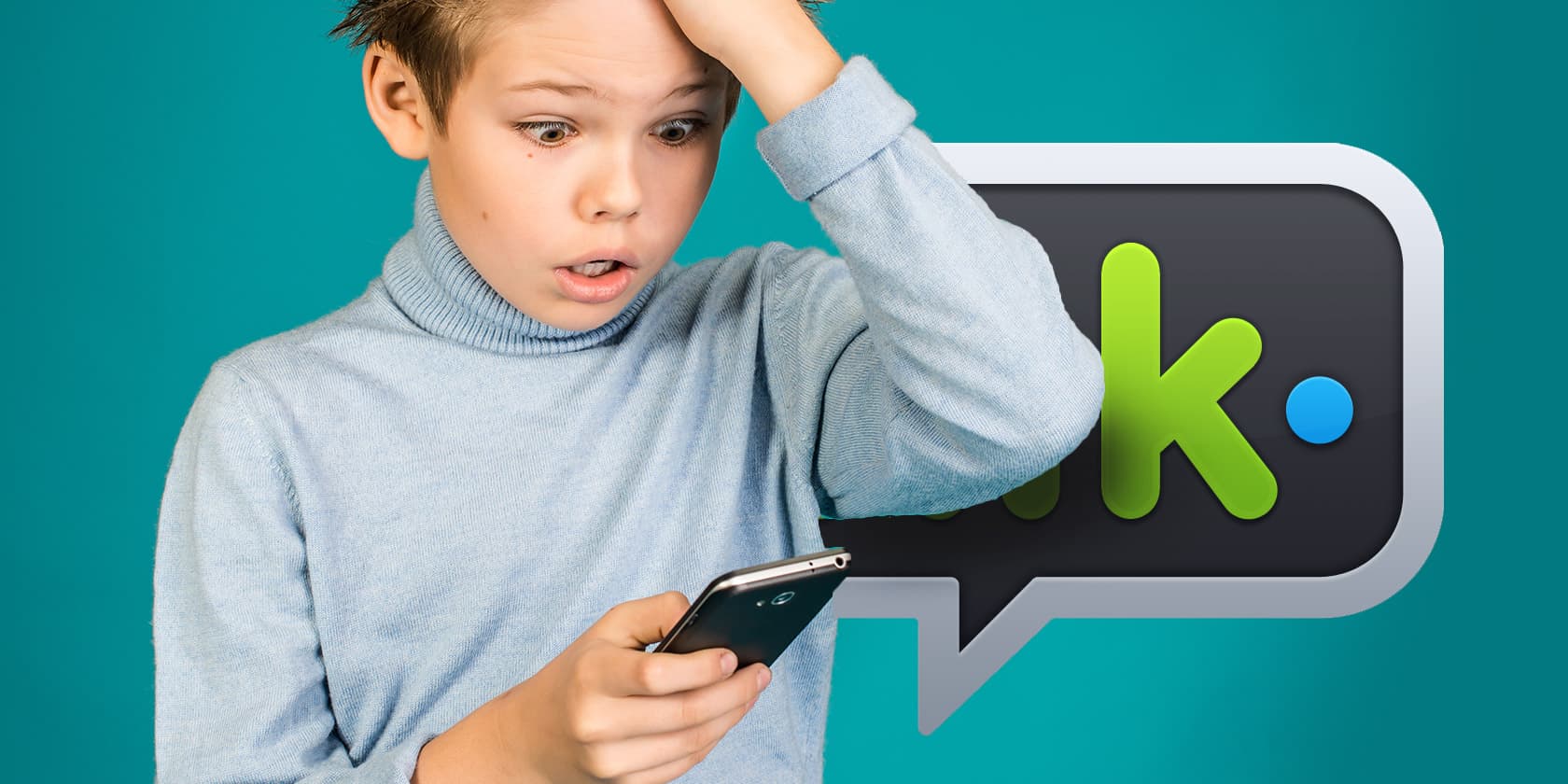 Part 1. Overview of KiK App
1. What is Kik and what makes it special?
Kik uses mobile data or a Wi-Fi connection to send and receive messages. This appears to be similar to SMS services like WhatsApp and iMessages, but Kik touts additional advantages. Through the app, users can transmit a variety of multimedia, including photographs, emoticons, doodles, and GIFs.
2. Is Kik private?
In fact, Kik is among the more private messaging apps of its sort. Instead of a phone number, it only needs an email address for verification. A lot of the data sent via it cannot be traced, and neither names nor birthdays (beyond being at least 13 years old) need to be verified.
3. Could Kik messages be traced?
Kik can indeed be tracked. Users of the app can share their location with others using a feature included in the app. If they obtain a warrant, law enforcement agents may access this data. Additionally, Kik gathers information about its users that might be used to trace them, such as their IP addresses.
4. How safe and secure is Kik?
Kik also complies with any requests made by law enforcement. The Trust and Safety team of the app is available for emergency disclosure requests around-the-clock. In general, Kik cannot read your messages, but it can view and store photographs and videos that you provide to it. If used wisely and in good faith, Kik is safe. Its privacy features have helped it become popular with younger users, but they have also made it alluring to those who want to abuse the service.
Part 2. How to Monitor Kids' KiK with SpyX
Sie sollten an die Online-Sicherheit Ihres Kindes denken, da Kik keine nützliche Kindersicherung hat, was Tausende von Kindern gefährdet. Eine andere Möglichkeit besteht darin, ein Kindersicherungsprogramm wie SpyX zu verwenden, um die Aktivitäten Ihres Kindes auf Kik aus der Ferne zu überwachen. Wenn Sie glauben, dass Ihre Kinder Probleme haben, mit Online-Raubtieren zu sprechen, kann SpyX helfen: Von Ihrem Smartphone aus können Sie alle eingehenden und ausgehenden Nachrichten Ihrer Kinder auf Kik sehen. Verfolgen Sie die Uhrzeit und das Datum jeder gesendeten und empfangenen Nachricht. Verwenden Sie Kik, um Ihren Aufenthaltsort zu verfolgen. Zeigen Sie auf Kik geteilte Bilder und Videos an. Kik-Kontakte anzeigen.
With the majority of iOS and Android devices, SpyX is compatible. However, you must pay for a Premium subscription in order to activate its Kik monitoring feature. After turning on SpyX, you may monitor GPS positions, examine visited websites, read SMS, and track usage of other messengers and social media apps (including Tinder, Snapchat, Instagram, Facebook, and others). Additionally, SpyX enables you to monitor restricted word usage, record keyboard input on your child's device, and use Key logger to compare passwords.
Step 1. Sing up free with valid account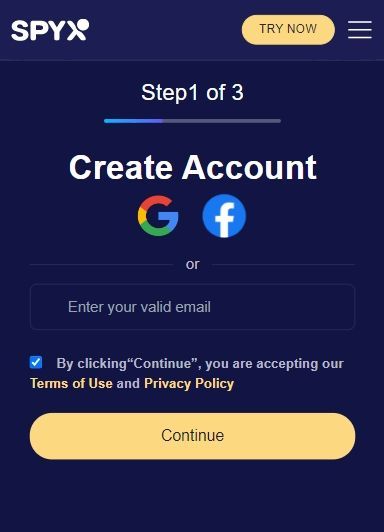 Step 2. Pick up your plans that meet your needs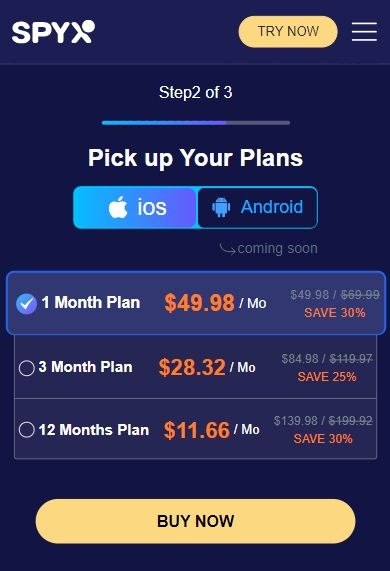 Step 3. Connect target iCloud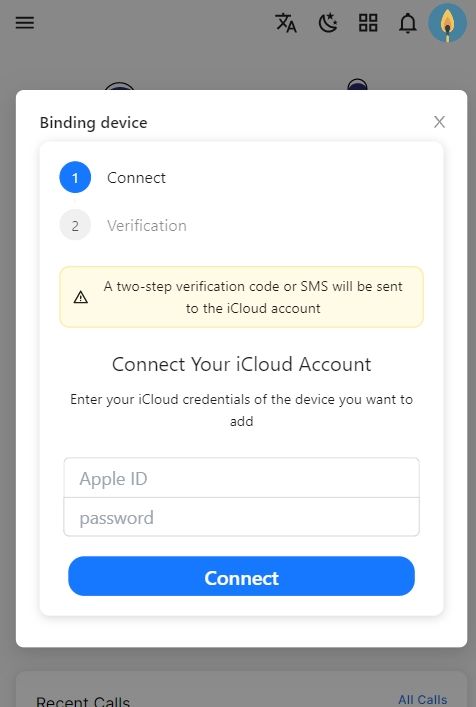 Step 4. Login to your dashboar and start monitoring.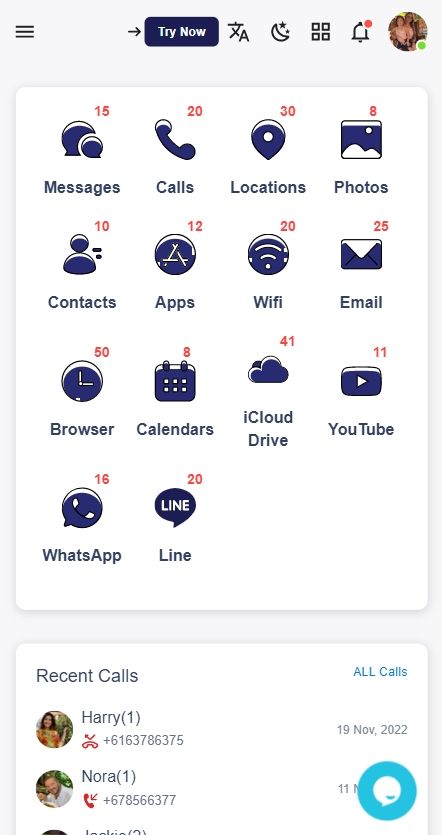 Part 3. How to Stay Safe and Secure on Kik
1. Be cautious while adding new individuals on Kik
Any photographs or videos someone sends you on Kik when they first message you are blurred and appear in your 'New Chats' area. You're not required to check fresh messages from strangers if you don't want to! A new user can be ignored, blocked, or reported directly from the 'New Chats' area.
2. Only talk with reliable individuals
How you use the Kik app will determine how private it is. You will be conned and subject to blackmail if you use the app for dating and adding random users. Sending messages to random people just because you're bored puts you at risk of being the next victim of scammers posing as legitimate Kik users. To determine whether the individual is sincere or has something bad in store for you, use your intuition and common sense. You may also talk only to those individuals you can trust.
3. Block undesirable companions
You can stop someone from contacting you ever again if you've been conversing with them and decide you no longer want to talk to them or if they start to bother you. Don't panic; you can always choose to unblock someone by going to your block list and selecting "Unblock."
4. Keep your data private
Since the question "Is Kik secure?" cannot be answered in the affirmative, you must protect the privacy of your personal data. You should never share any personal information with strangers you meet on Kik, including your full name, address, phone number, and date of birth. In the same way, you shouldn't divulge this information to any forms whose URL you received from Kik users. If they turn out to be con artists, they could use that information against you to steal your identity and claim your account, humiliating and extorting you.
5. Report the issue to Kik
Even if you follow all the Kik safety advice, scams may still happen to you occasionally. If you accidentally shared your Kik account information on a phishing page, your account could be compromised. Additionally, there can be a group of con artists and aggressive individuals that are persistently bothering you. They continue to create new accounts even when you block them. Sending an email to [email protected] will allow you to report any user on the Kik app and describe any problem in detail.
6. Manage messages from new individuals
Your messages from contacts who are not in your contact list will show up under "New People." If they are messaging secretly, their profiles can be muddled. They won't become visible in your contacts list unless you add them. However, you should evaluate the people based on their messages rather than adding them to your contacts. Even casual discussion will help you determine what the other person is trying to say. After that, you have the option to add, block, and even report to the Kik team.
Part 4. Should Parents Stop Kids from Using Kik
Kik is one of the most popular messaging platforms among teens. Parents should be aware of this as this program has a reputation as a safe haven from internet predators, spammers, hackers, etc. Kik app application some, parents please be aware that their children should use it, or when they use it, look for them to make sure they are safe. Apps are safe, ((((Sexting. It facilitates the development of fake personas and unsafe conversations.