Knowing how to track your child's cell phone location is mandatory for any parent mindful of their child's safety. Children and teens can be naughty and secretive. But looking at the increased cases of child trafficking, predators, and other risks, a phone location tracker app is necessary to give you the peace you need as a parent. A good mobile location tracker app will give your child real-time location using their GPS. Tracking your child's location can prevent many dangers they don't know. Phone location tracker apps have become an essential part of parental control. As teenagers and kids try to explore and discover themselves, they unknowingly throw themselves into the claws of evil. However, a parent or guardian can ensure children's safety by tracking their cell phones to guarantee their safety. Here is a guide to tracking your child's cell phone location to ensure security and keep you from worrying.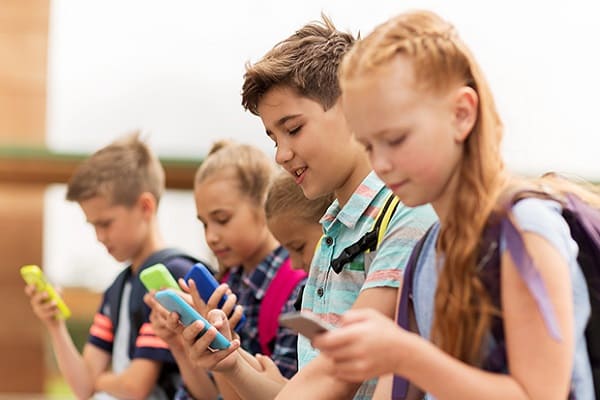 Part 1. Why Track Child's Cell Phone Location
A child is dependent on their parents for a lot of stuff and everything they do. Every move they make is a concern to their parents. The following are some reasons you should track your child's cell phone location.
1. Emergency moves
When your child gets into trouble, and you need to respond immediately and help them, knowing their location is crucial, especially when they cannot talk. A mobile location tracker will update you on your child's cell phone location for you to find them. Kidnappings of kids have been on the rise in the recent past. If such happens, you can burst kidnappers using a location tracker.
2. Stress-free
Tracking your child's cell phone location informs you of their real-time location. A mobile location keeps you posted about their safety, what they are doing, and overall wellbeing. Every parent's peace of mind regarding their children is knowing they are safe and doing okay. You can achieve the stress-free mode in parenting by utilizing the technology of mobile tracking apps such as SpyX.
3. Keep in touch
We are occupied with work to be able to afford a decent lifestyle and pay bills in that you won't be physically available for your kid. For such reason, communicating through a cell phone is a good avenue for you and your baby. You can use a mobile location tracker to know your child's whereabouts, where they are headed, and general updates like you expect to get home or to you.
4. To know if kids go to restricted areas or not
With influence from the internet and other spoilt kids, word of mouth to your child about not visiting certain places might fall on deaf ears. Also, teenagers can be very rebellious, calling for the need to track their cell phones. Your child might be capable of lying about their actual location or can be influenced into doing so. For this reason, you need to be vigilant and always track your child's cell phone location.
Part 2. Methods to Track Child's Cell Phone without Installing the App
The following are working ways through which you can effectively track your child's cell phone location.
1. Phone Tracker-SpyX
SpyX offers more than tracking your child's cell phone location. The app is an ultimate parental control app dedicated to helping you heighten your child's safety physically and online. With the GPS feature, SpyX can accurately track your child's cell phone location without a miss. The phone tracker updates you about little movements, and you receive the updates every 5 minutes.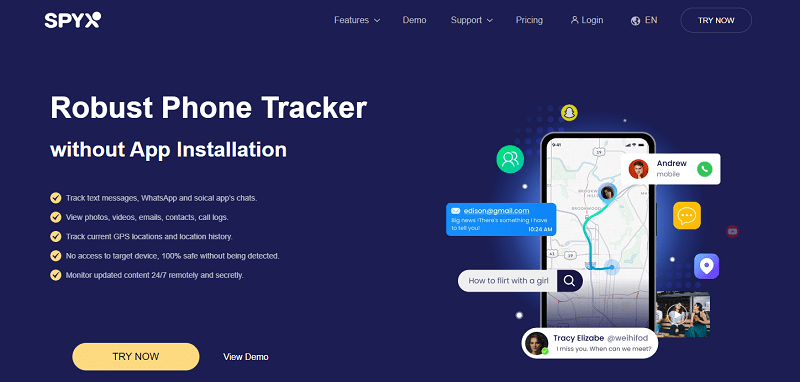 SpyX is invisible and cannot be detected. The app needs one-time access to your child's cell phone for setup. The mobile tracker app has a simple and smooth user interface with no complicated operating processes. To register for SpyX, visit the SpyX website at SpyX.com and sign up. Register your details to receive an email with set up guidelines. Once you receive the guidelines, set up the phone tracker and start tracking your child's cell phone location and other activities from your remote control panel. SpyX has a free demo to show you how to use the app before purchase.
Other important SpyX features:
● Internet browser history tracker.
● Call and message tracker.
● Social media apps tracker.
● Media files viewer.
● App and website blocker.
Steps by Steps to Track Child's Location with SpyX
3 steps to find your child's cell phone location remotely.
Step 1. Create a SpyX Account
Click the Try Now button below and sign up using your email ID for a free SpyX account.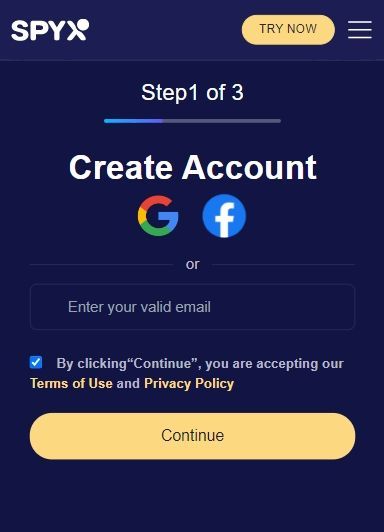 Step 2. Set Up SpyX
Choose suitable plan, then connect target phone with SpyX. You need to enter Apple ID and password of target phone.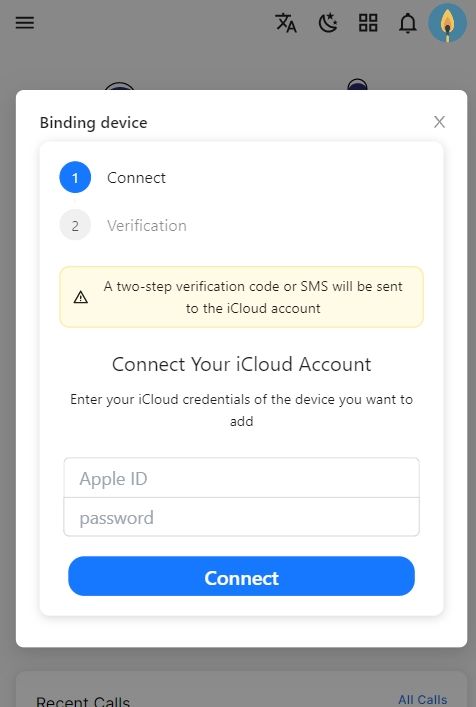 Step 3. Start Tracking Someone's Location
You can now find out how to track your child's cell phone location remotely from your SpyX's dashboard.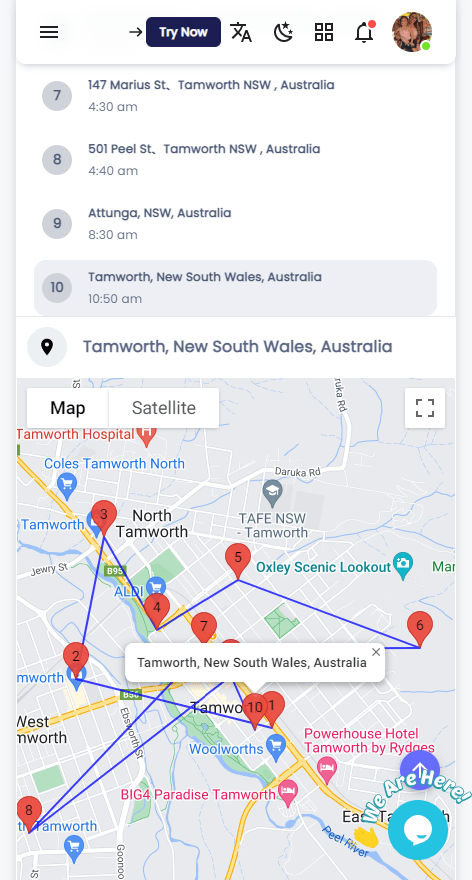 2. Google Web Search
Did you know you can track a cell phone location for free using google Web Search? You can set your child's cell phone to allow or block sending their location to the google website when they search for something on the browser. To track android phone location: Go to google browser>Click on the 3 dots dropdown>select settings>select site settings>select location>Allow or block.
3. Google Maps
You can track your child's cell phone for free using google maps. With the google maps location sharing feature, you can track a cell phone for free even when location history is turned off. To track your child's cell phone for free using google maps, go to: Tap on your child's google account profile picture>select location>select ne share>Choose how long you want to share their location>select your google account as the account to share to>click to share to complete. You will be able to view their location with your account.
Given the recent surge in child kidnapping, trafficking, sexual abuse, and other evils, a child's safety is every parent's priority. It is important to know how to enhance your child's security and keep an eye on them physically and remotely. Technology has made it easier to do parental control phone tracker apps, and improved mobile phone features are key things helping in keeping children safe. You can track phone location free and get other important parental control security features through mobile tracker apps such as SpyX.