Parents want to keep an eye on their children, spouse want to check whether the partner is cheating, employers want to make sure whether employees are productive during working hours or leaking business secret. All of them need a great iPhone spy app without jailbreak.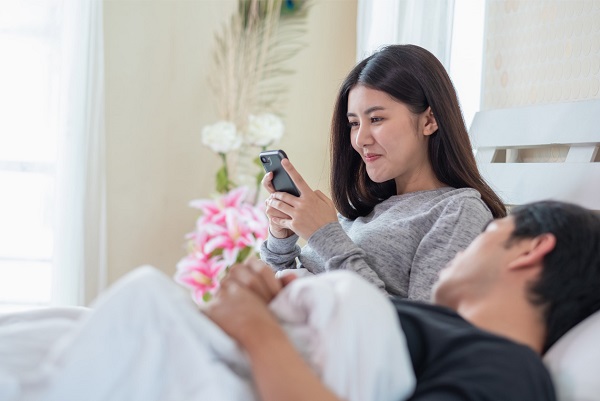 Therefore, you need to use tried, tested, and reviewed solutions when it comes to iPhone spying. After all, your private data is at stake along with your time and money. This list of top 10 iPhone spy app no jailbreak is going to provide you with exactly that. Read through the list if you want an iPhone spy solution that isn't going to scam you.
1. SpyX iPhone Tracker without Jailbreak
SpyX is a simple, powerful, cloud-based computer monitoring and mobile spy software. It is compatible with all iPhone. It's super easy to bind the device you want to monitor. SpyX works in stealth mode which means that it will never be found on the monitored device.
SpyX enables you to track phone calls, takes screenshots, lets you read texts, emails, Facebook and WhatsApp messages, capture keystrokes and even remotely activate the camera to take photos. All recorded data is sent to a secure web-based account.
SpyX is the best monitoring software. Here are the features that makes SpyX the most powerful and user-friendly spy software in the market.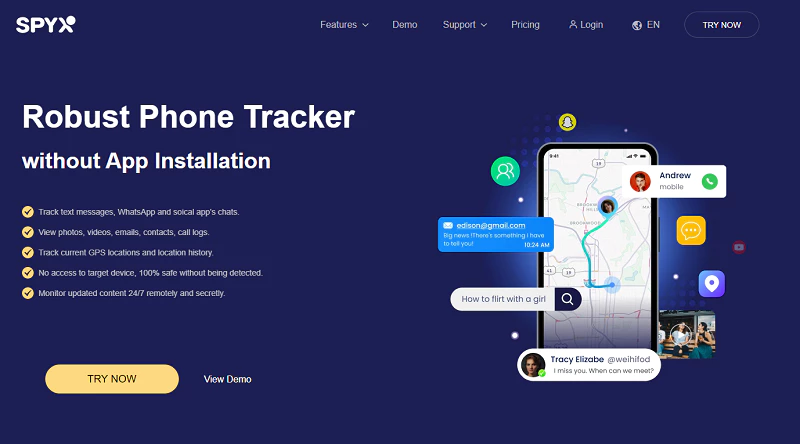 Features
SMS & IM Chats
Remotely monitor their SMS and IM chats like Facebook, Snapchat and WhatsApp.
GPS Tracking
See their current location on the map as well as a history of their GPS location.
Record Calls
Remotely record all phone calls made to and from the monitored phone.
Monitor Internet Activities
Track the websites they have been visiting and the ones they've bookmarked.
Undetectable
The app is invisible to the end user, so no one will know you installed it unless you want them to.
Remote web-based Monitoring
Log in from any browser to your SpyX account to see all recorded data at your convenience from our intuitive web interface. See all activity organized in your account.
3 Steps to Use SpyX for Remote Monitoring
Never worry about SpyX operation. It is so easy! Just follow the steps to start your remote monitoring.
Step 1. Register
Sign up free with a valid email. Be attention that your email must be valid, or you can't receive related emails from SpyX.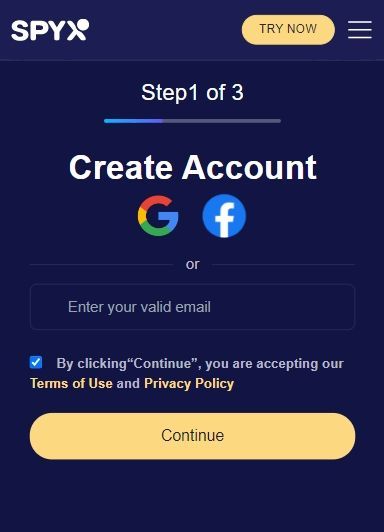 Step 2. Connect Target Phone with SpyX
Pick one suitable plan from 1-month plan, 3-month plan, 12 month plan. Then bind the target phone by entering apple id and password of target phone. You are also required to enter verification code from target phone.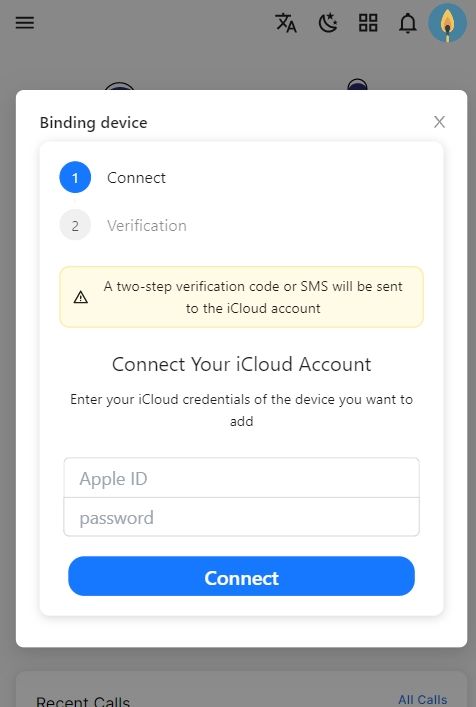 Step 3. Start Remote Monitoring
After binding the target phone successfully, then you can login to your SpyX dashboard and view all data on the target phone.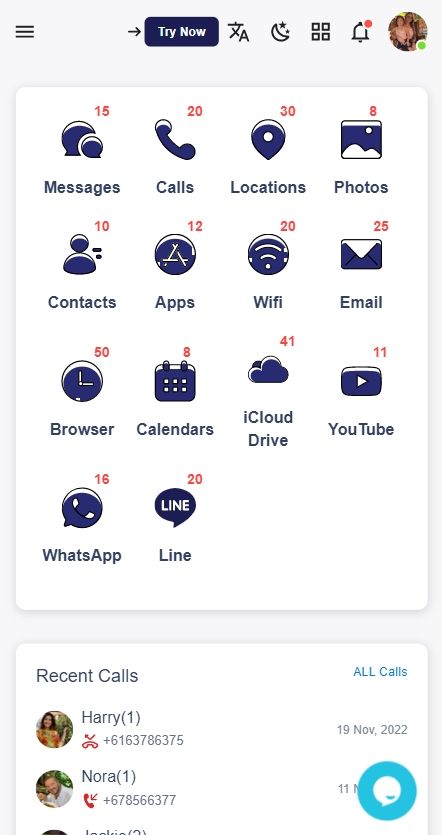 2. mSpy Phone Monitoring Solution
mSpy is a mobile monitoring app that can be installed on your child's phone, and allows you to monitor their phone calls, social media activity, instant messages, locations and a lot more. Once the app is installed on the phone, it runs in the background and completely hides itself. The app then monitors the child's phone activity and sends reports to your online mSpy account that you can access from any device.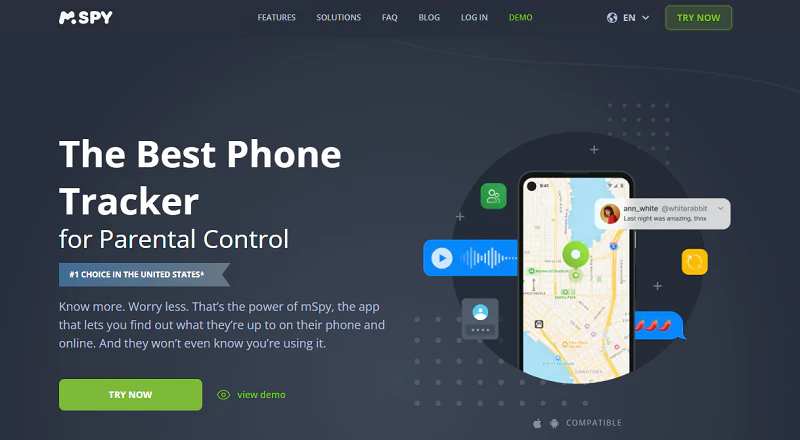 mSpy is reliable, easy to set up, and works on jailbroken & non-jailbroken iOS devices and Android devices. Installation is simple and takes only a few minutes. The app runs in background mode and is invisible to the phone user, so your kids will never know that you are spying on them.
Pros:
Email monitoring
Quick installation
Allows blocking of content
Offers support across 180 countries
Cons:
Full features run only on jailbroken devices.
Data updates can be slow.
3. eyeZy Phone Tracking Software
Eyezy is another great phone tracker app that's geared towards parents. It allows them to track their child's location in real-time, view contact lists and messages, monitor internet activity and more. But it does not have such extensive functionality as SpyX. Also not a large number of payment methods.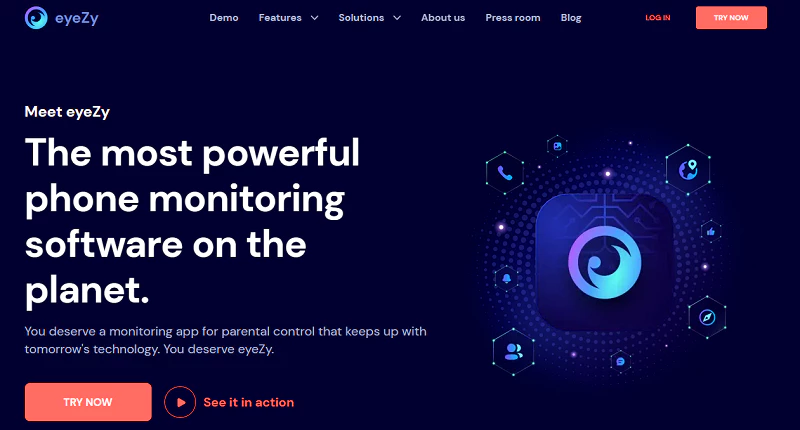 You'll be happy to learn that eyeZy doesn't require jailbreaking to work. eyeZy is the most comprehensive iPhone spy app out there. It usually markets its services to schools and businesses, though private use is also permitted. So, if you're interested in learning how to spy on an iPhone without access to the phone, eyeZy is your answer!
Pros:
Accurate GPS location tracking.
Simple and easy-to-understand user interface.
Easily compatible with multiple devices
Cons:
Does not have a call-recording function.
A little costly.
4. uMobix Phone Spyware
uMobix is a mobile phone tracking app that has gained popularity among parents. It enables parents to remotely monitor their children's cell phone activities via an internet control panel. The uMobix platform is unique in that it is compatible with both Android and iPhone. So, regardless of the type of phone your children use, you will be in there without them realizing it.
You can view their real-time GPS location, text messages, social media activity, phone calls, and much more with the uMobix app. A lot of parents have chosen it since it functions entirely in the background on the monitored cell phone. As a result, the kids will not attempt to play cleverly, and you will have the space you need to effectively control your child's internet activities and interfere where required.
Pros:
Quick and easy installation.
Allows tracking of phone contact list.
You can recover deleted messages and calls.
Cons:
Data sync and update can be slow.
Consumes too much battery.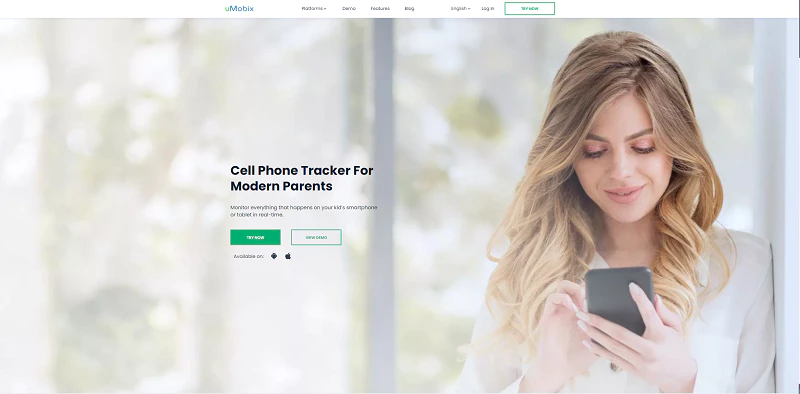 5. Cocospy Phone Tracking Software
Cocospy is designed to monitor phones and tablets, keep an eye on kids and employees. You use Cocospy to monitor Android and iOS smartphones and tablets. Get Cocospy up and running within minutes. Surveil remotely, without being detected. The internet is a dangerous place for children. Your employees make or break your business. Protect your interests with Cocospys advanced monitoring features, such as monitoring contacts, Facebook/Instagram/WhatsApp, call logs, set geo-fence, view browser history.
Pros:
100% undetectable.
Highly compatible with easy installation.
Quick data syncing and updates.
Cons:
Does not support keylogger for iPhones.
No geofencing feature for iOS devices.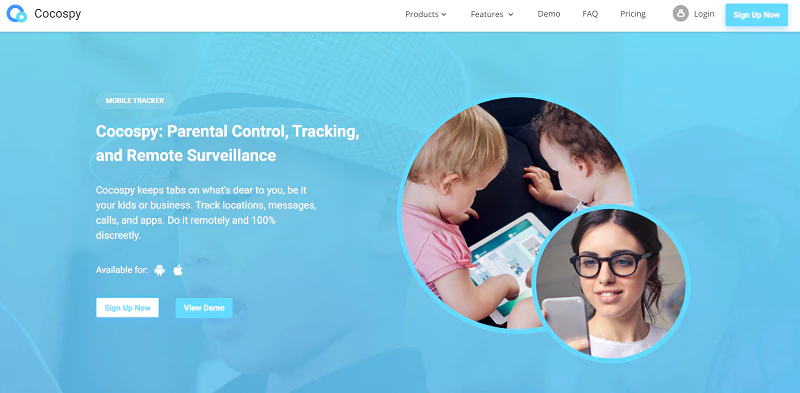 6. Spyic Phone Spyware
Spyic is a reliable and trusted name in the spy and monitoring apps space. Spyic is a very powerful monitoring app that can allow you to spy on target phone. The best thing about the app is that it runs in the background using stealth technology. What does this mean?

Spyic comes in both Android and iOS variants. The great thing about the iOS solution is that you do not need to install anything at all on the target device. This means everything is done remotely. There is no need to jailbreak the target device as well.
Pros:
Easy to install and use.
Compatible with most latest iOS devices.
Extreme security with stealth mode.
Cons:
Fewer features with no jailbreak option.
iPhone tracking costs more while offering fewer features.
7. MinSpy Phone Monitoring App
Just like the best paid phone spy apps on this list, Minspy provides phone spying services for both iPhones and Android phones. It is a web application as well and it can be used from any device you use.
Minspy's interface is completely mobile optimized. Therefore, it works from your phone just as good as it would work on a computer.
Additionally, there is no need to root or jailbreak the target device in order to use it. However, when it comes to interface, you might prefer the other apps on this list a bit more.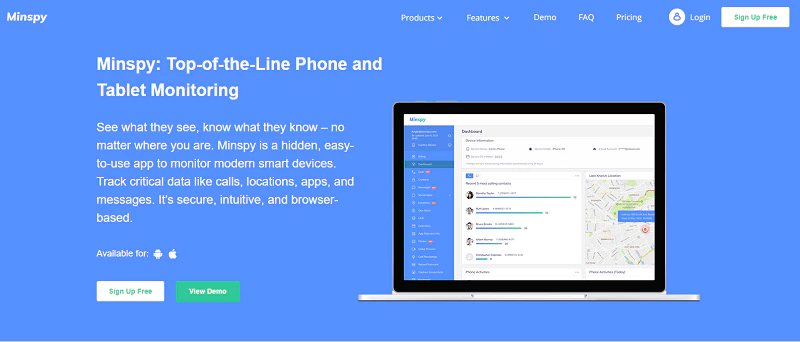 8. XNSPY Phone Tracker
XNSPY is an advanced monitoring app that helps you connect your target device to an online portal. This way, you can carry on with your monitoring activities in a completely wireless way. It works with both Android and iPhone operating systems and works on most smartphones and tablets. In order to get XNSPY for your device, just follow simple steps and you'll be set in no time.
Pros:
Affordable price with comprehensive tracking features.
Doesn't require any application installation.
Track GPS location in real-time.
Cons:
Take a long time to upload data to the control panel.
For some iPhone tracking features, jailbreak is required.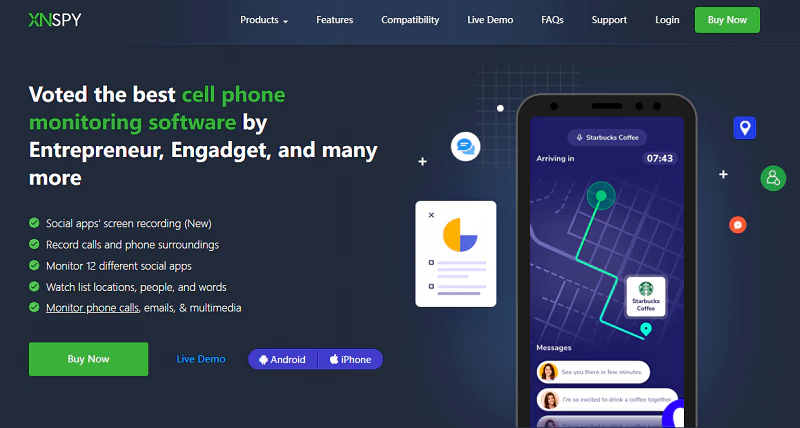 9. Localize.mobi
Localize.mobi is a remarkable tracking website that allows users to monitor other people's location without having to install any applications on the target device. This iPhone locator by number is regarded as one of the most effective ways to find any mobile device.
10. GEOfinder.mobi
Geofinder is an amazing app that lets you find someone's location by typing in their phone number. All you need to do is navigate to their website, enter the target phone number, sign up for an account, and that's it! It works for any phone model possible, regardless of the software type.